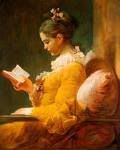 Careful! This diary could blow up in your face. It's all about BOMBS & BAMBS. Okay, lest I scare you off even before you turn the page, I'm just kidding about the blowing up business. The BOMBS I'm talking about may be explosive, but they're not going to actually explode. The BAMBS aren't the sound the BOMBS make. BOMBS is an acronym for Books on My Bookshelf. Of course, the related acronym, BAMBS, is Books at My Bedside. The subject of books on your bookshelf and at your bedside is the one I'm really interested in.
Yes, I admit that interest hints at my voyeuristic proclivities. But don't you think that all readers are sort of literary voyeurs? Isn't it exactly that quality of the imagination that let's us feel, when we are reading, that we are allowed privileged peeks into the private lives of the heroes and heroines between the covers? [That nearly sounds scandalous!] Now, don't pretend you don't feel the same and that I'm the only person who feels this way.
Knowing what books R&BLers care enough about to keep in their homes and even right next to them in the privacy and seclusion of the boudoir at night when they sleep is very revealing about them. And I have proof that I'm not the only person who thinks the books one keeps nearby tell a lot about who you are. If one's TBR pile is revealing, think what the books you have desired to read so much so that they've moved from that pile to a status of being read, or even finished must say about you!

"One sure window into a person's soul is his reading list." - Mary B. W. Tabor
My idea is that I will start the ball rolling by telling you with this diary about my personal BOMBS and BAMBS that I think you may find interesting, and those amongst you who are the least shy will pick it up and write a revealing diary of your own. I envision a spontaneous series that will be found in this time slot each week and that will last as long as the next person picks up the ball. Shall we begin playing the game?
Please turn the page.
I have quietly wondered why it is I own the books I do. Especially the tree books. The physical ones on my bookshelves. Likewise, I've wondered about why it is I feel a bedroom isn't properly furnished and can not be slept in unless there are books immediately at hand next to the bed. My bedroom or any of the guest rooms. In the latter case, I think it may be an ingrained habit of nurture since my parents had bedside tables that allowed them to stack their tuck-in reading material within arms easy reach. In my mother's case the book was either a novel or biography, usually of an artist. In my father's case it was always a volume of the 19?? Encyclopedia Britannica, which he read through at least three times in his life, and usually a murder mystery. As for me, the Child Limelite had her own bookcase on the wall and several library books on her nightstand every day of her life, and has done down to this very day.
First. . .the BAMBS. At this very moment, next to my bed is my Kindle Paperwhite, locked and loaded with over a hundred selections to be read. I just closed The Winthrop Woman last night, racing to the end. Underneath it is Knocking on Heaven's Door by Lisa Randall, my favorite theoretical particle physicist/writer. To the side, yet within easy reach is The Luminaries by Eleanor Catton, which I began reading as a library book, ran out of time on the loan, and lusted after my personal copy, which I now have. Just started it all over from the beginning yesterday. Below, in the cubbyhole is the 4-volume complete collection of Patrick O'Brien's Aubrey/Maturin maritime fiction. Lime Spouse and I are about to begin vol. 3 and continue our read aloud marathon begun last year. There's also a box of tissues and the remote for the radio, tuned permanently to my favorite classical station that plays on from the time I slip into bed, through the night, and most likely all during the day so the house cats can enjoy their favorite station, too. The nightstand is "most-favored status at the moment" territory.
Now, the BOMBS I'd like to tell you about are the ones that I judge best provide you the window Ms Tabor insists is open.
The Naked Ape by Desmond Morris In 1967, when I was just beginning to dry behind the ears, I was interested in one subject -- biology. So, when this controversial book came out, I had to have it. Despite the author's sensational and possibly unfortunate title, Morris directed the minds of many of us in new directions when he introduced provocative arguments and evidence that reshaped our thinking about our basic functions: feeding, fighting, mating, and rearing our young. Morris presented those as just another animal's functions, without anthropomorphising human biological imperatives. It's Morris who explained road rage in its simplest biological sense -- territorial defense. Probably because I'd read this book, I found Guns, Germs, and Steel less ground-breaking than a lot of readers seem to have. The Naked Ape remains a formative book for me,one that lets me regard myself as nothing special, though exceedingly interesting!
The Complete Set of "Oz" Books, Illustrated by John R. Neill Much the worse for wear, these beloved volumes from early childhood still occupy a bookshelf in a bedroom alongside many other childhood classics that I cut my reading teeth on. I can't imagine the impoverished childhoods of my peers and succeeding generations so unfortunate to struggle into adulthood without the company and guidance of such faithful companions as the Wooden Horse, Tick-Tock, Jack Pumpkinhead, Rinkitink, the Patchwork Girl, and of course, Glinda. But beyond the delightful imaginings of Mr. Baum are the lyrical pen and ink illustrations and occasional color plates by Mr. Neill. Wicked witches, conniving gnomes, and evil queens be damned! My heroes and heroines always triumphed in the end because they knew how to be loyal friends. Everything I know of what is important in human relationships, what is to be valued, and how people should be honored, I learned from the days when I was a reading neophyte who grew up in the Land of Oz and feasted on its rich fantasy and humane compassion.
The Phaistos Disc: The Enigma of an Aegean Script by Louis Godart Since 1908, when it was discovered, the Phaistos disc remains a mystery to mankind. Unlike the Rosetta Stone, it offers no clues to its unraveling., even though some scholars believe it is "bilingual." Side A, an early Greek text that may a text for a funeral service meant to console a bereaved person; the other side being the Minoan version. Other scientists (astronomers) posit that the message on the disc is an almanac and astral calendar of value to its (possible) Minoan farmer owner 4000+ years ago. Some tacklers of the enigma believe the disc is far older than is currently assumed, employing symbols similar to those employed in the most ancient of ancient Egyptian dynasties. This slim book is the heaviest souvenier I brought home from my 4-month solo trek across Europe that I made as the 20th C. wound down. It was a substitute for the disc itself, for the Minoan Palace at Knossos, for the island of Crete, and for the entire country of Greece that I couldn't carry home and keep with me always. A good sized piece of my heart remains there, and more is left each time I return.
I probably should select a work of fiction and talk about it, but I think most R&BLer regulars know that Love in the Time of Cholera is the book that I would take from my shelf if I were condemned to a desert island and allowed a single volume there. It is much beloved; I have quoted to you its opening lines, its most telling line, and now, I'll quote from its last page. Fermina Daza and Florentino Ariza, life-long lovers, separated for fifty-three years, seven months, and eleven days, are at last reunited and aboard the New Fidelity, a riverboat.
Florentino Ariza. . .looked through the windows at the complete circle of the quadrant on th emariner's compass, the clear horizon, the December sky without a single cloud, the waters that could be navigated forever, and he said:

"Let us keep going, going, going, back to La Dorada."

Fermina Daza shuddered because she recognized his former voice, illuminated by the grace of the Holy Spirit, and she looked at the Captain: he was there destiny. But the Captain did not see her because he was stupefied by Florentino Ariza's tremendous powers of inspiration.

"Do you mean what you say?" he asked.

"From the moment I was born," said Florentino Ariza, "I have never said anything I did not mean."

The Captain looked at Fermina Daza and saw on her eyelashes the first glimmer of wintry frost. The he looked at Florentino Ariza, his invincible power, his intrepid love, and he was overwhelmed by the belated suspicion that is is life, more than death that has no limits.

"And how long do you think we can keep up this goddamn coming and going?" he asked.

Florentino Ariza had kept his answer ready for fifty-three years, seven months, and eleven days and nights.

"Forever," he said.
I love this book because I, too, say what I mean and mean what I say. To a fault, I worship precision in language, spoken and written. Much of the joy I derive from reading really good authors' really good books is that artistic precision that is as powerful as the fundamental forces of Nature.
I could go on, but then you would never tell me about your BOMBS and BAMBS, which would be unfair. Especially to me. So, in the comments, drop some teasers about them and let me know if you're willing to write your BOMBS and BAMBS diary. I'll contact you to schedule a date. What could be simpler, you voyeur, you?