Kelly Hagan and Sabrina Peduto bring us the heart-warming story of golden retriever, service dog, Gabe in, One Dog's Powerful Healing Effects on Two Wounded Veterans.
It shouldn't surprise us how much Justin Lansford and his girlfriend, Carol Balmes, love Gabe, their beautiful and always happy golden retriever. In this case, Gabe is much more than just this "man's and woman's best friend," Gabe is a service dog specially trained to help wounded veterans recover and function after they return home.
"The less I use my wheelchair, the more I need his help in smaller tasks and the more he is there," Lansford, a U.S. Army veteran, told ABC News' Lara Spencer. "It has been very comforting to know that." ... Lansford, of Silver Spring, Md., was severely injured during deployment when he was struck by an improvised explosive device. ... "I was a paratrooper in the 82nd Airborne Division and we were in eastern Afghanistan in early 2012," he said. "We struck an IED and it flipped my truck completely. I had bilaterally severed femurs which resulted in the amputation of my left leg."

Lansford was hooked up with Gabe by The Warrior Canine Connection, while he was being treated at the Walter Reade National Military Medical Center in Bethesda, Md.

"He helps me with one thing to the next. I can use him as a stable surface to lean on, as I get to and from the ground," Lansford added. "If I fall, he'll come up running next to me and I can use him to push off of to get up off the ground."
Before helping Lansfored, Gabe was assigned to U.S. Army veteran Spencer Milo, who developed severe post traumatic stress disorder after being blown up by a 15-year-old suicide bomber in Afghanistan.

"We went to a grocery store and by the time I got to the grocery store, I remember sitting there and talking to a couple people that I was with, like, 'I just did that,'" he said. "And once I started working with Gabe, I started feeling like myself again.

"My family, my wife started seeing me again, and that's incredible. You can't put that into words."

Seriously, Gabe, Great Job! Woof, woof!
Here is the official webstite of the The Warrior Canine Connection, if you would like to check them out, or make a donation. They are expecting a new litter and will have a live "puppy-cam" where you can watch them grow up.
4:33 PM PT: Here's some more pictures of happy dogs to cheer you up. Woof, woof!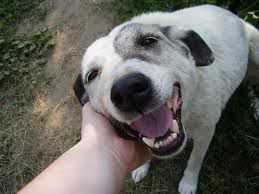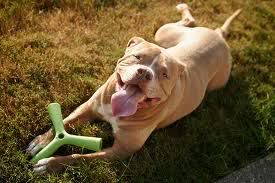 5:21 PM PT: The FarWestGirl reminds us that horses are good too.

The Saratoga Program
An experience that has the ability to shift your perspective and possibly change your life.



Saratoga WarHorse provides a 3-day confidential, peer-to-peer, equine-based program to veterans struggling with the effects of PTSD, sleeplessness or suicidal thoughts. The cost of our program is entirely covered for qualified veterans. Classes are held in our Saratoga, New York facility where veterans are paired with off-the-track thoroughbreds through a non-traditional program culminating in a life altering experience. We focus on communicating in the horse's own language which creates a trusting relationship with the horse and an emotionally empowering experience for the veteran.