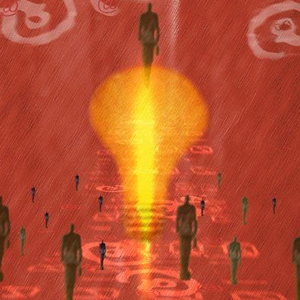 Commentary: African American Scientists and Inventors
by Black Kos Editor, Sephius1


William Cordozo born in Washington, D.C. on April 6, 1905, came from a prominent family of educators and politicians; his father, Francis Cardozo, Jr., was a high school principal and his grandfather, Francis Cardozo, was a prominent D.C. area politician and educator. Cardozo attended the public schools of the District of Columbia and then went to Hampton Institute in Virginia.

(con't.)
He later earned his A.B. (1929) and M.D. (1933) degrees at Ohio State University. Upon his graduation in 1935, Cardozo was awarded a two-year fellowship in pediatrics at Children's Memorial Hospital and Provident Hospital in Chicago. This was the beginning of his research on sickle cell anemia. With the aid of a grant from Alpha Phi Alpha Fraternity, he published a pioneering study "Immunologic Studies in Sickle Cell Anemia" in the Archives of Internal Medicine.
Cardozo's findings in sickle cell anemia concluded that the disease was largely familial and inherited. In addition, he discovered that it was found almost exclusively among people of African descent. Further research concluded that not all people having sickle cells were anemic, that sickle cell disease wasn't always fatal and that no successful treatment had been found. His findings are still valid to this day.
In 1937 Cardozo started his private practice in Washington, D.C. In the same year he was appointed part-time instructor in pediatrics at Howard University College of Medicine and Freedmen's Hospital. He would later be promoted to clinical assistant professor and clinical associate professor of pediatrics.....Read More
~~~~~~~~~~~~~~~~~~~~~~~~~~~~~~~~~~~~~~~~~~~~~~~~~~~
News by dopper0189, Black Kos Managing Editor
~~~~~~~~~~~~~~~~~~~~~~~~~~~~~~~~~~~~~~~~~~~~~~~~~~~


~~~~~~~~~~~~~~~~~~~~~~~~~~~~~~~~~~~~~~~~~~~~~~~~~~~
How do we teach children who are growing up in an increasingly diverse world but whose classrooms are going the opposite direction? New York Times: Status Quo at Elite New York Schools: Few Blacks and Hispanics .
~~~~~~~~~~~~~~~~~~~~~~~~~~~~~~~~~~~~~~~~~~~~~~~~~~~
Seven black students have been offered a chance to start classes at Stuyvesant High School in September, two fewer than received offers last year. For Hispanics, the number has dropped to 21 from 24.
According to data released on Tuesday, the racial demographics for incoming students at eight of the city's nine specialized schools, where black and Hispanic students have long been underrepresented, has remained stagnant, prompting Mayor Bill de Blasio to call again for increasing diversity at the schools.
The eight schools have a single-test admittance policy that critics have called racially discriminatory.
"These schools are the jewels in the crown for our public school system," Mr. de Blasio said at a news conference addressing criminal justice issues.
He added: "This is a city blessed with such diversity. Our schools, especially our particularly exceptional schools, need to reflect that diversity."
Any significant policy changes, however, must pass through Albany, because the test-only rule, which has endured decades of complaints about its effect on minority enrollment, became state law in 1971.


~~~~~~~~~~~~~~~~~~~~~~~~~~~~~~~~~~~~~~~~~~~~~~~~~~~


~~~~~~~~~~~~~~~~~~~~~~~~~~~~~~~~~~~~~~~~~~~~~~~~~~~
Campaigners in South Africa, the UK, and across the World look back at the movement's long and often bitter fight with the help of a moving new web archive chronicling its history. The Guardian: The Anti-Apartheid Movement goes online: a unique archive of the struggle
~~~~~~~~~~~~~~~~~~~~~~~~~~~~~~~~~~~~~~~~~~~~~~~~~~~
In 1994, concluding a process that began five years earlier with the desegregation of public facilities, the unbanning of the ANC and Nelson Mandela's release from prison, South Africa held its first non-racial elections. Mandela became presidentat the head of a government of national unity, the last remaining international sanctions were lifted, and the country took up its seat again at the UN General Assembly after an absence of 20 years. It was a time for rejoicing but also, for anti-apartheid campaigners around the world and not least in Britain, the end of a journey.
"We had accomplished what we set out to do," says Christabel Gurney, who joined the British Anti-Apartheid Movement (AAM) in 1969 and edited its monthly newsletter throughout the 1970s. AAM was dissolved and some of its members founded a new, smaller group, ACTSA, which still campaigns for justice and rights in southern Africa, combating the legacy of apartheid. One of AAM's final acts was to set up a committee to preserve and catalogue the great mass of historical material – documents, posters, leaflets, speeches, video and photographs – recording more than three decades of campaigning.
With the help of the Bodleian Library in Oxford, where the archive is stored, and money from the Heritage Lottery Fund and the Amiel and Melburn Trust, that goal too has now been accomplished. An engrossing new website, Forward to Freedom: the History of the British Anti-Apartheid Movement 1959-1994, went live this week, featuring archive highlights such as iconic posters from campaigns against the death penalty for the Rivonia accused and the 1970 Springbok cricket tour, footage from the Nelson Mandela tribute concert at Wembley Stadium in 1988, and and letters from Margaret Thatcher arguing against sanctions on South Africa.


AAM supporters asking spectators boycott the Springboks v Glamorgan cricket match in Swansea in 1965 Photograph: Media Wales Ltd/AAM
~~~~~~~~~~~~~~~~~~~~~~~~~~~~~~~~~~~~~~~~~~~~~~~~~~~

~~~~~~~~~~~~~~~~~~~~~~~~~~~~~~~~~~~~~~~~~~~~~~~~~~~
In the March issue of EBONY, Jamilah Lemieux examines how social media is creating a new Black power. Ebony: Black Feminism Goes Viral.
~~~~~~~~~~~~~~~~~~~~~~~~~~~~~~~~~~~~~~~~~~~~~~~~~~~
Gone are the days in which feminism is easily dismissed as the territory of privileged White women or limited largely to those who live in academic and activist circles. There is an emergence of boldly Black feminist thought spreading via big and small screens, from the whip-smart progressive voices of pundits such as MSNBC's Joy Reid and Goldie Taylor and CNN's Marc Lamont Hill to the blogosphere. "Black Twitter" is routinely buzzing with debates that go beyond the trite Mars/Venus politicking and instead finds women and men engaged in deep conversations about how gender impacts equality, access and freedom. Is feminism simply the latest hot topic, or are we witnessing the beginning of a new Black liberation movement?
"I think Black feminism is in one of the strongest moments it has seen in a while," says Brittney Cooper, assistant professor in the Department of Women's and Gender Studies at Rutgers University. "From Melissa Harris-Perry on MSNBC, to Laverne Cox on Orange Is the New Black to Beyoncé … we have prominent Black women identifying publicly with the term. There is also a robust crop of young Black feminists online who keep pushing the conversation forward, doing activist work in communities and generally taking no prisoners when it comes to racism and sexism."
Black women and men have engaged in feminist work for centuries. Abolitionist Maria Stewart's 1832 speech "Why Sit Ye Here and Die?" denounced the lack of access to education and employment afforded to even free Black women. In 1892, pioneering scholar Anna Julia Cooper published A Voice from the South, one of the first texts to thoroughly examine the ways in which Black women are subject to unique forms of discrimination and oppression based on race and gender. W.E.B. Du Bois' The Damnation of Women, published in 1920, makes a case for the improvement of living conditions for Black women and is considered one of the first Black male feminist writings.
To speak the names of the Black women—and men—who have done critical feminist work, regardless of whether they ever embraced feminist as a moniker, would require half the pages of this magazine: Sojourner Truth, Angela Davis, Audre Lorde, bell hooks, Beverly Guy-Sheftall, Alice Walker (who coined the term "womanism" to speak specifically to the contributions of Black women to feminist work), Rebecca Walker, Patricia Hill Collins, Toni Morrison, and the list goes on.


The pop star, the author, the professor; Beyonce, Chimimanda Adeche, and Melissa Harris Perry
~~~~~~~~~~~~~~~~~~~~~~~~~~~~~~~~~~~~~~~~~~~~~~~~~~~
Anita Hill is finally getting her say. Color Lines: Anita Hill Documentary to Open This Week in Select Cities.
~~~~~~~~~~~~~~~~~~~~~~~~~~~~~~~~~~~~~~~~~~~~~~~~~~~
Anita Hill, the law professor and attorney whose accusations of being sexually harassed by now-Supreme Court Justice Clarence Thomas gripped the nation in 1991, is finally getting her say. A documentary focused on her life and time in the spotlight will open in New York City, San Francisco and Los Angeles on Friday.
A few years back, [Color Lines] editorial director Akiba Solomon revisited the impact of Hill's bravery on the 20th anniversary of her saga.

In short, she blew the lid off of workplace sexual harassment. Before Anita Hill, conventional wisdom said that it OK for your boss holler at you. If you weren't down, it was up to you to fend him off or quit your job. And if you dared speak up, it had better be a slam dunk and in the moment. Otherwise, you were a woman scorned, a liar, and an attention-seeking, incompetent. While elements of this conventional wisdom certainly remain, particularly for undocumented and low-wage workers, today the public is at least vaguely aware that it is illegal for a person who holds your livelihood in their hands to coerce you into a sexual relationship or to create a hostile work e

nvironment.
Hill recently sat down for an interview with the
New York Times.
"I believe in my heart that [Clarence Thomas] shouldn't have been confirmed [as a Supreme Court justice]," she told the Times.


~~~~~~~~~~~~~~~~~~~~~~~~~~~~~~~~~~~~~~~~~~~~~~~~~~~
Welcome to the Black Kos Community Front Porch!
Pull up a chair and sit down a while and enjoy the company.