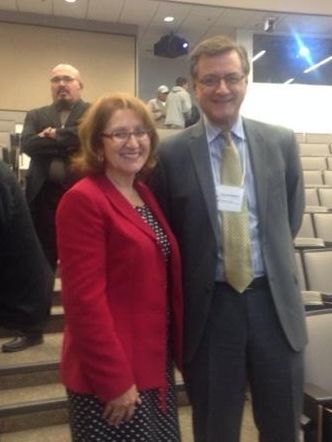 I had the pleasure to meet Eloise Gomez Reyes at the Latino Congreso on Friday and I was sold.
She is running as a Democrate for the CA-31 Congressional district in the Inland Empire The district is held by Republican Gary Miller who announced his retirement.
She spoke and she sounded smart, eloquent and committed.
She knew about Daily Kos and the diary abot her candidacy by emorej a Hong Kong;
CA-31: More & Better Democrat --- Eloise Gomez Reyes
Eloise was impressed that our founder is a Latino too.
Significantly, she has received the endorsement of the two Democrats (Hilda Solis and Xavier Becerra) who held an overlapping pre-redistricting district.
The primary will be held on June 3. The top 2 candidates, regardless of party, go on to November.
There are 6 candidates, 4 Democrats and 2 Republicans.
On the Democratic side her two main competitors are Pete Aguilar and Joe Baca.
Pete Aguilar, Mayor of Redlands, got blown out by the two Republicans who ran in 2012. He didn't make it to November. And as emorej said in his diary, Aguilar is a "moderate" Dem.
Joe Baca is another story. He does have "baggage", including misus of funds, anti-choice votes and as emorej highlighed he is against gun control. Aguilar may be a moderate but Baca is definitely blue dog material and to his right. The fourth Democrat is Danny Tillman who I have no opinion on.
On the Republican side one candidate has a chance, Leslie Gooch who was an aide to Gary Miller (she doesn't seem to have a website yet). The other is wingnut Paul Chabot who made the news last year when he compared marijuana to child-pornography.
The DCCC had originally endorsed Pete Aguilar but recently it has gone neutral.
I strongly believe that Eloise can energize the critical Latino vote that may make up 30% of the voters in the district. She got the endorsement of Emily's List that can also energize the women and small business voters.
I'm hoping that some Inland Empire Kossacks can pitch in to help Eloise.
Eloise is a "better" Democrat, her #1 issue is jobs and she believes that the almost 13% unemployment in the district can be helped by infrastructure jobs. I agree we also talked about other issues. Money in politics is big for her as is mass-surveillance as is women's choice. I also had a chance to meet Frank Reyes, her husband and an true gentleman.
She is a lawyer and she was the first Latino woman to open a law office in the Inland Empire. Before that, as a lawyer, she helped workers and unions.
One thing you can do is support her in Democracy for America and like her Facebook page.