Hi all
I am down here in Chile once again, presently in Valdivia.
I come here every year, this is my 6th time. Why I'm here is that my son moved here in 2007. He and a friend opened a sportsbar, then sold it and opened a restaurant (which is also a sportsbar) and he has done superbly. His restaurant is one of the top grossers in Santiago, in most of the guidebooks.
Unfortunately I can't tell you about it, or much about my 2 beautiful half Chilean Granddaughters because I have Been Talked To in the past about using its name and their names on a political website. My son just doesn't want it and I can see his point. (Aw gee)
But I can talk about myself and what I'm doing
I like Chile a LOT, it is far and away my favorite Latin American country and I have been to most of them, worked and lived in some of them. I consider it to be my 2d country now.
It is the place most Americans would feel comfortable in, a relatively safe place a lot like the USA. The people don't have an attitude about Americans here, which is very sporting if you know history. Its not a haggle society, the price on the tag is what you pay. The roads and infrastructure are good, as good as California's. The cops (Carabineros De Chile) are honest, don't try and bribe them, and pretty laid back. The food is excellent, ingredients are fresh. I have not yet felt like a target, like someone was trying to rip me off. It helps that I speak Spanish better than OK but there's plenty of English speakers here.
Its not a hugely macho society, women are respected here, one's the president now (for the 2d time.) Men don't follow them down the street whistling, shouting, jeering and grabbing ass like some places in latinamerica I know. (looking at you, Mexico) Chilean women just wouldn't put up with that.
Also don't see a lot of obesity. I think in a week and a half, Ive maybe seen a handful of people I thought were obese. Their diet is better than ours, as is their eating habits but our junksfood brands are all here so maybe that will change.
I like the fact that my granddaughters are growing up here, with dual Chilean-American citizenship.Was at a party last week with a wide variety of people---Chileans, Mexicans, Colombians, Americans (here called estadounidensos) and Africans, one of them white. The women were commenting on how safe it was.
One of the things you come to appreciate here is the great diversity of the USA. If you're talking to an American, you can be talking to any race, any ethnicity, any style but here, as in much of Latin America, they have a lot the same appearance. Chilean style for women is long dark brown hair in all its variations (ponytailed,braided, straight, etc). No purple hair with the bone in the nose look. No face and neck tattoos, people don't dress and act like they're trying to scare you. Chileans do dress up a little when theyleave the house, you don't see the Slopping Through Walmart In My Dirty Sweats look. Kinda reminds me of life in the USA in the 50s before Bad became good.
the kids all wear uniforms to school and they get a good education---literacy rates equal or better ours. They seem amazingly happy and well adjusted.
I like it down here

Ok, so I got to Santiago a week ago Wednesday, the 19th. 5 hour flight Portland to Atlanta, 9 hours ATL to Santiago. I spent the first week in Santiago and I have been commenting about it in the Morning Open Thread but this is the first diary Ive done on it. Its a big town, a lot like LA, including Spanish being spoken
We left Santiago on Thursday and drove down Rte 5 south about 7 hours to just short of Temuco, where we stayed with friends. Its complicated, but my son and a friend bought a lot to put a country cabin on. (he has a house in Santiago) Its out in the country a ways but right next to the place we stayed. I'll be coming down to help him build it.
Chile is also like California in that there's a big central valley running down almost the whole length of it. This is where all the agriculture is. driving down Rte 5 is like driving down I-5 in CA and just as good a road (its a toll road.) As a matter of fact, Rte 5 is a continuation of I-5.
So Friday we went to Temuco which is a pretty good sized farm town, but with all the stores. they futzed around getting the deal done while I hung out in the park and Starbucks. Our friend (who was my son's "mom" while he was an exchange student in '03-05) stayed out in the country (we'll pick her up on the way back.)
So Dan and I went on down to Valdivia. this is a port city and also a tourist destination tho its just at the end of the season (opposite from ours--its fall her now)
its a great place, lots of interesting restaurants and shops. Its inland from the sea about 10 miles up an estuary but we drove out to the beach.
Though Valdivia is almost 400 years old, its mostly fairly new-- it was largely destroyed in the earthquake of 1960, the largest one ever recorded. this put water 12' high in its downtown part. Most of the buildings were built since then.
Here's a shot of the downtown area from the bridge

Downtown: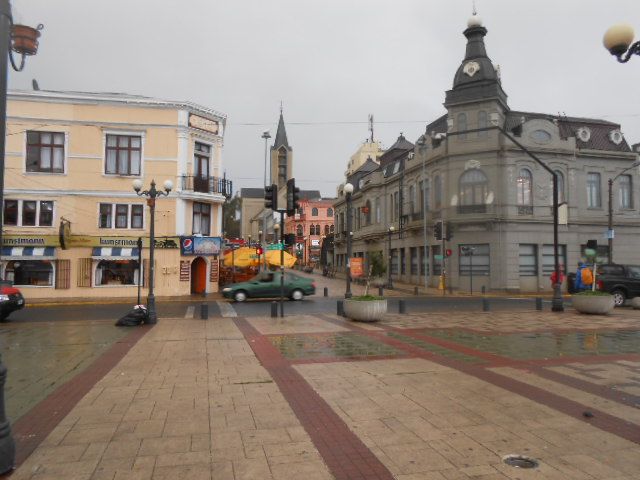 One thing they have is a great fish and farmers market, which is that big blue and yellow awning in the first picture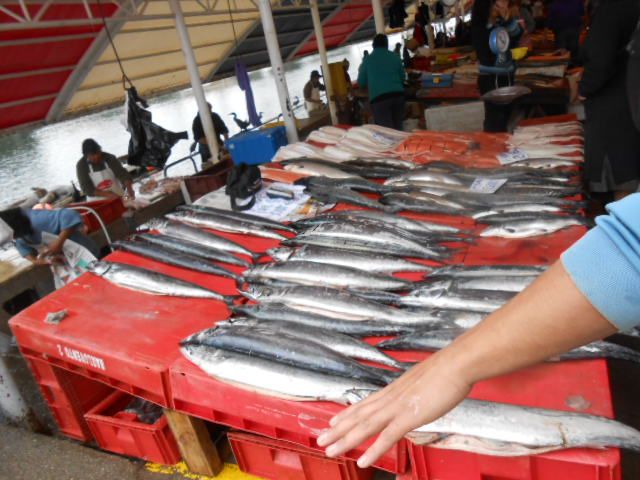 Of course I HAD to have ceviche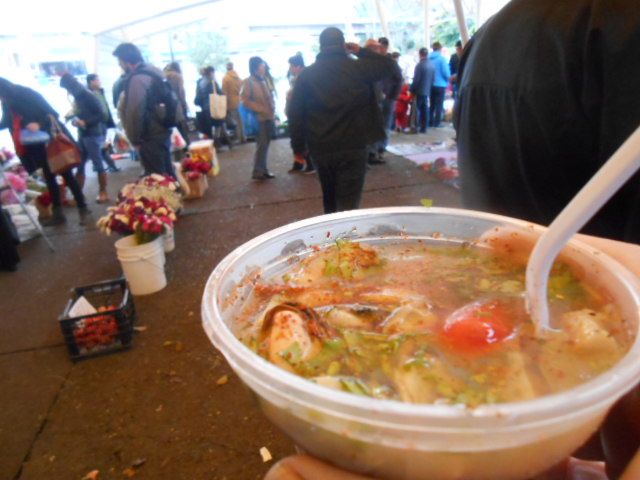 There's sea lions hanging around the fish market

Chile has some great art on the walls, everywhere. I did another diary on the art of Valparaiso a couple of trips ago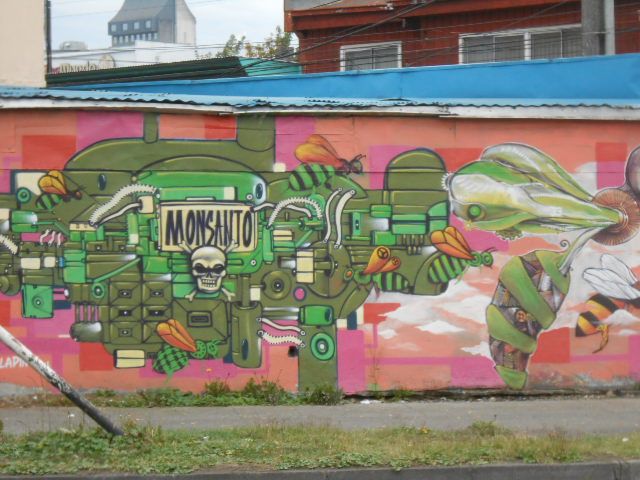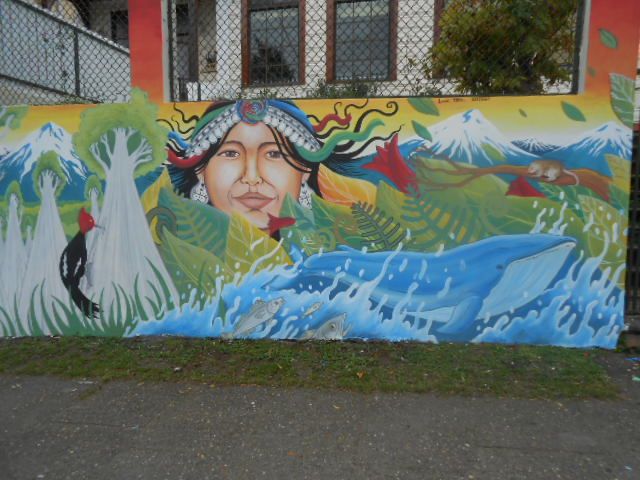 Saw these carved into the cliff at the beach: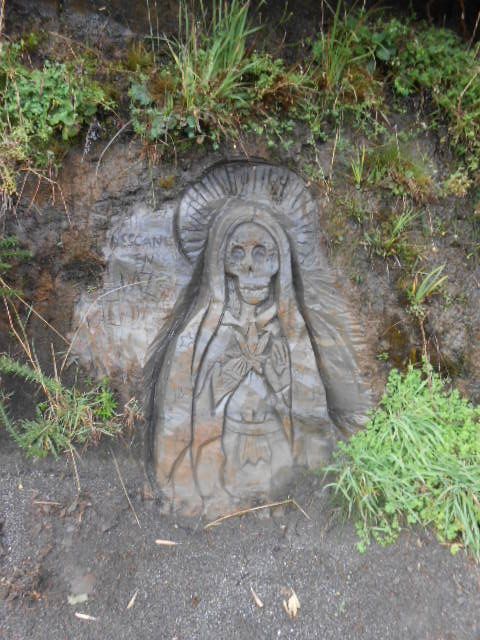 Chile has no doubts about global warming it affects them greatly. Here's a sign at the beach. It says (roughly) prolonged exposure to solar radiation may be bad for your health

well, amigos, I'm hitting the road real quick, I can't stay to comment.
Going o Villarica, a big lake and town, then back to Temuco, then Santiago.
Te veo en el camino