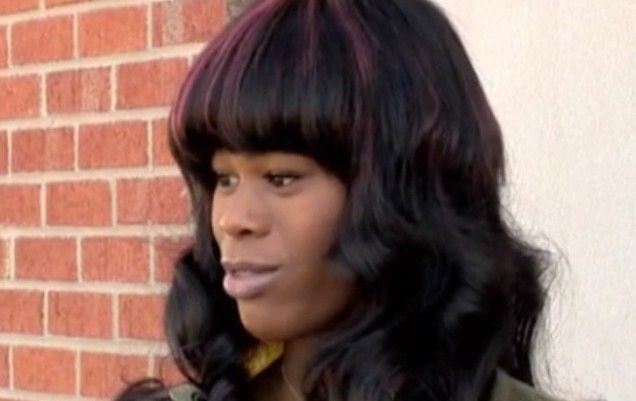 Andraya Williams is a 22-year-old student at Central Piedmont Community College in Charlotte, North Carolina.
On March 18 Andraya stopped in to use a restroom on her way to her sociology class and a security guard stopped her as she was exiting the washroom and asked to see her student ID.

She outright asked me was I male or female and I told her that I was female. I showed her my ID and she called for backup.

--Williams
When Andraya said "female", the female officer laughed.
Andraya says the guard proceeded to mock her.

It was very embarrassing and humiliating because I didn't feel like it was any of her business.

She was kind of chuckling. I felt like she was picking on me.

--Williams
Andraya managed to also call her attorney on her cell phone as she was retrieving her ID.
I immediately called my attorney's cell and told her what was going on while I searched for my identification. My attorney told me to show my identification right away and I did. I then asked the officer 'am I free to leave?' because I did not understand why she was keeping me.

--Williams
The call for back-up resulted in Andraya being surrounded by six more security officers, who detained her for about 15 minutes before she was escorted off the campus, not allowed to attend the class to submit an important project.
The guards who escorted her off the school property told her she was suspended and would only be allowed back if she only used gentral neutral bathrooms (of which there are only two on the campus).

I don't understand why I was suspended and escorted off campus. They were really just treating me like I had just robbed a bank or like I was a real criminal.

--Williams
There were other students in the building when it was happening. It was just a really awkward situation. [Students] were looking and trying to figure out what was going on.

--Williams
When Andraya contacted the college and spoke to the Dean of Student Life, Mark Helms, an additional demand was made:
He told her she had to bring in medical proof of being a female if she wanted to use the female restroom.

--Sarah Demerest, Andraya's lawyer
A spokesman for the school, Jeff Lowrance, says that Williams was never "technically" suspended and was removed from the campus for refusing to show her ID...when in fact Andraya promptly gave her ID to the first officer and all the officers passed it around after they arrived.
I'm confused because everyone involved in the situation knows I was suspended for being a transgender person using a female restroom and they put it on paper that I was suspended for not showing my ID.

--Williams
Student IDs at CPCC do not include gender markers.
CPCC's policies constantly evolve to the meet the changing needs of students, employees and the institution. Central Piedmont, like many colleges and universities across the country, is just starting to understand the needs of transgender students, and discussions will continue. However, the college must balance these needs with those of the general student population. All students rightfully expect and deserve a safe and respectful environment to learn. CPCC wants to be fair and considerate of all of its students, while being mindful of the law.

----Jeff Lowrance
...and, apparently, respect the needs of the security officers to be bullies.
Williams calls it what it was: discrimination. She and her attorney are investigating the possibility of filing a complaint and hold out hope for an apology from the school. Williams' legal identification shows she is female...legally...and she has a woman's name. So why does the school need "medical proof" of her gender?
Williams says that Dean Helms refused to give her information on how to file a complaint about the incident, although he did lift the suspension.

After talking to the Dean, I called the Office of Equal Opportunity and the Director told me I have 'no rights legally,' because I am transgender and that if I file a complaint it could 'cost someone a job.'

--Williams
Williams full statement
is here
. Her lawyer is claiming that her treatment was a violation of Title IX, which bans discrimination on the basis of sex in educational program activities. Her lawyer is correct. Demarest points out that courts have held that unlawful sex discrimination extends to gender stereotyping.
Demarest runs a non-profit law center which assists LGBT residents in Charlotte and elsewhere in the state. She and Williams are considering filing a civil rights complaint with the US Department of Educations' Office of Civil Rights.

I'm frustrated because it seems like no one's doing anything about it. They are just giving me the run around and passing me from person to person instead of handling the situation.

--Williams
Andraya says she now feels "unsafe and uncomfortable" on campus.
Until now, I've never been discriminated against because I'm transgender. I don't feel 100 percent comfortable going back to school. Until they change their policies, there could be another situation.

--Williams
Williams is studying music at the college and has been a student at CPCC off and on since 2009. She hopes eventually to have enough credits to transfer to a four-year college. She fears that her possibility of attaining any credit for this terms courses has been diminished because of assignments she missed while she was suspended.
This was about prejudice and harassment. Now it's about prejudice, harassment and excuses. We are wanting to give CPCC time to take action on their own, but if they are unwilling, we are prepared to file a complaint with the U.S. Department of Education's Office of Civil Rights.

--Demarest
Repurcussions from the case have even made their way to
Inside Higher Ed
.