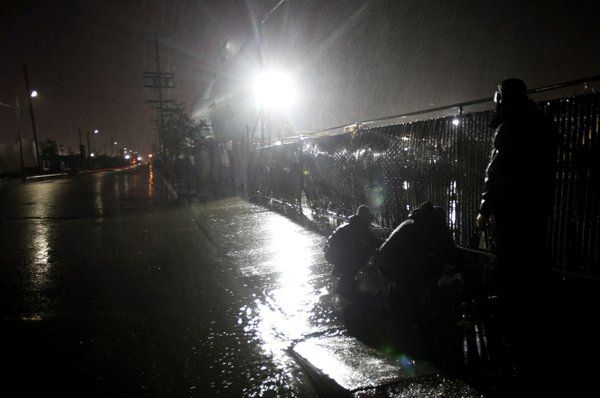 Here's a fun and encouraging article about a creative approach to controlling pollution written by Tony Barboza of the LA Times writes called Environmental SWAT team tests runoff to nab polluters. A private group called Los Angeles Waterkeeper employes seven full time environmentalists who coordinate a small army of volunteers who collect samples of rain water run-off from area business and have them tested for pollutants such as heavy metals, pesticides, soups, de-greasing agents and otherschemicals. Results are sent to city or state regulators or used to negotiate private fixes and settlements with business owners.

The watershed manager for Los Angeles Waterkeeper is tracking this late February storm by radar on her smartphone. Already, she has sent out a flood of text messages, maps and assignments to a small crew of environmentalists. ... It's going to be a long and soggy night monitoring the murky water sloshing off metal scrap yards, auto dismantlers and waste facilities in one of the biggest storms of the season.

SWAT stands for Storm Water Assessment Teams, and Tony Barboza's story book like articles describes several adventures that feel like "black-ops-like" team on "searching, seek, and destroy" missions.
Not surprisingly, some of the business people who have been "targets" of their campaign see things differently.

Though they collect the samples from public sidewalks or streets, they've been chased off and even threatened by hostile property owners. ...

Targeted businesses often contest the results or complain about "bounty hunter tactics" aimed at extracting settlement money through lawsuits. But Meeker says it's about holding them accountable.

"It's one of the few opportunities we have to demonstrate the pollution that is coming from these facilities every time it rains and going unnoticed," Meeker says. "If we're not out there collecting samples and making a stand, then nothing will change."

WaterKeeper's staffers point out that all the rain run-off from all the business, metal scrap yards, private dumps, and other sources of pollution run into creeks and streams which end up in waterways ponds, and the ocean which can harm swimmers, and marine life.
Barboza tells us that all of Los Angeles county's major waterways are listed as impaired under the Clean Water Act.
The Los Angles Regional Water Quality Control Board welcomes WaterKeepers help as they are understaffed to meet the areas environmental challenges.
Perhaps, WaterKeepers will inspire other grass-roots efforts to improve our environment. Many more complicated issues would have to be addressed before this could be held up as a model, so I am not recommended this as nation-wide program. This article is certainly a fun and encouraging read and worthy of thought and discussion.