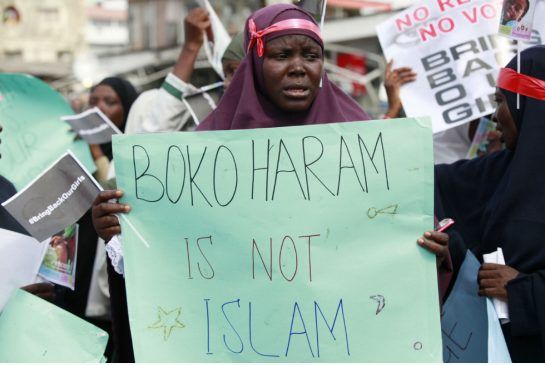 Nigerian woman at protest. Photocredit: SUNDAY ALAMBA - AP
I recommend this impassioned op-ed by Ahmed Sahi, a devout Muslim, who denounces the violence of Boco Haram and reminds us that Boko Haram does not represent Islam, which is published in The Toronto Star. Sahi suggests Boko Haram has not just kidnapped the several hundred Nigerian girls but also has "hijacked a whole faith."
Islam is the third largest religion in the United States. 0.8% of our population are Muslims.
Sahi condemns Boko Haram's "rampage of indiscriminate violence and tyranny which has been going on for over three years now in Nigeria."

It's frustrating because here you have this massive group of about 1.8 billion Muslims on earth today, and a handful of twisted extremists have hijacked the whole faith, steering the public discourse on Islam. Every inhumane and ghastly crime they perpetrate leaves a mark on the face of Islam, spread across the international stage in global headlines for all to see. "Boko Haram — Islamic Militants." That's how they're described and viewed. The "militant" part is true. The "Islamic" part? Not so much.

Sahi uses an example of asking a member of the RCMP, which I'm guessing is the Royal Canadian Mounted Police, about corruption among the force. An officer responds that a few bad apples have given the almost 70,000 honorable and courageous officers of the RCMP a bad name, apparently referring to some recent scandal in Canada. Sahi suggest this analogy applies to Boco Haram and the world's 1.8 billion good, peaceful, law abiding Muslims.


For the many people who have cried in frustration for the "silent 99 per cent" of Muslims to make themselves heard and to make a clear separation between themselves and the extremists, I want to enumerate just how anti-Islamic Boko Haram really is.
Firstly, their very name, which translates as "Western education is a sin," is totally opposed to the fundamentals of Islamic philosophy. The Prophet Muhammad once stated, "it is incumbent on every Muslim man and woman to seek knowledge." He even exhorted his followers to "seek knowledge from the cradle to the grave."

Ahmed Sahi also detests Boko Haram's misogynistic abuse of women, saying
the "Prophet Muhammad had the utmost respect for women. 'Paradise lies at the feet of your mothers,' he once said. 'That's how much dignity and respect Islam has accorded to women.]"
Ahmed also informs us the true definition of Jihad, which means "struggle in the way of Allah," is an inner struggle with ones moral failings. Sahi asks rhetorically, "isn't Boco Haram conducting "Jihad" in the "traditional way?" No, not at all, Sahi asserts the:
Prophet Muhammad taught true Jihad was the one a person waged against his own evil inclinations and moral failings ... the Holy Quran, which states that "whosoever killed a person … it shall be as if he had killed all mankind" (Chapter 5, Verse 33).

Ahmed Sahi closes this inspiring missive with an optimistic message of interface peace and cooperation with a story I had not heard saying that 1,400 years ago (the) "Prophet Muhammad, ... once vacated a mosque so that Christians could worship in it, and enjoy their prayers in peace and with convenience."
In a modern world of diverse peoples and religions, as well as lack of religions, we all benefit from hearing wise and compassionate calls for peace, respect for one another, and inter-faith cooperation.
And, during this terrible crisis while Boco Haram grabs headlines daily with kidnappings and massacres in the name of "Allah" we all need to remind ourselves and others that Abubakar Shekau is an opportunistic terrorist and criminal, as are the other members of Boko Haram.
Islamic Prayer Lantern
Boco Haram does not speak for all Muslims and shows no sign of following Islamic principles. Ahmed Sahi deserves our praise and appreciation for this public condemnation of Boco Haram and their violent ways which are not consistent with the majority views of the world's 1.8 billion Muslims. Other leaders of Islamic communities should speak out against violence and make their views known. Some Muslims do believe in violent Jihad so it would seem to be a useful clarification for leaders to make.
Also, may I wish all of our Muslim readers a peaceful and most blessed Ramadan which starts in late June this year.
1:32 PM PT: I should point out that I am not a Muslim but a scientific humanist who tries to respect and learn wisdom from all religions.
Also a few comment challenge the notion that any religions can be peaceful. I will leave the response to those who wish to respond, My primary point is that Boco Haram does not speak for most Muslim any more than the bomber who blew up that Federal Building spoke for Christians. We shouldn't tar groups with labels based on the behavior the worst members of their group.
I would also agree with those who challenge neither can we people of faith a "free pass" just because they are believers. So it seem fair to challenge groups with behaviors they may be collectively responsible for.
1:39 PM PT: In response to a few comments I added an acknowledgement that some Muslims do believe in violent Jihad making it even more important for those that do not to come out to denounce violence. I guess I should have said, it is my belief that most do not, as I also believe most Christians don't support a lot of gratuitous "illegal violence." (Well except in wars, retaliations, and against murderers, .... ) Damn. let's just say I appreciated Sahi denouncing the violence of Boco Haram and leave it at that.