Good morning, and it's still weird here. Welcome to Saturday Morning Garden Blogging.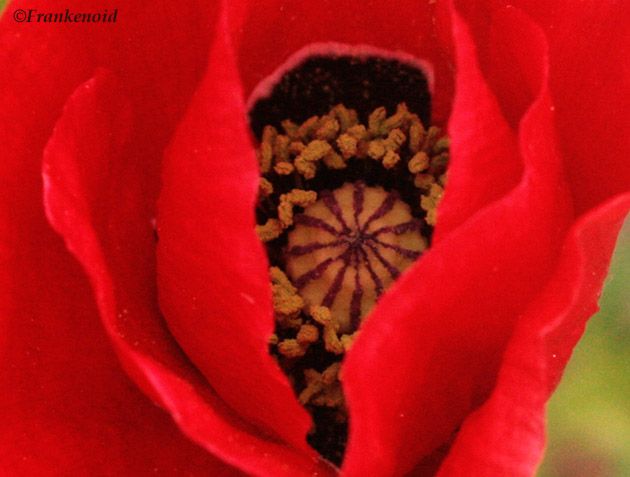 In Denver, warm-weather gardening season is considered to begin Mother's Day weekend.
This year on Mother's Day we got snow. And over-night lows below freezing.
Since then we've been on the decidedly cool and cloudy side. It didn't get back into the 60s until Thursday, and we've had spits and spats of rain — nothing major, just enough to keep the grass too wet to mow, and the veggie patch too wet to plant.
I guess it's not a bad thing that the Mister's work on the shed has delayed my planting of the warm-weather crops in the veggie patch.
We're supposed to have a couple of days of warmer weather this weekend, so I plan to make some progress on spring-time chores: mowing the grass, emptying then reloading the compost tumbler; replacing a broken section of soaker hose; and planting the seedlings.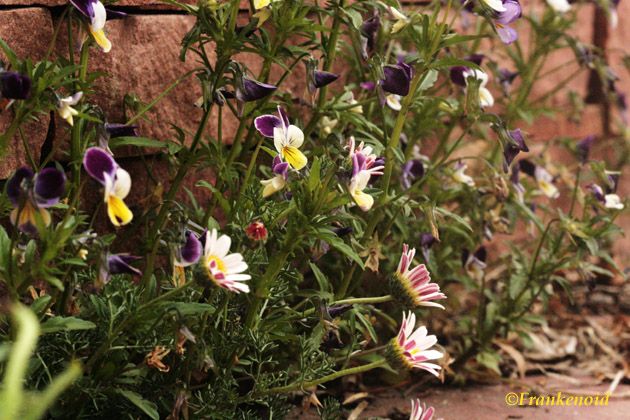 Some time next week I'll be motoring up the road to Paulino's; I have some perennials that just weren't able to recover from last year's weather weirdness and need to be replaced, and others that just wore out, I think.
But I'm also relying more and more on self-seeding plants, some annuals and some perennials. Here johnny jump-ups and mat daisies seeded in the crack between the side-walk and the retaining wall. California and Flanders poppies have seeded there, too — all the photos from today's diary grow in a yard-long patch, softening where walk meets wall.
I had to freshen the nicotiana seed this year. We still get loads and loads and loads of the giant nicotiana sylvestris, but the smaller hybrids had gradually diminished until last year I had only one smaller plant, and that with white flowers — the species-type sylvestris overwhelmed the genetics of the hybrids. So I bought Perfume Red, Purple, and Mix from Swallowtail Garden Seeds; in 5 years I'll likely have to buy some more as the hybrids peter out again. I think nicotiana is one of the gems of the garden: a great filler plant, self-seeds readily but is easy to thin, and the scent is amazing on warm summer evenings.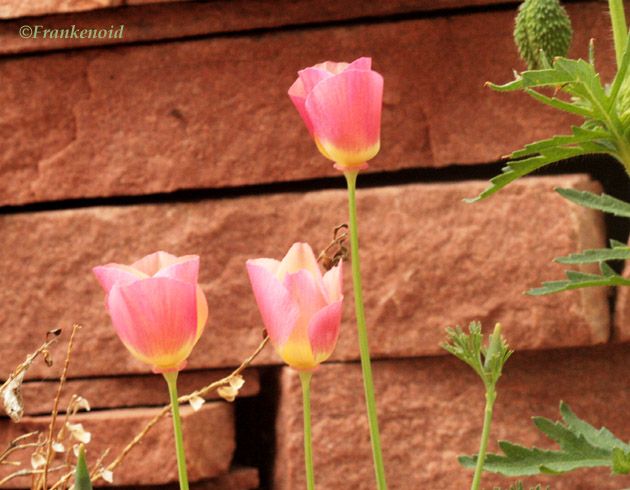 Violets have been multiplying and provide ground cover in the back flower beds where I've had little luck in establishing anything else. I have an area on the west side where columbine have been self-seeding, so I bought a packet of mixed color columbine seed and threw them around.
Hollyhock like the bed on the east side of the back-yard, but the volunteers have been tending to very pale shades — so I threw around a pack of seed for deep burgundy hollyhock — if they bloom at the same time as the Lauren's Grape poppies, it would be a dynamite combination. I'm also trying dwarf hollyhock (although the seeds are a few years old).
I like self-seeding stuff for a lot of reasons: if a plant chooses to sprout somewhere, the plant will likely thrive there; it's inexpensive; with sufficient care it's low maintenance, more to the side of curbing excess rather than coaxing to survival. So it will be interesting see what comes up this year. There are so many blank spaces, I threw around a lot of types of seeds.
That's what's happening here. What's going on in your gardens?