Last year, a bunch of Bay Area cyclists heeded Bill McKibben's call to tell oil companies that the climate math doesn't add up when it comes to their business plans of burning massive reserves of fossil fuels as quickly as possible.
Joining a diverse coalition of groups representing all the different people getting screwed by the oil giant's reckless greed (from the indigenous communities suffering the effects of the Chevron/Texaco's toxic ventures in the Ecuadorian Amazon to the company's Richmond, CA refinery neighbors demanding to stop being poisoned), several hundred concerned citizens gathered in- and outside the annual shareholder meeting at the company's San Ramon, CA Headquarters to demand that Chevron take responsibility for their pollution and become part of the solution.
The Bike the Math part of the action was not only a lot of fun (riding the Iron Horse Trail with a bunch of cool people with home-made flags waving from their bikes), but ended up being great visual support for the people giving Chevron's CEO Watson an earful inside the meeting. As I wrote afterwards, this may have been the only time I would ever be on the same page with Chevron CEO John Watson.
And I was right. Tired of being held to account by the powerful, almighty citizens lobby, the $26.2 billion a year underdog decided to escape the scrutiny this year by moving their annual shareholder meeting to George Bush's oasis in Midland, Texas, four hours from the nearest metropolitan airport.
Thing is, there wasn't even going to be that big of an action this year. After last year's big shebang it was going to be hard to keep that kind of intensity going. I, for one, wasn't planning on putting together another bike ride, and I hadn't heard of any big plans from the organizations that had mobilized the action last year.
Then Chevron tried to sneak out the back door and woke up a sleeping people giant. The canceled shareholder meeting turned into a Global Day of Action, endorsed by nearly 100 groups with protests in 12 countries around the world. Because really, it's not like Chevron has gotten any better over the last 12 months. The opposite, whether it's illegally fracking in Romania, refusing to take responsibility for a gas-rig explosion in Nigeria, or bribing witnesses during retaliatory RICO lawsuits, these guys are just not making many friends aside from the Donny Rico's of the world.

So as a result, this coming Wednesday, May 21, there are going to be actions throughout the worst-hit frontline communities from Nigeria to Ecuador, from Argentina to Romania. Right outside the Richmond refinery, Amazon Watch is joining with groups like APEN, the Richmond Progressive Alliance, the Sunflower Alliance, Greenaction, and over a dozen other groups to hold Chevron accountable for its crimes in Richmond and around the world.

Chevron Richmond Refinery Protest - Don't Buy Chevron!
Then, last week, I got an email from remembrance about whether there was going to be another Bike the Math this year. She was asking on behalf of TheLittleOne who rode with us last year and is ready to do it again. That was pretty much all the motivation I needed, so I emailed the folks at Amazon Watch to add us to the list, told remembrance I'd meet Glen The Plumber and TLO at the Richmond BART station at 10am, and launched
a Facebook event page
.
All the info to join us below the toppled orange oil rig.
Bike the Math will once again be joining a bunch of groups in holding Chevron accountable for their environmental malfeasance. Cyclists from around the Bay Area will meet outside Richmond BART at 10am to bike the math of climate change to Chevron and tell the company to stop fueling climate chaos and become a renewable energy company.

The action comes right before Chevron's annual shareholder meeting, for which they are fleeing to Midland, Texas. Instead of following them to Bush's hometown, Amazon Watch is joining with APEN, the Richmond Progressive Alliance, the Sunflower Alliance, Greenaction, and over a dozen other groups to hold Chevron accountable for its crimes in Richmond and around the world.

The rally is part of a global day of action endorsed by nearly 100 groups with protests in 12 countries around the world, including in frontline communities in Nigeria, Ecuador, Argentina, Romania, and, of course, in Richmond, where Andrés Soto from CBE will be MC'ing.
I'll leave the last word to TheLittleOne...
I enjoyed the ride, I never rode 12 miles before. I think I did pretty good for the first time. I like the idea of Bike The Math because Chevron is polluting. I watched a video yesterday (ChevronToxico) and Chevron said that the oily water was full of vitamins of minerals, but here are some facts: it can cause cancer, death, severe illnesses causing amputation, and birth defects.

- TheLittleOne
And don't forget to support the big California Fracking Moratorium Blogathon this week!
California Fracking Moratorium Blogathon
May 20-May 23, 2014
---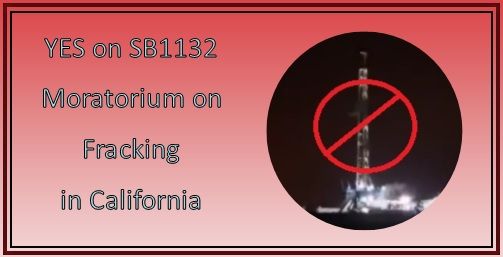 Key votes will be held this week on California Senate Bill 1132, which imposes a moratorium on hydraulic fracturing, or fracking as it commonly known. The fracking process poses many unacceptable public policy risks. These include contaminating water supplies; degrading public health; disproportionately affecting low income families and communities of color; using scarce water supplies in drought-stricken states; causing earthquakes; and harming wildlife and habitat fragmentation. If the bill fails, the legislative process toward moratorium must restart next January.
Please join us for a blogathon May 19-23 in a campaign to tell lawmakers to support this bill. This is a coordinated effort with a coalition of more than a dozen NGOs, including Earth Works, Sierra Club, and Center for Race, Poverty and the Environment.
And please call key lawmakers, ASAP. Tell them YES on SB 1132!
Sen. Kevin De Leon: (916) 651-4022
Sen. Ricardo Lara: (916) 651-4033
Sen. Ed Hernandez: (916) 651-4024
Sen. Cathleen Galgiani: (916) 651-4005
Sen. Ben Hueso: (916) 651-4040
Sen. Lou Correa: (916) 651-4034
Sen. Carol Liu: (916) 651-4025
Sen. Richard Roth: (916) 651-4031
Sen. Norma Torres: (916) 651-4032
Please Help Pass a Moratorium on Fracking in California!
---
The complete diary schedule is in this announcement diary by boatsie.