A lawsuit over redistricting is currently playing out in court this week as plaintiffs sued the state of Florida for violating their state's newly passed Fair Districts amendments. Those constitutional amendments prohibit districts from being drawn for the benefit of a political party or incumbent while prioritizing the preservation of city and county integrity. Given the blatant disregard by Republicans for the amendment seen below and that the left leaning bloc on the Florida Supreme Court has a five to two majority, the odds of success are good for the plaintiffs. Republicans though aren't headed for complete disaster as it is very possible that the court simply sends the map back to the legislature or only imposes small changes of their own. In this diary however I wanted to look at what a completely non-partisan, start from scratch map might look like.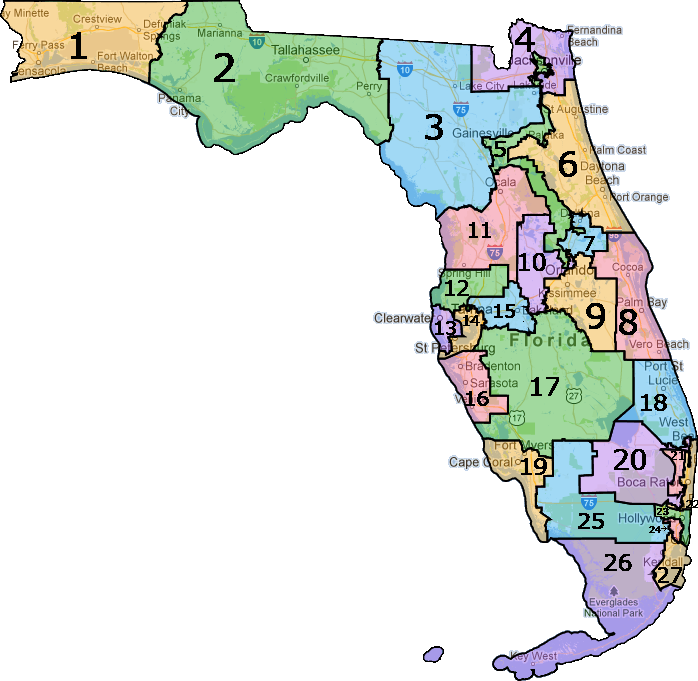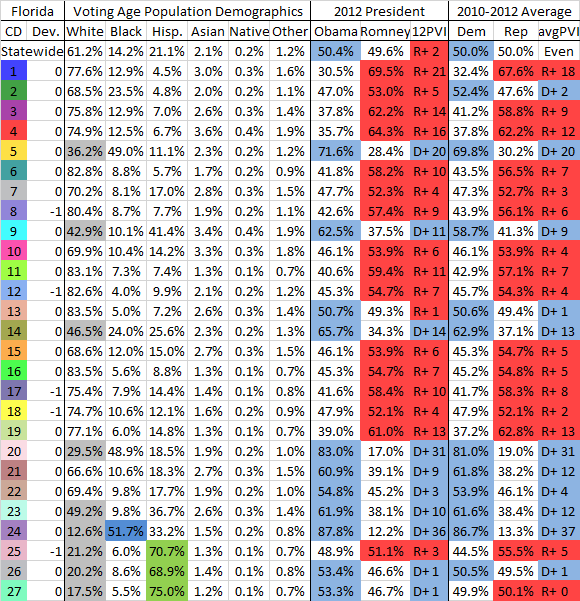 Starting with the Republican-drawn districts in effect for 2012 and 2014 you can see they are fairly blatantly partisan. Obama won Florida yet carried only 11 of 27 districts while Democrats hold only 10. The most egregious violation is almost certainly the 5th district which snakes from Jacksonville to Orlando to pack Democrats and while Republicans profess that this is required by the Voting Rights Act, the district is not even majority black and is not compact by any rational standard. Other violations include removing St. Petersburg from the 13th and using water contiguity to place it in the safe Democratic 14th, along with stretching the 25th from Miami to Naples, and another faux VRA 20th district packing in Democrats that reaches from West Palm Beach through the Everglades to Fort Lauderdale.
Head below the fold to see my proposed alternative map and its detailed impact.

(click through for a much larger image)

Here is my interpretation of what a non-partisan map would look like that is based on communities of interest and city and county integrity while still adhering to the VRA. Moving north to south, the highly competitive 2nd district becomes about half a point more Democratic which could make a difference given how strongly contested the seat is this year. The 3rd district goes from safely Republican to only modestly so with the inclusion of heavily Blue Dog Democratic areas. Bill Nelson won it by nearly four points in 2012 and Alex Sink only lost it by about four in 2010 and given how extreme Ted Yoho is, the district has the potential for an upset.
In Jacksonville the 5th is completely redrawn to consist of just the city itself in Duval County. It is no longer safely Democratic, but Republicans would have a difficult time winning a district that voted for Obama by nearly six points in the Deep South. However incumbent Corrine Brown would certainly be at risk, even in the primary as well, but the district would still be likely to elect a black Democrat such as Jacksonville mayor Alvin Brown. Once the 5th no longer soaks up Democrats though, districts like the 6th in Daytona Beach are highly competitive. That seat now voted for Romney by about two points, but for Obama by five in 2008 and would likely be a tossup. The 7th district in the suburbs north of Orlando actually voted for Obama by one point in 2012 and while incumbent John Mica is fairly entrenched, it would be a great opportunity if open or in a wave.
In Orlando itself Democrats would gain an entirely new safe majority-minority district with Republican Dan Webster's 10th giving Obama over 60 percent of the vote and likely electing narrow 2012 loser Val Demings, who is African-American. Alan Grayson in the 9th would no longer have a safe district, but given how he has kept his head down in his second term and the Democratic trending district voted for Obama by over nine percent in 2012, he would likely be okay short of a wave.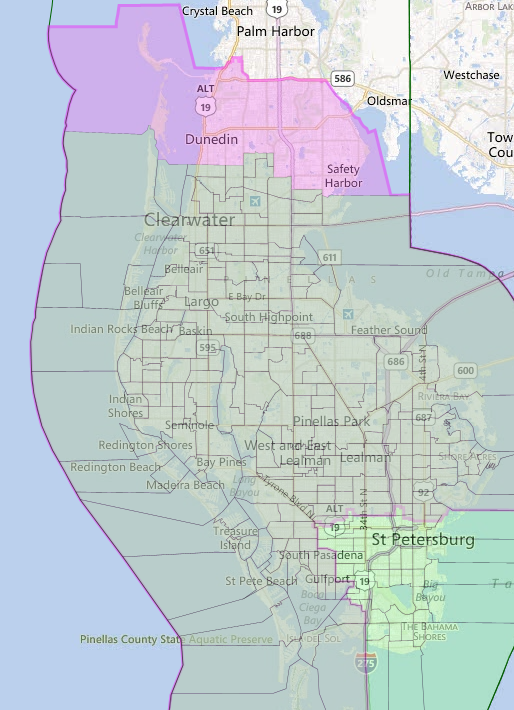 In the Tampa Bay area the biggest change comes to the 13th which Republicans just recently won very narrowly in a low turnout special election. The sections in pink are removed from the district while those in light green including St. Petersburg proper are added. That moves the district from a narrow one point Obama margin to just over 10 points, making it very difficult for freshman David Jolly to win reelection. The adjacent 14th remains safely Democratic despite Obama's margin narrowing, while to the north and east the 12th and 15th become marginally more Democratic and the 16th to the south somewhat less so.
In southeast Florida the 18th, where freshman Patrick Murphy narrowly won a marquee race against tea party firebrand Allen West in 2012, unfortunately moves about one to two points more Republican. However Murphy appears to have a clear advantage in 2014 and would by no means be unable to win in 2016 under these lines, but if or when he eventually runs statewide the district would be a probable loss. Making up for that however, the 22nd district in north Palm Beach County becomes rock solid for Democrats, moving from an Obama win of just under 10 to nearly 20 points. The 20th northeast Broward County is still heavily black at nearly 38 percent of the voting age population and over a 43 percent plurality overall.
Finally there are the four VRA districts in the Miami area, which itself swung strongly Democratic in 2012. The 24th remains majority black and the 25th, 26th, and 27th are all over 2/3rds Hispanic. The 26th moves from marginal to safe Democratic for freshman Joe Garcia at nearly 58 percent Obama while the 25th turns from a Romney district into one Obama carried by nine percent, giving Democrats a solid pick up opportunity. In turn the 27th becomes about two points more Republican but given how entrenched Republican incumbent Ileana Ros-Lehtinen is that doesn't harm Democrats.
Overall this map would likely see Democrats gain at least two seats with the 10th and 13th while the 6th and 25th would be very good offensive opportunities and the 3rd and 7th at least on the table. Republicans would stand a better chance in the 5th and 18th but are by no means destined to take those seats when redrawn this way. While I strongly doubt the court-imposed map will look exactly like this, similar changes to north Florida and the Orlando area and especially the 13th in St. Petersburg look likely.