Here's the letter our member Jacqueline wrote when we joined the campaign to ban fracking. Sadly it is not dated, but it will be once we get a moratorium on fracking in California.
I am a California mother and grandmother whose wish is to leave a better California and planet to my children and grandchildren.
Up until now, I have been proud to be a Californian. But if the form of oil and gas drilling known as fracking* proposed in the Monterrey Shale region is allowed to go forward, that pride in California as a leader in "doing the right thing" will diminish. Will you tell Gov. Brown to keep fracking out of California?
Every Californian knows it: we need water to live. The water of every Californian, from the north to south, the local farms (like the strawberry fields pictured here) that feed so many people will be affected by fracking, which both wastes and pollutes water. Oil and natural gas are not the truly valuable resources in California. Fracking will destroy California's beauty, a priceless resource that brings thousands of people here every year. Finally, the fossil fuel industry will make earthquakes worse, something we have plenty of in California already!
Gov. Brown claims to be a strong environmental leader. We need to tell him that he is being taken in by the frackers, and is not protecting our environment by supporting fracking. The fossil fuel industry is promising a false economy of fake jobs and fake energy independence. Only a very few will benefit, but we will all pay— with increased earthquake risk, a destroyed environment, dirty wat and dirty food. We need a real clean energy system, not the false future of fracking.
Here is the info for Californians to make a call to get a moratorium at long last:
California Fracking Moratorium Blogathon
May 20-May 23, 2014
---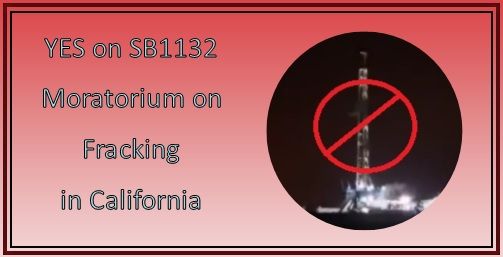 Key votes will be held this week on California Senate Bill 1132, which imposes a moratorium on hydraulic fracturing, or fracking as it commonly known. The fracking process poses many unacceptable public policy risks. These include contaminating water supplies; degrading public health; disproportionately affecting low income families and communities of color; using scarce water supplies in drought-stricken states; causing earthquakes; and harming wildlife and habitat fragmentation. If the bill fails, the legislative process toward moratorium must restart next January.
Please join us for a blogathon May 19-23 in a campaign to tell lawmakers to support this bill. This is a coordinated effort with a coalition of more than a dozen NGOs, including Earth Works, Sierra Club, and Center for Race, Poverty and the Environment.
And please call key lawmakers, ASAP. Tell them YES on SB 1132!
Sen. Kevin De Leon: (916) 651-4022
Sen. Ricardo Lara: (916) 651-4033
Sen. Ed Hernandez: (916) 651-4024
Sen. Cathleen Galgiani: (916) 651-4005
Sen. Ben Hueso: (916) 651-4040
Sen. Lou Correa: (916) 651-4034
Sen. Carol Liu: (916) 651-4025
Sen. Richard Roth: (916) 651-4031
Sen. Norma Torres: (916) 651-4032
Please Help Pass a Moratorium on Fracking in California!
---
More details are in this announcement diary by boatsie.