And yes that is more than just a rhetorical question ...

[ Wide Field Imager view of a Milky Way look-alike NGC 6744 -- commons.wikimedia.org]

SETI astronomers tell US Congress: 'possibility of alien life close to 100%'
23 May 2014 -- belfasttelegraph.co.uk

Astronomers in the United States have told the US congress that the search for extraterrestrial life is "plausible and warrants scientific inquiry"[.]

Dan Werthimer and Seth Shostak of the SETI Research Center at the University of California, Berkeley presented evidence to the House Committee to secure further funding to find alien life in outer space.
[...]

The pair said that although "no evidence exists for the presence of life outside of the Earth", the sheer abundance of planets -- "roughly one trillion in our Milky Way galaxy; three times more planets than stars" -- suggests that the universe is "teeming with primitive life."
[...]
Well this is disturbing, as a stark counter point to those smart Science guys, defending the costs of the
S
earch for
ETI:

Humans 'not ready' to meet aliens
6 May 2014 -- belfasttelegraph.co.uk

Space psychologist Professor Gabriel de la Torre came to the conclusion after questioning 116 American, Italian and Spanish university students.
[...]

The survey indicated that the students were ill-prepared for the momentous impact contact with ET might have on the human race, said Prof de la Torre.

Most lacked awareness of many aspects of astronomy and their views were coloured by religion.

"This pilot study demonstrates that the knowledge of the general public of a certain education level about the cosmos and our place within it is still poor," said Prof De la Torre, from the University of Cadiz in Spain.
[...]
OK, is there anybody ...
out there
... who thinks
Star-Trek
, should be much more than a 'campy' television series, set in space?

Assuming humanity is smart enough -- not to send us back to the Dark Ages (I know big assumption) -- are we not also smart enough to build the detectors (and transmitter's) that could tune-in on some other planet's version of The Simpsons, or I Love Lucy, some day soon?
Time will tell ...

Looking for signs of life on Kepler 186-F
by Gerry Harp, Director of Center for SETI Research -- May 19, 2014

Consider this post, which firmly states that proto-Earth Kepler 186-f has a 50% chance of harboring technologically equipped intelligent life[.]
[...]

On 18-April-2014, Elisa Quintana and several co-authors made the cover of Science magazine with the discovery of the most Earth-like planet ever observed, anywhere. Impressively named, planet "f" orbits the 186th star in the Kepler catalog. Imaginatively nicknamed, Kepler 186-f is about 500 light years from the sun.
[...]

Simply put, if about 500 years ago, 186-f were transmitting a tuning-fork like radio beacon, then we would have seen it. Provided their transmitter were at least 8x as powerful as the most powerful transmitter on Earth, the Arecibo planetary radar. Considering that ET probably has better technology than humans do (since we are a very young technological civilization), this is far from impossible.
[...]

It is important to note that our SETI measurements do not prove there is no intelligent life on Kepler 186-f. If 186-f has intelligent life, then they might be sending signals weaker than we can detect, or they might be sending signals in the visible (optical) domain, or perhaps not at all in the direction of Earth. Future research may find signals we missed.
Well,
it's not just your Father's SETI anymore
-- move over radio telescopes, there's a new detector in town ...
Grant #: Hunting for Flashes from Extraterrestrial Intelligence
Senior Scientist: Frank Drake, seti.org
[...]
The SETI Institute, along with scientists from the University of California's Lick Observatory, UC Santa Cruz, and UC Berkeley has coupled the Lick Observatory's 40-inch Nickel Telescope with a new pulse-detection system capable of finding laser beacons from civilizations many light-years distant. Unlike other optical SETI searches, this experiment is largely immune to false alarms, due to a novel approach incorporating 3 light detectors.

"This is perhaps the most sensitive optical SETI search yet undertaken," said Frank Drake, Director of the Carl Sagan Center for the Study of Life in the Universe.
[...]

The experiment is unique in exploiting three light detectors (photomultipliers) to search for bright pulses that arrive in a short period of time (less than a billionth of a second). Of course, light from the central star will trigger the detectors as well, but seldom will all three photomultipliers be hit by photons within a billionth of a second time frame. The expected number of false alarms for the stars being looked at is about one per year. Other optical SETI experiments use only one or two detectors and have been plagued by false alarms occurring on a daily basis.
[...]

"One great advantage of optical SETI is that there's no terrestrial interference," comments Drake. "It's an exciting new field."
[...]
Yes he is THAT Frank Drake ... the author of the
The Drake Equation
...
N = (R*)(fp)(ne)(fl)(fi)(fc)(L)

N = The number of civilizations in The Milky Way Galaxy whose electromagnetic emissions are detectable.

R* = The rate of formation of stars suitable for the development of intelligent life.

fp = The fraction of those stars with planetary systems.

ne = The number of planets, per solar system, with an environment suitable for life.

fl = The fraction of suitable planets on which life actually appears.

fi = The fraction of life bearing planets on which intelligent life emerges.

fc = The fraction of civilizations that develop a technology that releases detectable signs of their existence into space.

L = The length of time such civilizations release detectable signals into space.
Original estimates
of
N
back in 1961 said "there were probably
between 1000 and 100,000,000 civilizations
in the Milky Way galaxy."

[ Milky Way -- ngm.nationalgeographic.com ]

Space.com has an article which focuses on getting very accurate estimates on the Drake Equation variables, using the latest Scientific discoveries:

Drake Equation: Estimating the Odds of Finding E.T.
by Elizabeth Howell, Space.com Contributor -- March 26, 2014
[...]
Estimating the total number of planets in the universe is difficult, but one statistical study suggests that in the Milky Way, each star has an average of 1.6 planets -- yielding 160 billion alien planets in our home galaxy. [...]

As of March 2014, more than 1,700 exoplanets have been confirmed. The vast bulk of them were due to an observatory called the Kepler Space Telescope, which scrutinized a single spot in the Cygnus constellation between 2009 and 2013. [...]

As of March 2014, the Habitable Exoplanets Catalog identified 20 confirmed planets that could be suitable for life, and 69 planets (yet to be confirmed) that could also be suitable. The project is a part of the Planetary Habitability Laboratory at the University of Puerto Rico at Arecibo.
[...]
This site goes a bit more out on a limb -- using some helpful graphics -- the author rates each variable from 3 different points of view:
Optimistic, Pessimistic, Compromise
... and then goes on to give an updated estimate of N, for each of those interpretive tiers:
by Matt Baker, usefulcharts.com -- Updated 8 Jan 2013
[...]

Number of alien civilizations =

Optimistic: billions

Pessimistic: none

Compromise: 3,500*

*this would put the nearest civilization about 100 light years away and make it very unlikely that we will ever hear from them
Perhaps, the original host of the Cosmos series, has the best take on the Drake Equation ever --
as stoic as it may be
...
[Carl] Sagan believed that the Drake equation, on substitution of reasonable estimates, suggested that a large number of extraterrestrial civilizations would form, but that the lack of evidence of such civilizations highlighted by the Fermi paradox suggests technological civilizations tend to self-destruct. This stimulated his interest in identifying and publicizing ways that humanity could destroy itself, with the hope of avoiding such a cataclysm and eventually becoming a spacefaring species. [...]
As I asked in this post's title:
Is there Anybody ... Out There?
Well, if the Fermi paradox is prognostically and universally accurate, as well as Sagan's worse fears about intelligent life -- then the odds of us ever finding out ... just got decidedly more dismal.
But however, on the positive side, IF there is intelligent life ... 'Out There' ... and they have managed to survive the classic growing pains of civilization -- perhaps they'll also have a few "helpful pointers" they could lend us ... to get over those Carl Sagan "rough spots," in our challenging roads ahead?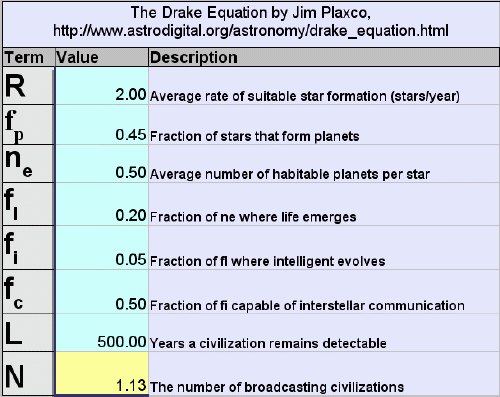 [ Drake Equation Tutorial -- astrodigital.org]

That second to the last "variable" (L) -- is a real doozy!