California is so unique has been compared to Ancient Greece and Mesopotamia as a cradle of civilization. Some may dispute that if they take what has come out of Hollywood not written by Stan Lee as culture. But more important than culture is the bounty of food California produces. And with current climate projections showing the water that transformed desert into a breadbasket will soon be gone the thought that unregulated and undocumented chemicals being disposed underground by an industry with an extensive history of poisoning everything and anything until they are not only caught but significantly punished is mind boggling.
First a short film detailing how important water is to the future of California.
The pristine water in California has a hard enough time dealing with overpopulation, massive earthmoving projects, and those wasteful golf courses.
Injecting a stew of undocumented poisons into the water table will not make the water in California better or more available but it will reduce potable water to an even smaller portion of California's underground reserves.
It is painfully clear by now to all but the obtuse that the oil industry has no intention of letting our ability to exist from deterring them from profits. In little more than a hundred years they have extracted all the available oil and now are going for fields that were once too costly to process. Do we really need to see the mountains of buffalo bones again to understand exploitive capitalism is not sustainable? Or do we have to wait until humanity is playing Waterworld in the Arctic before we realize we are killing ourselves every time we turn on our cars ignition?
California is too precious to throw away for what will be ultimately less than a year of the worlds energy needs. Especially by destroying what little water they have left.

DIMOCK, Pa. -- Ray Kemble, a mechanic and former gas field worker, is campaigning to stop fracking operations that he and his neighbors blame for ruining their water wells.

Kemble, 58, lives within a 9-square-mile area where Pennsylvania regulators have banned new gas wells after several high-profile cases of contamination led to a $4.1 million settlement against a gas company.

Dimock, a northeastern Pennsylvania township of about 1,500 residents, became a focus of the national debate a few years ago. Footage of faucet water lit on fire became emblematic of opponents' arguments against hydraulic fracturing.
California Fracking Moratorium Blogathon
May 20-May 23, 2014
---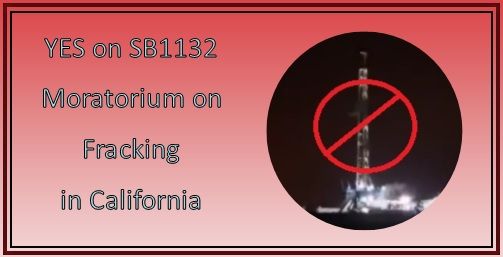 Key votes will be held this week on California Senate Bill 1132, which imposes a moratorium on hydraulic fracturing, or fracking as it commonly known. The fracking process poses many unacceptable public policy risks. These include contaminating water supplies; degrading public health; disproportionately affecting low income families and communities of color; using scarce water supplies in drought-stricken states; causing earthquakes; and harming wildlife and habitat fragmentation. If the bill fails, the legislative process toward moratorium must restart next January.
Please join us for a blogathon May 19-23 in a campaign to tell lawmakers to support this bill. This is a coordinated effort with a coalition of more than a dozen NGOs, including Earth Works, Sierra Club, and Center for Race, Poverty and the Environment.
And please call key lawmakers, ASAP. Tell them YES on SB 1132!
Sen. Darrell Steinberg: (916) 651-4006
Sen. Kevin De Leon: (916) 651-4022
Sen. Ricardo Lara: (916) 651-4033
Sen. Ed Hernandez: (916) 651-4024
Sen. Cathleen Galgiani: (916) 651-4005
Sen. Ben Hueso: (916) 651-4040
Sen. Lou Correa: (916) 651-4034
Sen. Carol Liu: (916) 651-4025
Sen. Richard Roth: (916) 651-4031
Sen. Norma Torres: (916) 651-4032
Please Help Pass a Moratorium on Fracking in California!
---
More details are in this announcement diary by boatsie.
-------------------------------------------------------------------