---
The good life.
Leisure
The May 26 issue of the New Yorker had an interesting article on leisure by Elizabeth Kolbert entitled No Time. The subtitle asks the question "How did we get so busy?" Wikipedia defines leisure thusly: Leisure, or free time, is time spent away from business, work, domestic chores, and education. It also excludes time spent on necessary activities such as sleeping.
John Maynard Keynes and others envisioned a future in which work was less and less necessary and the main problem would be figuring out what to do with all the leisure time. Although the first world has seen an incredible rise in affluence, the promised plethora of free time has not manifested as predicted.
I hear about the lack of free time from folks of every age in my personal life, and from many posters on Daily Kos. One theory is that being or appearing to be incredibly busy has acquired social status. If you are not busy you are probably wasting your life.
I know quite a few retired people, no doubt because I fall into that category myself. An amazing percentage work part-time because, as they have told me, they were bored; nothing else to do.
As I look at this subject I can see that it might seem insensitive to many folks. The New Yorker is not aimed at a demographic of the poor or jobless; leisure is either impossible for those working three jobs to make ends meet or enforced by total lack of any job. From personal experience I know that free time under duress is not free at all. The New Yorker article notes that as the income gap in the U.S. has widened, it's actually lower-wage workers who have ended up with the most leisure.
We do indeed work more hours with less vacation time than in Europe. And wiki notes:
Time available for leisure varies from one society to the next, although anthropologists have found that hunter-gatherers tend to have significantly more leisure time than people in more complex societies. As a result, band societies such as the Shoshone of the Great Basin came across as extraordinarily lazy to European colonialists.
What are your experiences with leisure time or lack of leisure time? Do you feel "under the gun" most of the time? Do you take time to smell the roses or do you work an extra few hours to be able to afford the roses society expects you to purchase?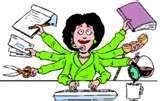 | | | |
| --- | --- | --- |
| | Kitchen Table Kibitzing is a community series for those who wish to share part of the evening around a virtual kitchen table with kossacks who are caring and supportive of one another. So bring your stories, jokes, photos, funny pics, music, and interesting videos, as well as links—including quotations—to diaries, news stories, and books that you think this community would appreciate. Readers may notice that most who post diaries and comments in this series already know one another to some degree, but newcomers should not feel excluded. We welcome guests at our kitchen table, and hope to make some new friends as well. | |