Lena H. Sun Bacteria found in squid raises concern about spread of antibiotic resistance, study finds, and highlights that risk of exposure to antibiotic resistant microorganisms is not just a hospital issue. The bacteria found, Pseudomonas fluorescens, are resistant to carbapenems, one of our "last-line-of-defense" antibiotics.
The Center for Disease Control reports that antibiotic resistant infections kill 23,000 Americans per year, and that the U.S. faces "potentially catastrophic conse­quences," if we do not act quickly.

Researchers in Canada have discovered an antibiotic-resistant bacteria for the first time in a food product — raw squid — widening the potential exposure for consumers, according to a report published Wednesday by the U.S. Centers for Disease Control and Prevention. ...

The discovery of such a microbe in food means "the risk of exposure in the public goes beyond people with travel histories and beyond people who have been previously hospitalized," said Joseph Rubin, assistant professor of veterinary microbiology at the University of Saskatchewan. ... "This finding means a much broader segment of the population is potentially at risk for exposure. It's something you may be bringing into your home rather than something you would acquire while traveling or following hospitalization," he said.

Overuse of antibiotics, especially on factory farms has led to the emergence of broad ranges of microbes that are immune to nearly all of our existing antibiotics, meaning that soon even simple surgeries we've taken for granted will become extremely high risk events that may be too risky.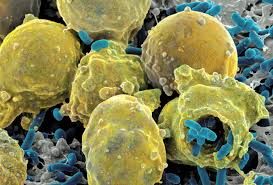 This particular kind of bacteria is extra dangerous because it has the ability to exchange genes with other bacteria making them resistant as well.
Sun tells us that the microbes were found in a package of frozen squid purchased in a Chinese grocery in Saskatoon, Canada, which was supplied by a South Korean vender.

"Whenever we see last-resort antibiotics, such as carbapenems, stop working for another type of bacteria — we are highly concerned," Jean Patel, deputy director of the CDC's Office of Anti­microbial Resistance, said in a statement. "Losing carbapenems could mean we are facing completely untreatable infections."

We need to start a Manhattan style project, to fast track the development of new antibiotics, as well as experiment, with viral phages, and other non-antibiotic ways of killing bacteria. Also, we need to much more aggressively restrict the use of antibiotics on factory farms to enhance profit margins by allowing denser animal packing.