Jason Samenow of the Washington Post writes Earth has warmest May on record, may signal warmest year in pipeline. Last month was the warmest May on earth in the entire 134 years we have been keeping records, says, the National Oceanagraphic and Atmospheric Administration, breaking the previous record set just in 2010. This finding is consistent with idependent findings released last week by NASA and the Japan Meteorological Agency, reports Samenow.

Record warm ocean waters helped the planet's temperature soar to record high levels, NOAA says. The average temperature of the ocean surface rose to 1.06F degrees above normal - matching the biggest difference from normal in any month dating back to 1880.

The warming of the oceans reveals the symptoms of a developing El Niño event in which sea surface temperatures in the tropical Pacific rise, pumping large quantities of heat into the atmosphere. The past warmest years on records – 2010 and 1998 – coincided with El Niño events. NOAA says there is a 70 percent chance El Niño develops this summer and 80 percent chance by late in the fall.

Here are two plots of the May Surface Mean Temperature Anomalies from 1880 to day, suggestive of a long term trend.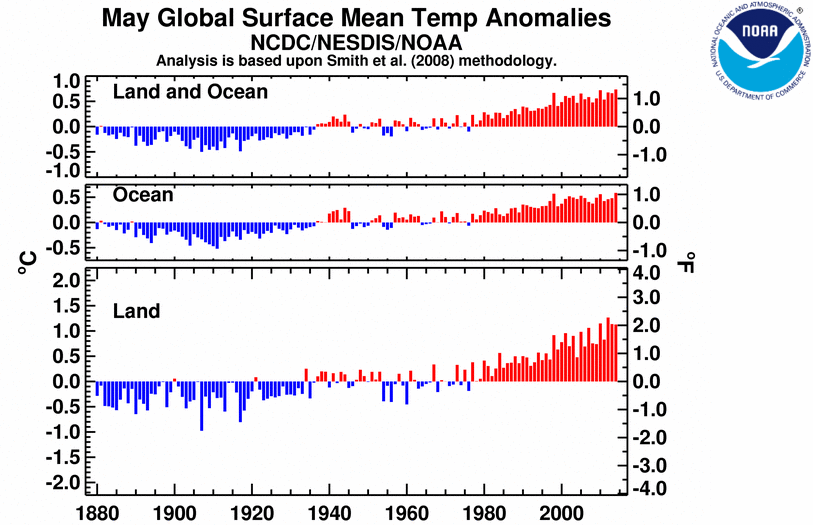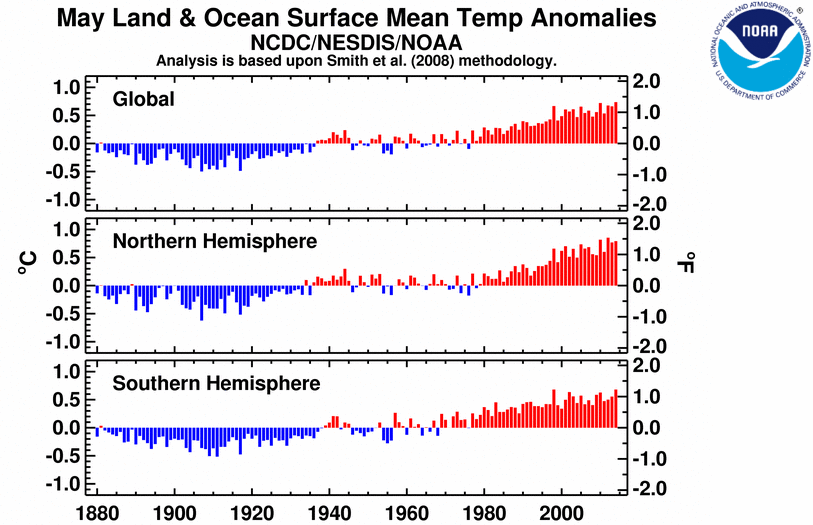 John Christy, a climate scientist at the University of Alabama in Huntsville (UAH) who curates a satellite-based record of Earth temperature measurements, thinks chances are good 2014 will end up as the warmest year on record: "The long-term baseline temperature is about three tens of a degree (C) warmer than it was when the big El Niño of 1997-1998 began…", he said in a press release. "With the baseline so much warmer, this upcoming El Niño won't have very far to go to break that … record."
May 2014 was the third warmest in the UAH satellite record Christy maintains (dating back to 1978-1979).

The last three months have been unusually warm around the planet. The Japan Meteorological Agency found the March through May period – spanning meteorological spring – was the warmest on record. NOAA's analysis determined it was the second warmest such stretch, trailing 2010 by a slim margin.

It was the 39th consecutive May above the 20th century average and 351st straight month above average.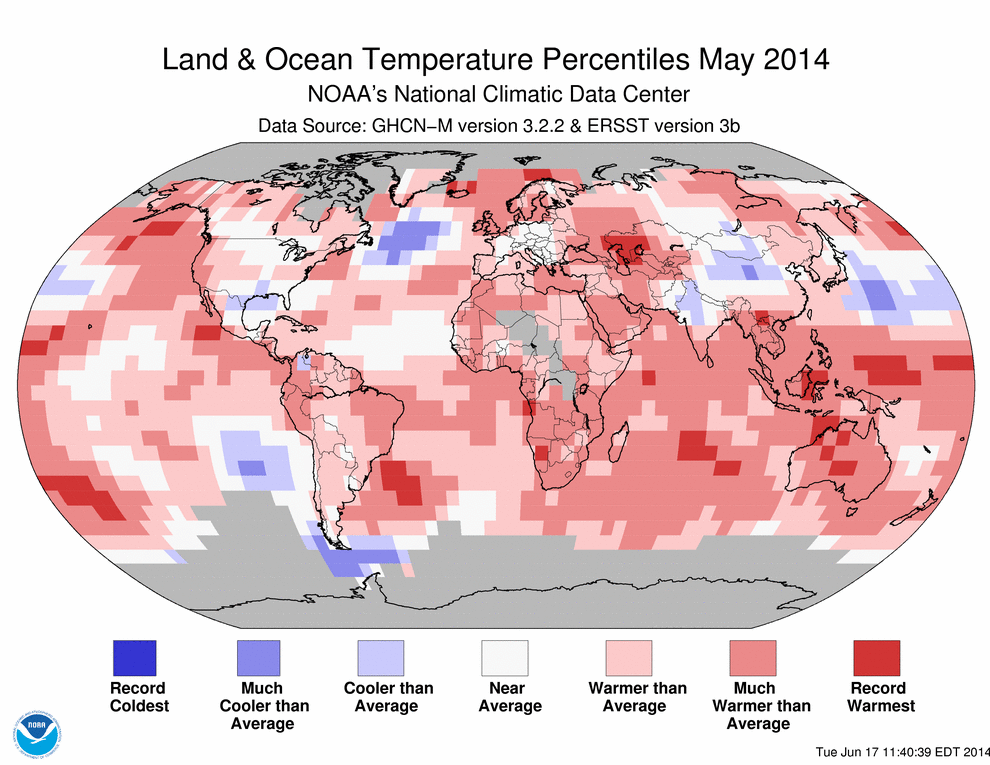 Here's more detail from the NOAA official website: NCDC:NOAA Introduction Temperatures Precipitation References

Global Highlights
The combined average temperature over global land and ocean surfaces for May 2014 was record highest for this month, at 0.74°C (1.33°F) above the 20th century average of 14.8°C (58.6°F).

The global land surface temperature was 1.13°C (2.03°F) above the 20th century average of 11.1°C (52.0°F), the fourth highest for May on record. For the ocean, the May global sea surface temperature was 0.59°C (1.06°F) above the 20th century average of 16.3°C (61.3°F), making it the record highest for May and tying with June 1998, October 2003, and July 2009 as the highest departure from average for any month on record.

The combined global land and ocean average surface temperature for the March–May period was 0.74°C (1.33°F) above the 20th century average of 13.7°C (56.7°F), making it the second warmest such period on record, behind 2010.

The March–May worldwide land surface temperature was 1.26°C (2.27°F) above the 20th century average, the third warmest such period on record. The global ocean surface temperature for the same period was 0.54°C (0.97°F) above the 20th century average, also the third warmest March–May on record.
The combined global land and ocean average surface temperature for the January–May period (year-to-date) was 0.66°C (1.19°F) above the 20th century average of 13.1°C (55.5°F), the fifth warmest such period on record.

Conclusion
If you are the kind of person who likes things "boiled" down to bullet points you can sum up all these charts in two take away points:
1) The planet is getting hotter.
2) This summer is likely to be hot, .... damn hot, .... maybe the hottest summer evah!
So don't wait until July 2 when it's going to 107 F to run down to Walmart to try to find a fan or air conditioner because they will be sold out. Get it now. And, if you are one of those poor folks who live in Arizona, Texas, Death Valley, or places where it got up to 117 F last year, maybe you should thing about going on a long camping trip in the north. I hear Alaska is really beautiful this time of year. Oh, and CanisMaximus says, all Kossacks can spend the summer in his living room. (Oh, oh, oh, humor alert, Canis made a joke about being one of the Alaskans For Global Warming, but, obviously never heard to sensible advice about not starting joke wars with folks who buy ink by the barrel. Bwa, ha, ha. (Humor alert!)
In my solar energy posts I've been using, "Here Comes the Sun" as a happy thought tot close my posts. After this news, I'm afraid depending on where you live you might interpret it to mean, "run for your lives!"

4:56 PM PT: I'm replacing the graphics with much higher resolution images that are absolutely crisp and perfect even when magnified. Please give me just another view minutes for the last two.
5:16 PM PT: Please check out these other recent posts, especially the Neocon Frankenzombies one,