Sean Sullivan of the Washington Post reports that former congressman Todd Akin takes back apology for 'legitimate rape' comment. Akin's outrageous remarks during the 2012 election in Missouri was considered by many to have been "helpful" in enabling Sen. Claire McCaskill (D) to win that election. (Humor alert.)

Akin explains himself in a soon-to-be-released book, "Firing Back: Taking on the Party Bosses and Media Elite to Protect Our Faith and Freedom." Politico obtained a copy early and reported on a passage in which Akin suggests that he shouldn't have apologized in a TV ad.

"By asking the public at large for forgiveness," Akin writes, "I was validating the willful misinterpretation of what I had said."

Akin ran for the U.S. Senate in 2012. He stoked widespread controversy that derailed his campaign when he remarked in a local interview: "First of all, from what I understand from doctors, [pregnancy from rape] is really rare." He added that "if it's a legitimate rape, the female body has ways to try to shut that whole thing down." He later apologized in a television commercial, saying, "I used the wrong words in the wrong way, and for that I apologize."

The several reports I've read so far to not elaborate exactly what part of his remarks he believes were misrepresented. Perhaps, we should help Akin organize a big discussion conference so we can all be reminded of all the bizarre details of what still remains the "legitimate beliefs" about rape and abortion of many members of the Republican Party that "mainstream" Republicans like Rence Priebus is trying to sweep under the rug.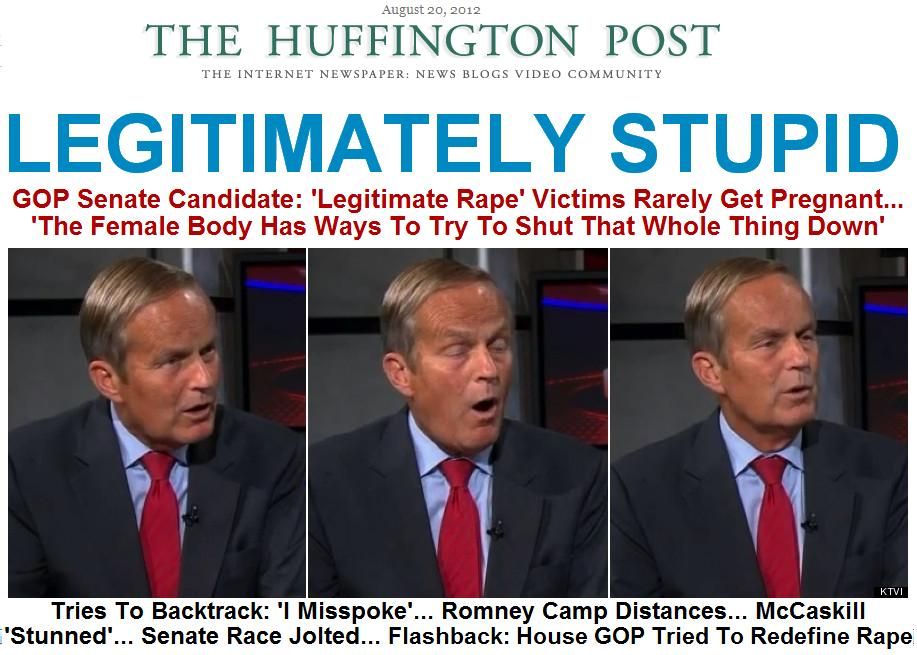 Akin's new book will be published next week and should serve as a timely reminder to Democrats why it is important to get out our vote in November. As mind boggling as it seems given the number of outrageous Republican comments and positions this backwards some suggest they have a better than even chance of winning control of the Senate.
If we can not organize a large surge of Democratic, independent, and even thoughtful Republican women, and supportive progressive men, out to vote for Democrats this November, defying our usual major drop-offs in voter participation in off-cycle elections, something will be seriously wrong with our party's organizational abilities.