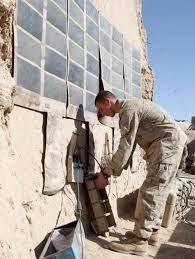 Stephen O'Brien, of The Motley Fool, writes in The Business Insider that, The US Military Could Drive Solar Energy Growth, telling us that the Department of Defense, DOD, spends $20 billion a year on energy making them the largest energy consumer on earth. The DOD intends to derive 25% of its energy from renewable sources by 2025, and is already moving aggressively in that direction.

The Military just recently began construction of a solar power plant at Fort Huachuca in Arizona, where solar panels will be installed over 68 acres, constituting the largest solar array of any military base in the U.S. According to the commanding general of the base, Maj. Gen. Robert Ashley, the project reflects the military's commitment to energy security.

Whether it be engaged in disaster relief, humanitarian missions or in military operations, the military needs reliable energy that is "off the grid," since public electrical utilities are vulnerable to adverse weather conditions and potential sabotage. The military also needs to be ready for possible disruptions to the oil supply, which could cripple it and the nation's economy.
One strategy our armed forces is using to achieve its renewable goals, is "the creation of "net-zero" environments, where energy consumption equals the energy created on-site." In Afghanistan this is achieved by using solar arrays at fixed-site locations, which reduces the high transportation cost that can bring the cost of gasoline to up to $400 per gallon.
More importantly, reducing conspicuous truck convoys carrying highly explosive fuel supplies has reduced casualties, and the need to risk soldier's lives defending vulnerable targets and routes. O'brian cites a U.S. Army study finding that from 2003 to 2007, one out of eight U.S. soldiers killed in Iraq where near such fuel conveys.
DOD is pushing the expansion of residential solar photovoltaics in its stateside bases.

SolarCity seems particularly well situated to serve the militagy projects for a number of military housing communities. The plan, called "Project SolarStrong," looks to be the largest solar photovoltaic project for residential homes in American history. Up to 120,000 military housing units will be served, with up to 300 megawatts of solar generation.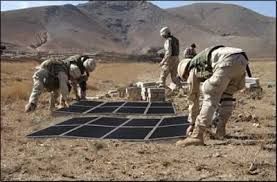 SolarCity also encourages veterans to apply for employment and features a marine on its website.
So the U.S. armed forces are only keeping our country safe, "sunny and bright," and cutting our carbon footprint as well.