Good morning, readers and book lovers! Here we are again with shining, well-scrubbed faces, ready to begin our open forum after last week's great treat of an actual diary contributed by one of our members. The Rangers rescued Azazello's George Orwell diary to "Community Spotlight," where it attracted a great deal of comment. Wouldn't you like this to happen to you? So contribute already!
Naturally you'll want to partake of some nourishment before beginning to write. This morning I feel Italian—yes, yes, visions of terracotta-tiled roofs atop ochre-colored buildings standing against a pale blue sky are swimming across my brain. Nothing will assuage this longing but an Italian breakfast, so here are fresh figs, Gorgonzola cheese, almond biscotti, and of course, cappuccino. Eat and drink heartily, then join me in the salon, if you will. Just push that orange fretwork thingy aside and follow me.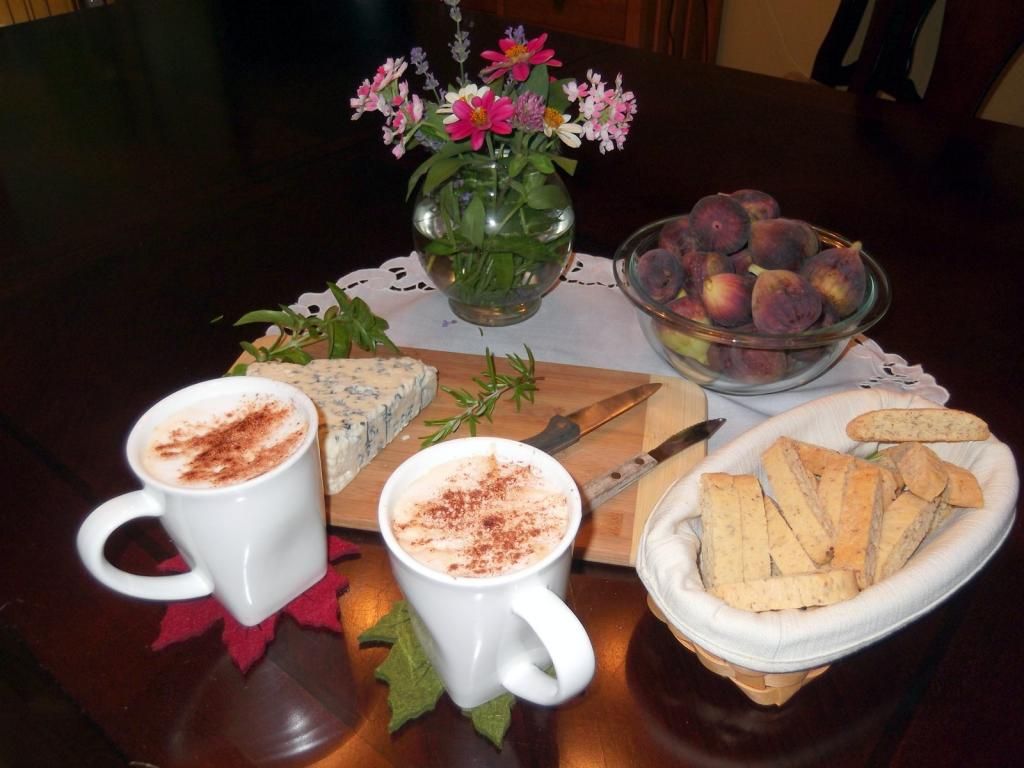 Books contain all kinds of wonderful things—ideas that change your life, characters so real you half-expect to bump into them at the airport, descriptions that pop into your mind apropos of nothing at all. Sometimes in reading you encounter a statement or remark so extraordinary it stays with you until your dying day.
For me, this happened with a passage in Nancy Mitford's Don't Tell Alfred.
The background is as follows. Fanny Wincham, wife of Sir Alfred Wincham, Britain's ambassador to Paris, has been informed by a housemaster at Eton that her sons Charlie and Fabrice have run away from school, taking their friend Sigi with them. After some consultation between the two sets of parents involved, it is decided that Fanny will fly to London, talk to the boys, and persuade them to return to Paris with her.
Knowing the teenagers are staying with Sigi's disreputable old scallywag of a grandfather somewhere in London, Fanny lures them out of hiding with a promise of luncheon with her at the Ritz. Sure enough, the boys take the bait—hardly anyone turns down an invitation to lunch at the Ritz.
On the appointed day Fanny sits on a sofa in an alcove of the Ritz, sipping sherry as she waits for the boys to join her. She is thinking about her husband and his career when she is suddenly distracted.

Two men coming out of the alcove and passing my sofa roused me from these thoughts. "When I got to the factory," one of them said, "they told me that seven of the girls were knocked up—well, pregnant in fact. It's the new German machine."

"You don't surprise me at all," said his friend, "these new German machines are the devil."

I have overheard many a casual remark in my life; none has ever puzzled me more. As I pondered over it I saw three figures ambling towards me from the Arlington Street entrance.
Well, my friends, I challenge you—can you top this? Have you read anything equally extraordinary, if not more so? I can't imagine what kind of mysterious machine the Germans invented—not only does the mind boggle, the entire body boggles at the thought.
So tell us—which extraordinary statement or remark comes into your mind unbidden and makes you laugh, grimace in disgust, or causes your eyebrows to disappear into your hair? We're all ears!