Heading into the stretch run: a look at the worst Major League baseball teams of all time, after the jump .....
But first: Top Comments appears nightly, as a round-up of the best comments on Daily Kos. Surely you come across comments daily that are perceptive, apropos and .. well, perhaps even humorous. But they are more meaningful if they're well-known ... which is where you come in (especially in diaries/stories receiving little attention).

Send your nominations to TopComments at gmail dot com by 9:30 PM Eastern Time nightly, or by our KosMail message board. Please indicate (a) why you liked the comment, and (b) your Dkos user name (to properly credit you) as well as a link to the comment itself.
When people are asked about the worst major league baseball teams of all time, many would lead-off with the
1962 Mets
- and not without reason, as (a) they lost 120, (b) they were recent enough to be in the conscious minds of many fans (compared to teams earlier in the century) and (c) they lost with so much hilarity, rather than just dullness.
The 1962 Mets (who finished 40-120, for a winning percentage of only .250) were bad due to – as an expansion team – deciding to feature (a) several washed-up veterans who had formerly played for the Giants, Yankees and Dodgers (for nostalgic reasons, as they were a replacement team for both the Giants and Dodgers), as well as (b) playing several young, not-ready-for-prime-time players while (c) investing their resources into their farm system, rather than acquiring players in their prime. Seven years later that paid-off, as the 1969 Amazing Mets won the World Series. Yet it led to some hilarious times early-on … to wit:
Having problems obtaining a major league-caliber catcher, they traded for the journeyman Harry Chiti of the Cleveland Indians for the proverbial "player to be named later". And when he did not measure up, they designated Harry Chiti as the "player to be named later" – making him the first player ever …… to be traded for himself.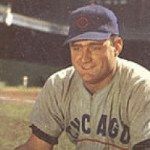 Overseeing all of this was the colorful Casey Stengel one of the most successful managers of all time at the helm of the New York Yankees. He was fired after the Yanks lost the 1960 World Series to the Pittsburgh Pirates although Casey felt it was more due to … turning age 70, saying "I'll never do that again".
He understood his job was to entertain reporters while the franchise was building, and he did not disappoint. Some classics:

"They have shown me more ways to lose than I even knew existed".

"You can look it up."

"He (Lyndon Johnson) wanted to see poverty, so he came to see my team."

"Good pitching will always stop good hitting and vice-versa."

In 1965, he pointed at catcher Greg Goossen and was reported to have said, "Goossen is only twenty, and in ten years he has a chance to be thirty years old."

"Can't anybody here play this game?"
Years later, the journeyman infielder
Marv Throneberry
(photo right, below) became a staple of the early incarnation of Miller Light beer commercials. It all stemmed from his time on the 1962 Mets, where one memorable incident – and no two accounts of this are identical – took place in Chicago. Marv Throneberry hit a run-scoring triple, only to have the Hall of Fame first baseman for the Cubs (Ernie Banks) call for the ball on an appeal play, claiming that Throneberry did not touch first base. The umpire agreed, disallowing the run and calling Throneberry out ... and when Casey Stengel came out to argue the call he was told,
"Case, he missed second base, too".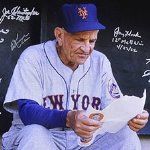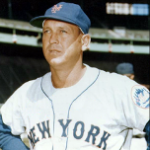 Yet there are other two other teams in the 20th Century with a worse winning percentage than the '62 Mets – whose loss total partly came from playing in the National League's first year of a 162-game schedule (rather than the traditional 154) - and there is one certifiable Worst Team of All Time from the National League, as we'll see.
First, though: one team that earns consideration in this category even with somewhat better statistics (a 42-112 record, and a winning percentage of .273) is the 1952 Pittsburgh Pirates. And this is mostly due to the efforts of its former catcher and long-time TV announcer (in baseball as well as the Today show), Joe Garagiola – who has regaled audiences nationwide with his dinner-circuit talks on how bad the 1952 Pirates were. Some of his quips include:

"It was the most courageous team in baseball - we had 154 games scheduled, and showed up for every one".

"We lost eight of our first nine games and then we had a slump."

"We were so bad, they wouldn't put our pictures on bubble gum cards."

"In an eight-team league, we should've finished ninth".

One day we had a rainout and we staged a victory party."

"When we were sent to the minors, Gillette asked for their razors back".
Garagiola (who actually was one of the team's better players) allows that the only reason the team's record wasn't even worse was the presence of future Hall of Famer
Ralph Kiner
on the team. Interestingly Kiner went on to be a long-time broadcaster for the Mets beginning in 1962 … but if he ever expressed an opinion as to which team was worse, he did not let on.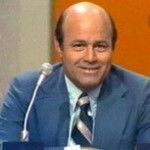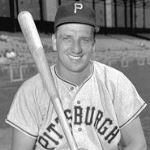 Next we come to the 1935 Boston Braves (who later moved to Milwaukee, and now play in Atlanta). They finished with a record of 38-115 for a winning percentage of .248 … slightly worse than the '62 Mets. On paper, they looked good - with two future Hall of Fame players (Babe Ruth and shortstop Rabbit Maranville, photo below), a future Hall of Fame manager (Bill McKechnie) and a center fielder who would lead the league in home runs and RBI's (Wally Berger). Yet Maranville and Ruth were washed-up: Babe Ruth retired at age 40 after two months, batting only .181 (with Maranville ending the season hitting only .149, also retiring). And the pitching staff truly collapsed, with Ben Cantwell becoming the last pitcher in major league history to lose 25 games in a season.
Most importantly: the team's owner Emil Fuchs was broke, leading the National League to have to finance the money for the team to hold spring training and preventing them from making any meaningful moves along the way.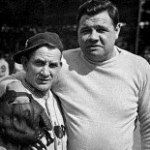 The team with the worst winning percentage in the 20th Century was the 1916 Philadelphia Athletics (now the Oakland A's) with a 36-117 record for a winning percentage of only .235 – as a result of the stinginess of its owner Cornelius McGillicuddy, known as Connie Mack – whose grandson you may recall as a Florida GOP congressman and Senator.
Mack had blown-up his team in 1915, after a disastrous 1914 World Series loss, selling any player of value for cash … yet not re-investing the money. Instead, he signed untested rookies, hoping to strike gold. Two pitchers (Joe Bush and Elmer Meyers) combined for a record of 29-47, while the rest of the staff had an aggregate record of … 7-70. And what was Connie Mack's comment about the 1916 Athletics? "You can't win them all".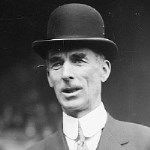 Before we proceed to the all-time worst team, here is a look at the 21st Century's worst team. The 2003 Detroit Tigers (43-119 with a winning percentage of .265) are considered by some to be "the worst team of all time without a good excuse." Most of the other teams on this list were either expansion teams, or in the midst of massive rebuilding efforts, or had owners that simply didn't care, or were running a massive scam. The 2003 Tigers, by contrast, had high-paid players that didn't perform. They lost several key players from 2002 to free agency and simply didn't adequately replace those players, though they tried. The team had hopes for young pitcher Jeremy Bonderman, and when his record reached 6-19 … he was benched over the final weeks, to avoid him losing 20 games and possible damaging his psyche.
Just three years later, the Tigers made it to the World Series – but in 2003, new manager Alan Trammel (photo left, below and a star infielder for the club) had a horrible time. In fact, going into the last week of the season, the Tigers had 118 losses with six games to play ... and seemed a cinch to break the '62 Mets record (post-1900) of 120 losses … yet they managed to finish 5-1 to stave off that feat.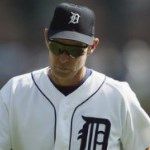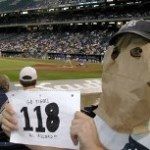 Finally, here is the certifiable worst baseball team of all time. You probably have never heard of the 1899 Cleveland Spiders for several reasons. 1899 was their last season (and were banished from the National League with several others), plus many baseball fans tend to discount any records made before 1900, as (a) the American League did not even exist until 1901, (b) the first World Series did not occur until 1903 and (c) some of the rules used today were not yet standardized. For example: a base-on-balls was awarded for more than four balls before 1889, before 1864 an out was recorded if a fly ball was caught on one bounce (like tennis), bats could have a flat side before 1893, etc.
However, most analysts do include the Spiders because – while certain rules may cloud-over batting titles and pitching records – wins and losses are still wins and losses. And so the Spiders' 20-134 record (with a winning percentage of only .130) is unquestionably the worst in National League – and thus baseball – history.
The reason they were so bad? At the time, baseball did not prohibit cross-ownership of teams, and so the Robison brothers purchased the Cleveland Spiders at the same time they had a rival franchise in St. Louis (the Perfectos). And the Robinson brothers simply transferred the Spiders' best players to St. Louis … leaving in place simply a bunch of cast-offs, has-beens and never-will-bes in its place.
Attendance was so bad that opposing teams flat out refused to travel to Cleveland to play the Spiders - as their cut of the revenue from ticket sales did not even begin to cover their hotel and travel expenses - so the Spiders had to play their final 36 games on the road. Predictably, they went 1-35.
The Spiders played their last game of the season against the Cincinnati Reds; they employed 19-year-old Eddie Kolb - a cigar-stand clerk and local amateur player, as pitcher. He lost to the Reds 19-3. Legend says that the Spiders gathered at a Cincinnati hotel after the last game and presented the team's traveling secretary George Muir, a diamond locket because "you had the misfortune to watch us in all our games."
Afterwards, the franchise was eliminated from the league (as noted above). When the American League came into being two years later in 1901, they awarded the city of Cleveland a franchise (known as the Indians) which helped clear people's memory banks of the Spiders. More importantly, syndicate ownership - the owning of stock in several teams at once - was outlawed, preventing a disaster like the 1899 Cleveland Spiders from happening again.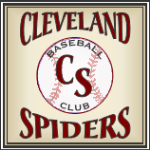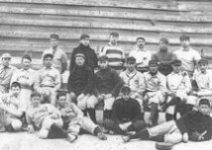 Feel free to add other names (such as the 1961 Philadelphia Phillies, the 1979 Toronto Blue Jays, 1988 Baltimore Orioles, etc. to this list. Before this summer comes to a close, let's hear Louis Armstrong sing about it, with the song's composer Dave Brubeck on piano (and his wife Iola who was the lyricist).
Now, on to Top Comments:
-------------------------------------
From Chitown Kev:
In the diary by Wisper about Updates from Ferguson - Pope Buck I recited the famous opening line from a CSNY song.

And in the same diary, athenap capturing the moment of #Ferguson perfectly with these few words - #powerful.
From
CenPhx:
In the front-page story about the Ferguson police chief asking for calm, joe from Lowell had me literally laughing out loud. Sometimes, in all the grimness: a good laugh helps.
From
Gentle Giant:
In today's Cheers & Jeers diary, Audri posts a wonderful graphic for her reason for putting in notice on her job.
From
high uintas:
In the diary by Leslie Salzillo about the satirist Lewis Black taking on your-friend-and-mine Rush Limbaugh - raptavio made me LOL with this comment today.
From
BeninSC
:
I really liked rudyblues' comment in Steveningen's TC diary last night, with fine insight into Somewhere Over the Rainbow, as sung by Judy Garland and Israel Kamakawiwoʻole, respectively (after listening to Bruddah Iz's version in Steven's tip jar). Very nice!
From
bakeneko:
In the diary by gf120581 about how Sean Hannity never has any trouble with the police .... Istillhope asks a pertinent question.
And from
Ed Tracey
, your faithful correspondent this evening ........
In the diary by murphthesurf concerning the upcoming change of hosts at Meet the Press - with David Gregory leaving, and Chuck Todd replacing him - I agree with costello7 who cites the Peter Principle at work in his response. I felt that David Gregory was a decent reporter, and Chuck Todd a good data analyst ... yet both were out of their element as soon as they were promoted.
TOP PHOTOS
August 13, 2014
Next - enjoy jotter's wonderful PictureQuilt™ below. Just click on the picture and it will magically take you to the comment that features that photo.



(NOTE: Any missing images in the Quilt were removed because (a) they were from an unapproved source that somehow snuck through in the comments, or (b) it was an image from the DailyKos Image Library which didn't have permissions set to allow others to use it.)
And lastly: yesterday's Top Mojo - mega-mojo to the intrepid mik ...... who rescued this feature from oblivion:

1) each and every one of us could be next if this is by annieli — 189
2) Thank you for this by mint julep — 168
3) if the confederate flag in living room is true by dylanfan — 154
4) Let the demonization begin by entlord — 135
5) Its funny... by rexymeteorite — 132
6) Hope he does. This could be Snyder's Waterloo. by camlbacker — 132
7) I knew the title to this diary had to be snark... by Josiah Bartlett — 128
8) Police chief needs to resign by MJ via Chicago — 120
9) Wonder if any Restaurant server has ever asked... by markthshark — 108
10) Mike Brown sounds like a young man I would by ExpatGirl — 105
11) Again and again and again by Puddytat — 105
12) It sure seems that way. by TomP — 104
13) Kurt Vonnegut nailed it. by Mr Horrible — 103
14) How about "probably still alive." by here4tehbeer — 102
15) As an EX Cop I by Kirk Welch — 94
16) I don't feel sorry for the officer involved by rexymeteorite — 93
17) The more I read about him, the more I liked him by Pluto — 86
18) please proceed, FBI, on a civil rights prosecution by annieli — 85
19) We will keep talking by Vita Brevis — 84
20) yeah "Oh, God." would be my reaction too by rexymeteorite — 84
21) They cannot hide his name forever. by TomP — 84
22) They are mere stepping stones in a Grifter's by LaFeminista — 83
23) And get the cell-phones the police confiscated by bakeneko — 82
24) I can't think of one thing sending this nation by Jim P — 80
25) A quibble, Brainwrap, because it has political by peregrine kate — 80
26) Chris Hayes just interviewed by miracle11 — 78
27) its time for a top-down house cleaning by rexymeteorite — 78
28) Pearce tweeted: by CenPhx — 77
29) Oh I hope that gets lots of air play! What a jerk. by mrsgoo — 76
30) I'm white by gchaucer2 — 76