Happy Friday, readers and book lovers, and welcome to, ah, yet another open forum. On this sultry late-summer morning--described by one's Cockney-born husband as "'ot, 'umid, and 'orrible"--there can be only one choice for breakfast: chilled fruit salad. This delightful melange of blackberries, raspberries, strawberries, blueberries, grapes, and mango will be accompanied by hearty cups of cappuccino delicioso to get our blood moving. We'll need it, too, because after our repast we'll have to cudgel our brains to contribute to today's topic.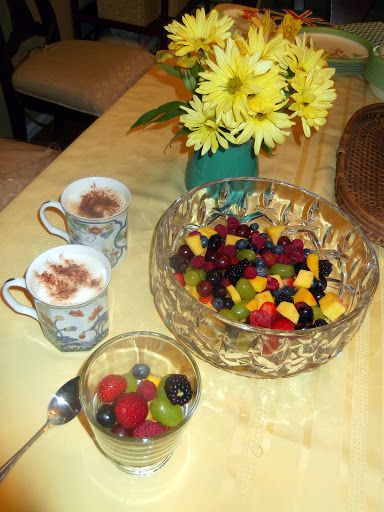 Today's topic, as the title suggests, is "What is the most difficult or daring book you read as a child?" For this discussion, "child" will be defined as a person less than 18 years old. Many of our regular visitors here read books far beyond their perceived range as children. Which books? Were there any the school librarian forbade you to check out, saying sternly that only those in higher grades were supposed to read them? What an insult to an intelligent young person! That remark was certainly made to me.
Luckily for me, my father was untroubled by such dainty considerations. He let me read Jane Eyre at age eight, Wuthering Heights at age nine, and from there I simply charged ahead like a runaway train. When I was sixteen, for some reason known only to Goddess, I took it into my head to read Sir Arthur Compton-Rickett's History of English Literature, a copy of which, naturally, was in my father's collection of books.

Already a lover of both history and literature, I found the book fascinating. I was charmed by the history of the development of the English language as described by the author. As I progressed through the book, I read about Ben Jonson, described by Compton-Rickett as the "first of the literary kings," and about Samuel Johnson, the "last of the literary kings." My father told me amusing stories about the latter. He said that one night Johnson was seated next to a lady at a dinner party. She turned up her nose and said, "I don't like that man. He smells." "Madam," Johnson roared, "I do not smell. I stink!" Compton-Rickett was rather more restrained in his anecdotes, remarking that on "clean shirt day," which happened twice a week, Johnson and Boswell disposed of most of their social calls.
Invited by our English teacher, Sister Mary Donna, to tell our classmates what we were currently reading, I leaped up and began describing the History. Sister Mary Donna looked dumbfounded; the girls in the class simply looked stupefied.
I was so enthralled with the book that after I finished reading it, my father gave me Lafcadio Hearn's wonderful history of English literature. "He taught English literature on the college level in Japan," my father told me, "and his students were so thrilled with his lectures they transcribed them. Hence, this book." After that I devoured Taine's History of English Literature, but it didn't charm me nearly as much as the first two.
But enough about me. What did YOU read? Did you need a dictionary to get through it? Did your classmates make fun of you for essaying it? Was your teacher shocked, dumbfounded, distressed, or glowing with self-congratulation that one of her students had read something so difficult? Tell us about it!