A daily series, Connect! Unite! Act! seeks to create face-to-face networks in each congressional district. Groups regularly socialize but also get out the vote, support candidates and engage in other local political actions that help our progressive movement grow and exert influence on the powers-that-be. Visit us every morning at 7:30 A.M. Pacific Time to see how you can get involved. The comment thread is fun and light-hearted, but we're serious about moving the progressive political agenda forward.
Do you plan on doing an inversion?
I don't mean buying a Teeter Hang up inversion thing. I mean having yourself based in another country to avoid paying taxes in the USA. I've been thinking about this since it's all the rage for corporations right now. CNBC and FOX NEWS are very excited about this because "it's technically legal."
I also truly wonder if our government will be able to pay for anything other than our ginormous military. And we all know the ultimate goal of the GOP is to completely starve the government financially. It seems like only people who have jobs or own small businesses like mine are patsies that pay taxes any more.
Hey, since corporations are now legally people, I assume then people are all legally corporations, right? So why can't each of us do what corporations get away with. OK, I know people can't legally do that because now days corporations have more rights as human beings than do homo sapiens. Only if you have a business can you become an LLC (A limited liability company is a hybrid type of legal structure that provides the limited liability features of a corporation and the tax efficiencies and operational flexibility of a partnership). It costs money to incorporate, but boy oh boy are there financial advantages in doing so.
First off, if anything your "corporation" does is really bad, illegal or harms people your own personal wealth is off limits. Only the corporation's assets are at risk. Corporations provide the owners a great opportunity to siphon off as much money as possible from the corporation to buy all the stuff and multiple homes they want, and have all that safe from the law no matter what the "corporation" does. Secondly, your corporation can get so many tax loop holes you may never have to actually pay taxes. You can easily set things up so you can never see any "realized income" in any year.
Say you want to spent $40,000 upgrading your home. Well, you set it up so you take the $40,000 in profits (income) from your corporation (or investment accounts if you're rich enough to have those types of things) to pay for it all. Now you didn't realize an actual income because you had home improvement expenses of $40,000 to offset it = no taxes on that money! How do you think Mitt Romney paid for his underground garage in La Jolla, CA and yet paid no taxes that year? Harry Reid claimed Mitt Romney hadn't paid a dime in taxes for 11 straight years, yet lived very high on the hog all that time and didn't tithe to the Church of Latter Day Saints. That's what really ticked Harry Reid off.
There was a family that lived just up the road from us several years ago. They lived a bit too far away for me to consider them to be our neighbors. They owned two car repair shops in Chico, CA. They'd lived their entire lives in California. Their kids went to private schools. They got new cars every couple years. They threw extravagant parties that twice drew the police to tell them quiet down.
Guess what? They didn't pay any taxes. How? Their Chico, CA businesses were headquartered in the Cayman Islands. Yup. All they had to do was have a PO Box there and they were set. Their business was an LLC, of course. Their bank was in the Cayman Islands too. Every time they went to the grocery store or got gas, they'd whip out their ATM card and pay it from their Cayman Island bank account. All their purchases went through that bank including their cars, home and kid's tuition. Since they weren't legally an American company, they didn't pay taxes. Super simple especially since their businesses were physically in the USA and always had been.
Since I'm self-employed I pay double the rate into Social Security every year as does an employed person (I pay 15.3% to Social Security every year). I also pay state, federal and local taxes. So, I've decided I must do the same thing as those folks who own the car repair shops. Or perhaps I could just change my business from being in the USA to being in a foreign country, you know, do an inversion.
All I'd have to do is find a business partner in Canada for instance. Then I could LLC my business and pay that person a small monthly stipend for the ability to avoid paying taxes. Mitt Romney only pays 14% tax on any realized income he makes, and we know how easy it is to offset any money you get with an expense so you don't pay any taxes as all.
The Republicans just introduced a bill to make money laundering much easier just as all these corporations are doing their inversion thing too.

House Republicans are agitating to dramatically curb federal bank regulators' ability to combat money laundering, calling for changes in decades-old financial fraud standards in an effort to aid payday lenders.

Moving illegal cash through the financial system has long been barred by money laundering laws. But under a bill introduced by Rep. Blaine Luetkemeyer (R-Mo.), federal regulators would be forbidden from doing anything to "restrict or discourage" a bank from doing business with any company that has both a license to do business and a "reasoned legal opinion" from a lawyer claiming that the business doesn't break the law.

That's not a high hurdle to clear. Obtaining a business license and hiring a lawyer is a routine money laundering tactic for everyone from the mafia to terrorists to, more commonly, petty fraud scammers.
How do you plan on doing your inversion? I want to know.

Latest Updates on Kossack Regional Meet-Up News Can Be Found Below the Orange Group Hug.
Let's Build Communities!

Our team is here to provide support and guidance to new and existing volunteer leaders of each regional and state group, helping them with recruiting, organizing and executing social and action events.
We invite you to join in this effort to build our community. There are many ways to pitch in.
If there isn't a group to join near you, please start one.

Instructions on HOW TO FORM A NEW DAILY KOS GROUP

List of All Existing Meatspace Groups




Where the Kogs Are: Index/Directory of the 130+ Localized Daily Kos Groups






---


THINK GLOBALLY, ACT LOCALLY

by Sara R ♥ for Koscadia
The Kosacadia Kossacks (rsmpdx, winglion, loggersbrat & Sara R) got together at their local Food Truck pod. They stamped money to support the Stamp Stampede which was organized by Ben Cohen of Ben & Jerry's Ice Cream as a citizen effort to promote a Constitutional amendment to undo the pernicious effects of the Citizens United decision. Sara R has set up a Daily Kos group to rally others to this cause, please send them a Kosmail if you'd like to join in.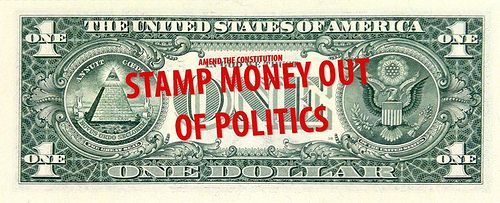 Please visit Sara R's diary for details. You can still REC it. You can join Koscadia by sending a Kosmail to Sara R.

by John Crapper ♥ for Seattle and Puget Sound Kossacks
Excerpts from John Crapper:

[...] Within minutes of my first conversation with Penny GC she said it best. "You know, I feel like I already know you from your posts and comments. Do you know what I mean?" And I immediately nodded my head feeling exactly the same way. That is the beauty of the Kossack experience!

[...] Finally, I gave each an assignment. I am a teacher you know so it's in my DNA. I asked each person to recruit one person in their circle of friends to become a Kossack and join Seattle & Puget Sound Kossacks. It's this simple. [...]
Thanks, Mr. Crapper for this excellent organizing of Seattle. We have big hopes for mobilizing all of Washington. So great of you to be on board here in the beginning with such an important metropolitan area.
L to R - Back row: Nelson (soon to be Kossack), Sarge in Seattle, Gemina13, bleeding blue, momomia,
Kneeling down, Yous truly John Crapper, Penny GC
Not in picture: LarissaW & John Crapper's SO
Please visit John Crapper's diary for many MORE details
! You can still REC it. You can join
Seattle and Puget Sound Kossacks
by sending a Kosmail to
John Crapper
.


by remembrance ♥ for Silicon Valley Kossacks
Last Sunday, Silicon Valley Kossacks had their first meet up right in the hub of Downtown San Jose, where plutocrats, technocrats, and college students gather over local brew. The patio of Gordon Biersch was the setting of our open air meeting that would give cause to our newly formed group and inspire us to reach out to voters about progressive candidates and policies.

[...] If you live in the 17th, 18th, or 19th district, please join Silicon Valley Kossacks. If you are not a Daily Kos user but would like to work with us, please make a user account and leave us a comment below. You can follow our group by clicking on the ♥ at the top of the page.
L-R: Back Row: fiercefilms, Senor Unoball, esquimaux, madhause, navajo, Glen The Plumber, Lusty Front Row: Mrs. Senor Unoball, slowbutsure, norm, remembrance, TLO™
Please visit remembrance's diary for more information. You can still REC it. You can join Silicon Valley Kossacks by sending a Kosmail to Glen The Plumber.

Four Corners Kossacks Welcome Entourage from New Mexico
by Thinking Fella ♥ for Four Corners Kossacks
A last minute call went out to anyone interested in welcoming Land of Enchantment and jnhobbs to Durango. LucyTooners and Mr. LucyTooners rose to the occasion. A fantastic evening was reported to me by texts and lots of food pr0n as evidence.
Here's the group photo!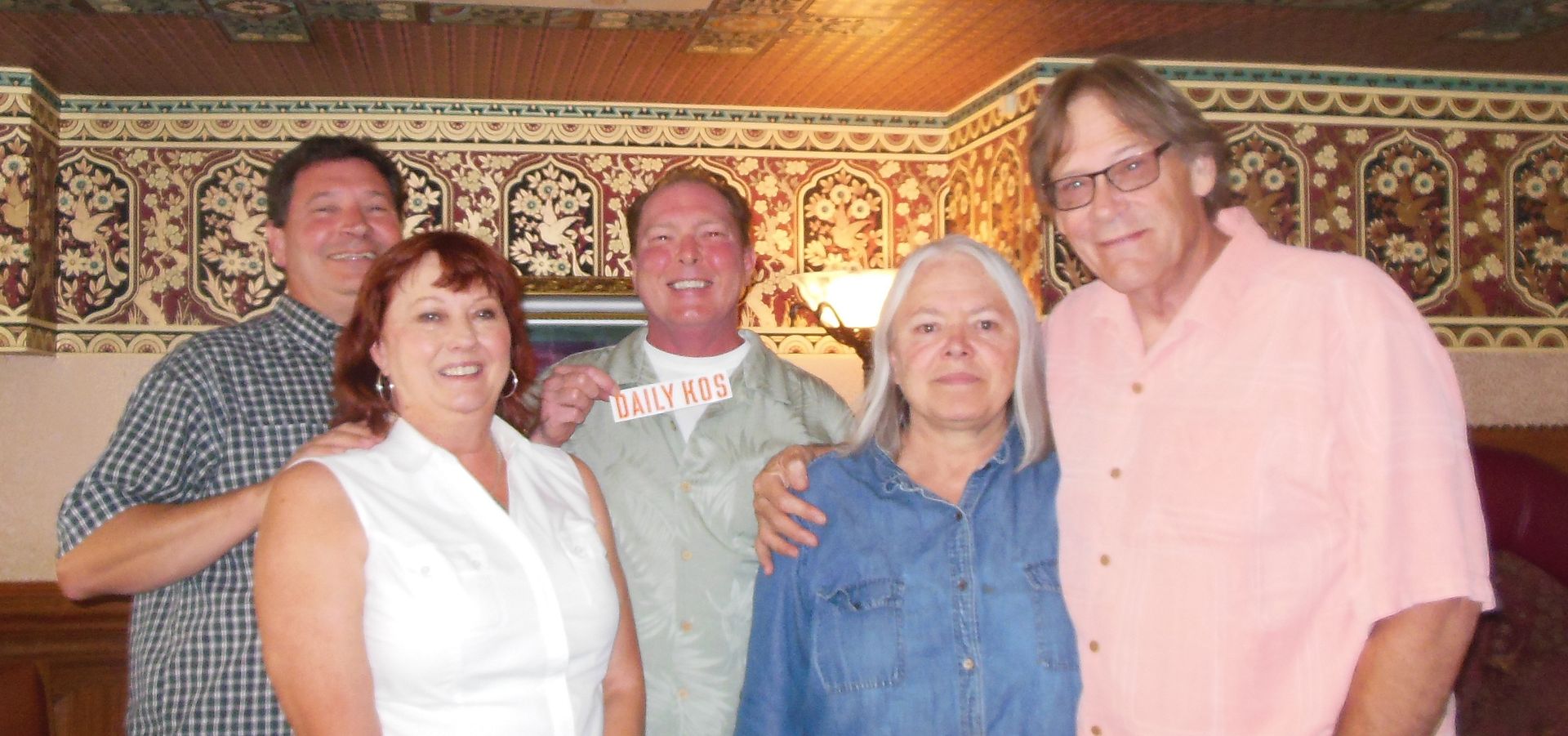 L-R: Mr. LucyTooners, LucyTooners, Thinking Fella, Land of Enchantment & jnhobbs
You can join Four Corners Kossacks by sending a Kosmail to Thinking Fella.


by susans ♥ for Los Angeles Kossacks
More than 30 Kossacks from Southern California met in Los Angeles to strategize on organizing. California is going to be our first roll-out of organizing an entire state. navajo talked about the importance of having a group in each congressional district and how important it is for everyone in attendance to help by looking for potential members in the comments of each diary at Dkos. navajo also talked about using the latest tools available from HQ such as Chris Bower's Action Team's email list and Faith Gardner and Jen Hayden's facebook interface to send invites to potential members in So Cal to join in. navajo will coordinate this. Google groups for email list servs were recommended along with facebook pages set up for each district as an organizing strategy.
Meteor Blades, a precinct captain for more than two decades, reinforced the effectiveness of old-fashioned, low-budget, face-to-face, boots on the ground local organizing as a time honored way to make things happen.
Vyan spoke about how politics is personal and one has to take on that mantle to engage and influence others.



---
by benamery21 ♥ for Los Angeles Kossacks
After attending the 8/9 L.A. Kossacks meetup in Los Angeles, I wish to extend my sincere thanks to navajo, Meteor Blades, Vyan, susans, Shockwave, and everyone else who played a part in making the meetup a success. I am excited to be a small part of efforts to build Kossack groups in greater Los Angeles, and in all 435 congressional districts.

[...] If we vote, we win. Sometimes asking is all it takes.

[...] but don't forget there is also a lot of other electoral territory in SoCal where your help might mean the difference between a Democrat and a Republican.
L-R: Meteor Blades, navajo and Vyan addressing the LA Kossacks
Please visit susans's diary for many MORE photos! Enjoy! You can still REC it. You can join Los Angeles Kossacks by sending a Kosmail to susans.

by mikejay611 ♥ for North & Central Florida Kossacks
---
by Vetwife ♥ for North & Central Florida Kossacks
---
by SemDem ♥ for North & Central Florida Kossacks
65 Kossacks gathered at the home of Vetwife on August 9th to listen to four candidates in person and three other candidates skyped in. They each were allowed to speak for 10 minutes and then had five minutes to answer questions. Reverend Robert of NAACP AME Moral Mondays spoke along with veteran advocates, medical MJ leaders and an Occupier organizer. Gordon20024 deserves another Kossack Hero award for supplying ALL the food! Vetwife reports that several campaigns have been in touch with her for support since this meet-up.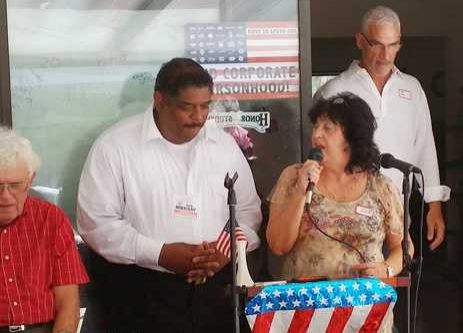 Vetwife introducing Joe Murray who is running for Congress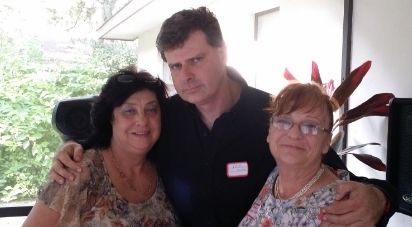 L-R: Vetwife, SemDem & byardl
Please visit the diary links above for many MORE photos! Enjoy! You can still REC all those diaries. You can join North & Central Florida Kossacks by sending a Kosmail to Vetwife.
Also visit SemDem's diary for a great example of how to organize speakers and promote an event:
by SemDem ♥ for North & Central Florida Kossacks


by randallt ♥ for DKos Asheville
Asheville's second Mountain Moral Monday protest was [Monday, August 4th] and it was inspiring to say the least. The Reverend Barber delivered a beauty of a speech that kept most people on their feet the whole time. Kossacks from far and wide met up for the event with a few of us meeting ahead of time and a few of us meeting at the rally.
Here's one photo: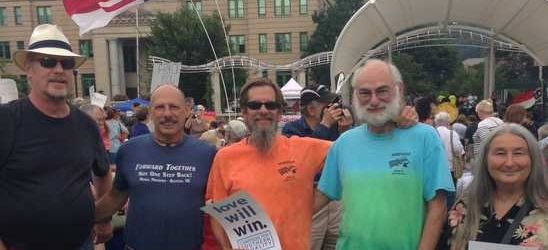 L-R: TexDem, Lamont Cranston, randallt, davehouck, new recruit
Please visit randallt's diary for many MORE photos! Enjoy! You can still REC it. You can join DKos Asheville by sending a Kosmail to randallt.


by Mother Mags ♥ for Phoenix Kossacks and Baja Arizona Kossacks
Kossacks attended the meet-up from around the state, helped out by strong recruitment from Azazello and other Baja Arizona friends south of the Gila River.

[...] A week before the meet-up fewer than 20 people had registered, and we anticipated a big table where we could discuss specific races and issues in our communities. Then something happened, and the RSVPs more than doubled in a week. Thanks, Markos, for the recruitment tool!
navajo: "I had a great time attending this meet-up. I chatted with almost everyone individually and then spoke to the whole group about what Daily Kos can do for them in terms of organizing and helping their ranks grow. Not one person wanted to rehash the online dispute. Everyone wanted to move forward. What a great group! The evening was extremely enjoyable and I look forward to working with Arizona Kossacks on ACTION items in their state going forward."
Here's one photo:
See Mother Mag's diary for individual headshots and usernames ~Photo Courtesy of Richard
Please visit Mother Mags diary for many MORE photos! Enjoy! You can still REC it.
You can join Phoenix Kossacks by sending a Kosmail to Mother Mags.
You can join Baja Arizona Kossacks by sending a Kosmail to Azazello.

Event Organizers! Please contact wink from Netrootsradio.com by KosMail to schedule airtime with them to live broadcast the date of your Event. Wink & Justice will then promote it on The After Show radio program!

Saturday, August 30th

Colorado COmmunity Kossacks Meet-up

TIME: 9:00 AM
LOCATION: Common Grounds Coffee House
44th & Vallejo • Denver
Adjacent Feed Denver's farmers market which will be open then.

ORGANIZER: Send Leftcandid a kosmail to attend.

RSVPs:
1. Leftcandid
2. acpa
3.

Maybees:

Latest diary: Denver Kossacks: Let's Caffeinate Liberally, on Saturday 8/30

Saturday, August 30th

Houston Area Kossacks Meet-up

TIME: 1:00 PM
LOCATION: Simply Pho
2929 Milam Street • Houston

ORGANIZER: Send Chrislove a kosmail to attend.

RSVPs:
1. Chrislove
2. nomandates
3. scott5js
4. Blood
5. cosette
6. doraphasia
7. TDDVandy

Maybees:
Mr. cosette
Mr. doraphasia
Mary
Alan


Latest diary: Houston Area Kossacks: Meet-Up Scheduled for Saturday, August 30

Saturday, September 6th

New England Kossacks Potluck & BBQ

TIME: TBD
LOCATION: brillig & mik's home
Address given privately to RSVPs • north of Boston

ORGANIZER: Send nhox42 a kosmail to attend.

RSVPs:
1. nhox42
2. brillig
3. mik
4. Common Sense Mainer
5. Bill in Portland Maine
6. mayim
7. Jane in Maine

Maybees:
northerntier
TrueBlueMajority


Latest diary: C+J/NE Kossacks Meetup September 6th!

Saturday, September 6th

Sacramento Kossacks Meet-up
Potluck with BYOB

Special Guest: Derek Cressman

TIME: 4:00 - 7:00 PM
LOCATION: Kestrel's home
Address given privately to RSVPs • Sacramento

ORGANIZER: Send cooper888 a kosmail to attend.

RSVPs:
1. tgypsy
2. cooper888
3. gotmooned
4. Kestrel
5. shigeru
6. TrevizOlga
7. paradise50
8. smileycreek
9. merelyfearless7
10. Sycotic1
11. side pocket
12. Mrs. side pocket
13. navajo
14. Meteor Blades

Maybees:
Laurel in CA
LinSea


Latest diary: Sacramento (area) Kossacks Meetup With Featured Guest!
Join the Sacramento Kossacks Google Group to receive invites for future events.

Saturday, September 6th

Kansas Missouri Kossacks Picnic - Local Candidate Speaks
Meet at the Hays city park to enjoy a free hamburger/hotdog/watermelon feed. Jim Sherow along with other local candidates will be speaking.

TIME: NOON
LOCATION: Municipal Park
1st and Main • Hays, Kansas

ORGANIZER: Send tmservo433 a kosmail to attend.

RSVPs:
1. tmservo433
2. Skohays
3.

Maybees:

Latest diary: Major Kansas Events: Your Chance to Change a State

Monday, September 8th

SFKossacks In-District Meeting with Senator Dianne Feinstein Re: Net Neutrality

TIME: 2:00 PM
LOCATION: San Francisco Office
One Post Street, Suite 2450 • San Francisco

ORGANIZER: Send navajo a kosmail to attend.

RSVPs:
1. navajo
2. kimoconnor
3. dharmasyd
4. linkage
5. EagleOfFreedom

Maybees:

Latest diary: [Waiting for linked diary]

Saturday, September 13th

Pikes Peak Region Kossacks Inaugural Meet-up!

TIME: 6:30 PM
LOCATION: Panera Bread
7344 North Academy Boulevard (general address) or 7351 Atlas Walk Way (mall address) • Colorado Springs

ORGANIZER: Send thanatokephaloides a kosmail to attend.

RSVPs:
1. thanatokephaloides
2. tmservo433 (visiting from Kansas)
3. AmberChaos

Maybees:

Latest diary: Our First Meeting: An Announcement

Attribution: Jetsonorama



Sunday, September 21st

People's Climate March

TIME: Midday, TBD
LOCATION: Columbus Circle
Central Park West and 59th • New York City

Join hundreds of environmental and climate justice groups and tens of thousands of individuals on the streets of New York City on Sunday, September 21, 2014, for the People's Climate March. The march is being held two days before the UN Climate Summit, where political and corporate leaders are meeting prior to the December 2015 UNFCCC COP21 in Paris. It also precedes Climate Week NYC.

The links below provide information on transportation to New York, volunteer opportunities, events in New York, and other ways you can become involved in your local communities.

• Getting There: Links to available buses, trains, ride boards and creative group transit ideas near you to get the NYC for September 21st
• How to Get Involved
• RSVP and volunteer/donation opportunities

Latest diary: UN Climate Summit: What To Expect and Why it Matters




Sunday, September 21st

NYC Kossacks Meet-up with boatsie!

TIME: TBD, sometime after the march
LOCATION: TBD
TBD • NYC

ORGANIZER: Send kathny a kosmail to RSVP


RSVPs:
1. boatsie
2.
3.

Maybees:


Saturday, October 4th

Seattle & Puget Sound Kossacks Meet-up

TIME: 1:00 PM
LOCATION: Pyramid Alehouse, Brewery & Restaurant
1201 First Avenue South • Seattle

ORGANIZER: Send John Crapper a kosmail to attend.

RSVPs:
1. John Crapper
2.
3.

Maybees:

Latest diary: Seattle Meet Up - Dog Day Activities

Saturday, October 4th

Dkos Asheville Kossacks Meet-up

TIME: 1:00 PM
LOCATION: The Bywater
796 Riverside Dr. • Asheville

ORGANIZER: Send randallt a kosmail to attend.

RSVPs:
1. randallt
2. davehouck
3. Joieau
4. Lamont Cranston
5. DawnN
6. SteelerGrrl
7. SteelerGuy

Maybees:
munchkin


Latest diary: [Waiting for linked diary]

Sunday, October 19th

NYC Kossacks Meet-up with navajo

TIME: Noon
LOCATION: Spitzer's Corner
101 Rivington Street (Ludlow) • NYC

ORGANIZER: Send kathny a kosmail to RSVP


RSVPs:
1. navajo
2. ericlewis0
3. belinda ridgewood

Maybees:


Saturday, November 8th

Seattle & Puget Sound Kossacks Meet-up

TIME: 1:00 PM
LOCATION: Pyramid Alehouse, Brewery & Restaurant
1201 First Avenue South • Seattle

ORGANIZER: Send John Crapper a kosmail to attend.

RSVPs:
1. John Crapper
2.
3.

Maybees:

Latest diary: Seattle Meet Up - Dog Day Activities

navajo maintains the above event list. Kosmail her if you have any diaries
about your event or if you have changes or additions.

EVERYONE is welcome, tell us what you're working on,
share your show and tell, vent, whatever you want.
This is an open thread. Nothing is off topic.