Yes, I'm responding to the diary at the top of the rec list. Why? Because I believe that those diaries, the warm fuzzies, serve a very real purpose for the people here who are working their asses off for Democrats.
We're worn down. We're tired. We're just fucking fed up. The last eight years have been an endless nightmare for some. The details of this nightmare are not important, they've been tracked and plotted by graphs and carefully written diaries. Many here are painfully aware of just how bad it has gotten.
But we have to laugh, we have to stop and relate to others on a personal level or all the work we do to elect more and better Democrats amounts to nothing at all.
This is why we all want to reach out to Senator Obama and comfort him at this time of need. His grandmother is ailing and he made the choice to take time from his campaign to go to her side, to do what he needs to do in order to keep working and fighting for us all.
So, sometimes we just need a moment to reflect, to put a personal note out there like a white flag of surrender from the soul. It says, "I'm tired, I'm worn out and I need someone to hear me."
As Democrats, we care about the stories people have to tell or we would be Republicans. As Democrats we care about every little cut and bruise that goes with the bigger journey of fighting to get our Country back.
These are stories of survivors and fighters, people who have decided after being kicked for so long that they will not surrender to hate and anger, that they will not give up to the darkness and the sadness, the ever present anger that hangs in the air around McCain. We cannot let that win either (electoral victory has to be accompanied by winning the hearts of the minds of many more than those who would vote for Obama).
And we do this for our families, for our mothers and fathers, for our brothers and sisters and for our children. Even if we don't have our own children, we have friends who do, our we may be aunts and uncles who feel as protective of our siblings children as if they were our own.
Senator Obama made the point about being our brother's keeper, that we must care for each other in the most compassionate way possible, even if that means giving up part of ourselves in order to be part of that greater good.
This is why we love the Obama family so much, they are about that circle of caring that radiates out from our families and lives. It something that circles those around us with hope and the possibility of better things and sometimes, you just have to stop and reflect on those things. We are human beings and those diaries connect with people on a level that goes beyond charts and graphs and it is what keeps us going, to keep fighting the good fight, to keep dragging ourselves towards that finish line.
It's like the photo of a child's face that reminds us that this is not just about now, but about the future of our very existence. That's heavy. I don't know about you, but I have days where I think I might just burst with the joy, the anger and the hope, all of it mingling together in the most bittersweet way, in the only way I know, in the human way we relate to our reality, through stories and through the things we go through in our every day lives.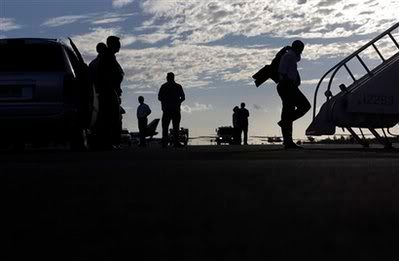 I see these diaries like the quiet moments we have with ourselves that helps fuel our minds and hearts to battle on. It's why I believe Senator Obama manages to stay as calm as he does, as balanced as he does, he knows that laughing goes along with the fight, that taking time out for oneself goes along with caring for others. It's this balance to Daily Kos that these diaries bring.
And, well, people are so hungry to connect. People are so eager to share the hope, to share their good feelings, like a rally on a fall morning that brings strangers together to cheer and scream for the common good, for the hope that our Candidate brings to us. It's our campaign, it's our fight and that means, it comes with all the silly stories, the corny photos and the quiet moments to reflect.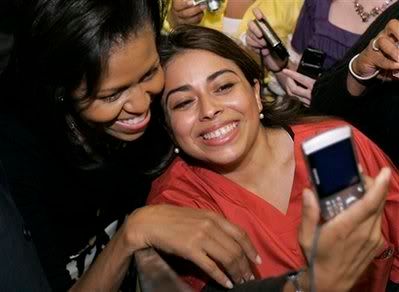 It's this personal connection that makes this all so worthwhile. It's this caring for others that makes us Democrats and we have to honor the whole process, not just the part that challenges our intellects and ideas but our very hearts and souls. That is how we grow as people to move past caring for our own selfish needs and to move to care for the greater good of all mankind.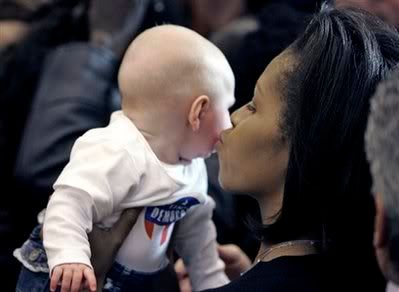 As we embrace the future we have to also deal with the here and now and painfully deal with the past. As we move through the phases of our lives we have to take time to say good bye to those things that must leave us. It's painful, it's human and it's all part of the journey. So let us go on this journey together and share those ups and downs, share those pains and joys because you don't have one without the other.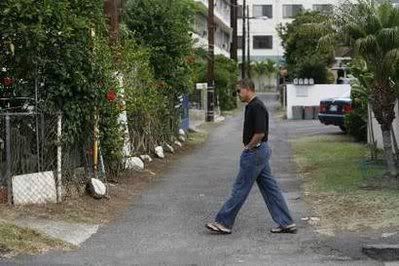 -------------------
Thank you. This was a needed write for me. I'm helping my husband run his first campaign, we are worn down and tired. We are watching our house become a mess and our minds become shambles. It's been a difficult journey and it's all ours. It's the stories that keep me going and my own humanity that reminds me we can't do this alone, it's the joint effort that makes things happen, that makes them change for the better.
And I did this for my five year old, my husband ran for her, to put a "D" on the ballot and to give people a choice. It all matters, the good, the bad and the ugly. I always remind myself that I love things for what they are, not in spite of. WE have to embrace the whole journey, or should if we wish to find some kind of balance and sanity in our lives. And I speak from experience, I tend to get too personal and too open and could learn something for those who have a more balanced approach.
Someone asked, here is my husband's act blue page.
http://www.actblue.com/...
and his campaign website
http://garypritchard08.com/
Frivolous Update!
Someone called me to let me know that her and her daughter had just voted for Gary! How cool is that, they were so excited they wanted to share that with me and that they saw his signs all over town. It meant the world to me that someone cared enough about his campaign to call personally and let us know they had voted for him and were proud to do so! And Barack Obama of course!