I mean I really shouldn't be embarrassed, for I am not my brother's keeper, but I am embarrassed anyway.
I'm more than embarrassed. I'm mortified. Every time I turn on the television there is yet another one of those black republican pundits shilling away on the tube for "their party" (what a joke), or engaged in a Barack attack.
I want to wave a magic wand, make them white and put them out of their misery.
Okay, I know white folks don't watch television and cringe every time someone white says something stupid or racist, or idiotic.
But when I see dudes like this guy, my blood pressure rises: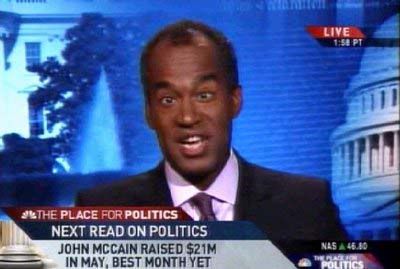 (Ron Christie)
You can see "individuals". I guess. I mean John McCain thought white women would all fall in line and identify with Sarah Palin, and you ladies didn't. But did she embarrass you as a white woman? I dunno.
But I have to tell you that black folks respond viscerally to any brother (or sister) who gets up in front of an audience or is on the tube making an ass of him or herself. We are like ...oh nooooeeezzzz, what rock did you find this fool under?
Hell, we have been happy that no black people had ever been notorious serial murderers like Jeffrey Dahmer till Malveaux cam along and messed it up for us.
But I digress.
So I was watching Chris Matthews the other day and he was chatting about the election results with my all time least favorite cringe-worthy black Republican (oxy-moran) Ron Christie.
For those of you who care, here's what Ron Christie, has to say about himself:
Ron Christie is a vice president of Navigators, full-service issues management firm with offices in Washington, D.C., Sacramento, California, and Tallahassee, FL which provides integrated public affairs campaigns that combine lobbying, issue advertising, strategic public relations and grassroots pressure to solve difficult public policy problems.. He is also the author of the book Black in the White House published by Nelson Current in January 2006.

Mr. Christie, a veteran senior advisor of both the White House and the Congress, brings years of government relations experience. Most recently, he was Executive Vice President and Director of Global Government Affairs at Ruder Finn and Of Counsel at the DC law firm of Patton Boggs, LLP. From 2002 to 2004, he was Acting Director of USA Freedom Corps and special assistant to President George W. Bush. He began service at the White House in 2001 as deputy assistant to Vice President Cheney for domestic policy, advising the Vice President on policy initiatives in health care, budget, tax and other policy areas.

Prior to joining the Vice President's staff, he briefly served as counsel to U.S. Senator George Allen (R-VA). He also served as senior advisor to former House Budget Committee Chairman John Kasich (R-OH).

Active in international affairs, he was elected to the Council on Foreign Relations in 2001, a distinguished group devoted to promoting improved understanding of international affairs through the free exchange of ideas.

As a frequent commentator on current political events, he has appeared as a political/legal analyst on Hannity & Colmes, The O'Reilly Factor, Fox and Friends, Hardball with Chris Matthews, Lou Dobbs Tonight, The Tavis Smiley Show, and Fox News Sunday. He also serves as an outside communications and political strategist to Republican Members of the House of Representatives and the United States Senate where he advises on current policy and political matters

He received his B.A. from Haverford College and his J.D. from the George Washington University National Law Center.
For those of you who don't wander into the Afro-sphere here is a pungent comment about Ron Christie from a sistah:
Ron Christie
He's one of the worst I've ever seen. Christie is so sooooo disrespectful. He's been utterly disrespectful and he's a disgrace to his race. He's a puppet for the republicans and sometimes I want to punch his ass in the face and knock his eyes straight. Real talk.
Yeah sistah. I hear you. I can't print some of the other statements I found cause they are x-rated.
Right here on Daily Kos, ajc888 posted:
Is Ron Christie the most embarrassing black GOP spokesman ever?
This is the second time that Christie has come forth recently to give a "black conservative perspective" on a potential GOP race based problem as he also dutifully defended George Allen against charges of racism on several cable news shows during the Macaca blowup.

On Hardball, Christie deflected the charges of racism by attacking Ford for attending a Playboy 2005 Superbowl party in Jacksonville - "He went to a Superbowl party WITH PLAYMATES!". Christie then turns around and plays dumb and asks "Why is it racist to have a White Blond woman say that she met Harold Ford? Where is the racism?" He then brings up the Steele Oreo incident (which was throughly debunked) and the comment a democrat house speaker made recently in which the word "slavishly" was used as absolute proof that Democrats were just as racist as the GOP was being accused of. He then concludes by saying "Chris, get over it! Its just an AD!"

I recall that Christie parroted the GOP talking points to a T in his defence of Allen stating that he wasn't offended by Allen's words and that Allen just made up some words which happened to mean monkey or worse in French and that he didn't believe the people from Allen's past who came forth to say that they had heard Allen use the "N" word repeatedly in the past since Allen was a supporter of black causes.
And then there is Joe Watkins. I've diaried about him before
The Uncle Tom Strategy; meet Reverend Joe Watkins.
Oh, he's soooo pathetic, but he just loved him some Sarah Palin:
Let me not forget Ken Blackwell.
Here he is doing a hit job on FOX about Acorn:
Here's some of the crap he wrote about Barack during the primary:
Finally, look at the social issues. Mr. Obama had the audacity to open a stadium rally by saying, "All praise and glory to God!" but says that Christian leaders speaking for life and marriage have "hijacked" - hijacked - Christianity. He is pro-partial birth abortion, and promises to appoint Supreme Court justices who will rule any restriction on it unconstitutional. He espouses the abortion views of Margaret Sanger, one of the early advocates of racial cleansing. His spiritual leaders endorse homosexual marriage, and he is moving in that direction. In Illinois, he refused to vote against a statewide ban - ban - on all handguns in the state. These are radical left, Hollywood, and San Francisco values, not Middle America values.
Back in 2006 KeithBoykin had this to say about Blackwell:
We've been putting this off too long. Ken Blackwell, the black Republican candidate for governor of Ohio, has been on our radar screen for a long time. It's bad enough that he's supported anti-gay legislation in the past, but now he's really done it. In a weekend newspaper interview, Blackwell compares gays and lesbians to arsonists and kleptomaniacs who can be "changed."
John Kenneth Blackwell (born February 28, 1948), is a former secretary of state of the U.S. state of Ohio who made an unsuccessful bid as the Republican nominee for Governor of Ohio in the 2006 election. He was the first African-American to be the candidate for governor of a major party in Ohio. He is currently Vice Chairman of the Republican National Committee's Platform Committee.[1]

Blackwell gained national prominence for his dual roles as Chief Elections Official of Ohio and honorary co-chair of the "Committee to re-elect George W. Bush" during the 2004 election. Allegations of conflict of interest and voter disenfranchisement led to the filing of at least sixteen related lawsuits naming Blackwell. Regarding voter disenfranchisement, the US Court of Appeals ruled, in agreement with Blackwell, that provisional ballots cast in the wrong polling location should not be counted in the election. Blackwell was also named in a 2006 lawsuit related to his office's public disclosure of the Social Security numbers of Ohio residents.

A conservative, Blackwell successfully campaigned for the 2004 State Constitutional Amendment banning state recognition of same sex marriage, is a staunch proponent of gun ownership rights, and has stated that he is against abortion except in order to protect the life of the mother. He was defeated in the 2006 Ohio gubernatorial election, winning only 37% of the vote.
So why am I dredging all this up? Well, President Barack Obama is going to face a hit squad of black right wing commandos as he takes on the mantle of the Presidency.
Rather than let "foam at the mouth" racists like Pat Buchanan, Lou Dobbs, and the Fox denizens do all the down and dirty work, the Republicans are going to continue to have black faces mouth their rhetoric.
Ironic for a party that has nothing to offer black Americans.
I understand the political implications of self-hate. There will always be people who work against their peoples self-interest. Fanon called it a "colonized mentality". Me, I see it as opportunism. Plain and simple. Since the Republican party is currently a whiter shade of pale, these folks get to be big fish in the pond. They get plum assignments to be talking black heads. As long as Chris Matthews and Wolf Blitzer and Lou Dobbs and Hannity and O'Reilly and crew hire them to be equal opportunity assholes, this is going to get worse, not better.
The new darling of Morning Joke is the Reverend Eugene Rivers:
We need to be very clear about Eugene. He is a street hustler, and theology student who audited classes at Yale (was the subject of my ex-husbands documentary "Black at Yale"), dropped out of Harvard and is now a Pentecostal minister, in Boston. You will be seeing a lot more of Rev. Eugene Rivers.
Here's a profile piece:
Though Rivers is never far from the media's spotlight, its heat has radiated with unusual intensity during the past few months. A co-founder of the Ten Point Coalition, a group of ministers credited with helping to solve Boston's gang problem in the 1990s, Rivers has emerged as one of the most prominent black activists willing to do business with the Bush White House. He was among a coterie of clergy who met with George W. Bush in Austin on December 20, and has been traveling back and forth to Washington as well. But his outspoken style, which for years has made him as controversial as he is respected, has led to whispers that Rivers wants to supplant the Reverend Jesse Jackson as the country's best-known black leader — and that Rivers may even have somehow been involved in the revelation last month that Jackson, who is married, had fathered a co-worker's child.
Eugene saw cozying up to Bush as an opportunity:
Then, too, Rivers understands perfectly well that Bush's presidency may represent an unusual opportunity for ideas he's been promoting for years — a much better opportunity, in fact, than he would have had if Gore were president. On Monday, Bush announced a major initiative in faith-based social services and put University of Pennsylvania professor John DiIulio — an old friend and compatriot of Rivers's — in charge of it. Rivers was on hand at the White House for the announcement. Indeed, DiIulio tipped Rivers off that something big was up last Friday, while I was interviewing him. ("It's John D! He's calling from the West Wing!" he said excitedly.) The American Civil Liberties Union and Americans United for the Separation of Church and State have already announced their opposition to the initiative, charging that it amounts to an unconstitutional endorsement of religion. To Rivers, though, a federal boost for faith-based social programs is a chance to extend the work he's been doing for more than a decade.
Make a note. I predict that Eugene will be called upon to make "pronouncements" as the voice of the black community quite frequently in the years to come, and while praising Barack out of one side of his mouth he will be stabbing him in the back with the other.
Eugene has been openly homophobic and has clashed with gay activists as far back as 2005:
Religious Leadership Roundtable Denounces Homophobic Statements of Eugene Rivers
National Gay and Lesbian Task Force Religious Leadership Roundtable says, "The language of civil rights is open to all who seek equality."

On January 12, 2005, the Grand Rapids Press (Grand Rapids, Michigan) reported on a speech given by Reverend Eugene Rivers of Boston stating that the gay rights movement had co-opted the language of the civil rights movement for its own benefit. The following is a response from the National Religious Leadership Roundtable of the National Gay and Lesbian Task Force:
"On January 12, the Reverend Eugene Rivers made several ill-informed and offensive statements about the lesbian, gay, bisexual, and transgender community, particularly about the struggle for equal marriage rights for same-sex couples. Reverend Rivers called the gay rights movement's use of the language of civil rights, 'an exercise in marketing and merchandising,' and suggested gay advocates were 'playing the race card' to gain societal sympathy. It is unfortunate that Reverend Rivers has aligned himself with leaders of the religious right who attempt to pit people of color against gay people. These individuals argue, incorrectly, that laws protecting lesbian, gay, bisexual, and transgender people are 'special rights' that threaten the civil rights of other minorities.

As Reverend Rivers' colleagues, we condemn his abuse of power as a faith leader. As religious leaders, our sacred texts and traditions call us to make connections among all people who experience discrimination, and to expand the community of love to seek greater justice.

Oppressed people have always learned from the struggles of other oppressed people. Dr. King responded to racism in America based on the efforts of Gandhi to resist colonialism, and the experiences of nonviolent resistance of Quakers like his openly-gay friend and collaborator, Bayard Rustin. Lesbian, gay, bisexual, and transgender people do not equate their oppression to that of people of color. But to suggest that gay people have no access to civil rights language in their fight for equality is patently absurd.
They continued:
Dr. Sylvia Rhue, Director of Equal Partners in Faith says, 'We are disappointed in Reverend Rivers' crusade of deliberate misinformation and outright malevolence against the lesbian, gay, bisexual, and transgender community, a community which is comprised of all colors, races, and ethnic groups. Mr. Rivers knows this and he pretends that it is not true.'

Furthermore, Rivers' statement, 'Same-sex couples wanting to marry are white lesbians who seek the accouterments of family life,' reflects his misunderstanding about the makeup of his community. According to a report published by the National Black Justice Coalition and the National Gay and Lesbian Task Force Policy Institute, based on the 2000 Census, black same-sex households make up 14% of the same-sex households in the United States, greater than the 13% of the general population that is African-American. Black lesbian couple households are almost as likely as Black married opposite-sex couple households to include a child of one or both of the adults (69%). Nearly half of Black male same-sex couple households (46%) include a child of one or both of the partners. As Bishop John Selders, Presider of The Inter-Denominational Conference of Liberation Congregations and Ministries observes, laws discriminating against same-sex couples cut across racial lines: 'There are significant numbers of people of color, African Americans in particular, who are equally discriminated against because of unjust laws.' Bishop Selders adds, 'I'm disappointed again by the shameful rhetoric espoused by brothers and sisters of color regarding same gender loving marriage.'

As people of faith, we call on Reverend Rivers and other faith leaders to support the families of same-sex couples that are living in their congregations and communities. We ask them to lift up as examples of selfless love same-sex couples of all races who have dedicated themselves to each other and their children, despite, in many cases, receiving no legal benefits or protections for their commitment. And we call on all people of faith to join together to resist the attempts of the enemies of equality to divide along lines of race, class, sex, sexual orientation, or gender identity."
So keep your eyes and ears open, and prepare for more Rivers sightings in the days ahead. Especially now that Prop 8 protests are taking place across the nation.
Do I expect all African-Americans to be Democrats? No. But do I have a right (and a duty) to question the legitimacy (and the sanity)of the hand-picked black people who are getting an inordinate amount of airtime to be spokespersons for a reactionary agenda? Yes. Hell yes!.
And since it is sometimes more difficult for my white fellow travelers here to call out black folks when they are just plain wrong-headed, I'll pick up the gauntlet my damned self, and call a spade a spade, or a tom a tom.
Rant finished.