Think Progress has a piece about an interview Andy Card, George W. Bush's Chief of Staff, gave to wingnut radio talker Michael Medved in which Card criticizes President Obama's treatment of the Oval Office as a "kind of locker room experience":
Transcript:
MEDVED: There is a new order in the White House. There is a couple of columns today. One column by Karl Rove, your former associate in the most recent Bush White House. And the other column, it's a piece in the New York Times by Sheryl Stolberg. She talks about the new era of informality that Barack Obama has introduced into the White House. He's working there late at night. He comes in relatively late, two hours later than President Bush used to come in at his desk. And he's dropped this rule that everybody has to wear jacket and tie in the Oval Office. Now, you worked in the Oval Office for years and years.
CARD: I started working at the White House with President Reagan and then I was deputy chief of staff to former President Bush and then chief of staff to former President George W. Bush.

MEDVED: And all those three presidents had...

CARD: And yes, I found that Ronald Reagan and both President Bushes treated the Oval Office with tremendous respect. They treated the Office of the Presidency with tremendous respect. And some of that respect was reflected in how they expected people to behave, how they expected them to dress when they walked into the symbol of freedom for the world, the Oval Office. And yes, I'm disappointed to see the casual, laissez faire, short sleeves, no shirt and tie, no jacket, kind of locker room experience that seems to be taking place in this White House and the Oval Office.
I hate to talk this way about my mother, but Card's reaction reminds me of the way my mother reacted when I didn't dress correctly for Sunday Mass. There were times when she would throw a tantrum, asking where she went wrong in bringing us kids up because we didn't wear a certain sweater or didn't comb our hair the way she would like. "I will not let our neighbors see you that way!" she would yell, "That's not how I raised you." Mind you, I dressed perfectly well. It usually just wasn't what she had in mind. I probably wouldn't have minded her reaction if she had taken the time to speak about the teachings of the church. Not once did she teach me the Bible or stress the need to treat others as we would want to be treated. In fact, she wondered how I learned to lie so well and forgets she was the one who would tell us kids to fudge the facts if we wanted to get ahead. How we as a family appeared to the outside world was the only thing that was important. That's exactly what I see in Card's critique of President Obama's relaxed dress code (Did I mention my mother is a Republican? Though she did vote for Obama).
Steve Benen at Washington Monthly articulates how hollow the values are at the core of Card's remarks:
Traditionalists may not approve of Obama's easy-going style, but we're a long way from a "laissez faire locker-room experience." A frat house it isn't.

The other thing to consider here is exactly how one "respects" the presidency. For Card and others who served with Bush, it's about choice of clothing. For those who serve with Obama, it's about honoring institutional limits and the rule of law.

Or, put another way, where exactly does a loyal Bushie get off talking about "respecting" the presidency? Did George W. Bush always wear a coat and tie? Sure. Good for him. But while he was wearing nice clothes and demanding that his staff do the same, he also oversaw a scandal-plagued White House that trashed constitutional norms and routinely ignored the laws that the president twice swore to faithfully execute.

One respects the office by honoring its place in a constitutional system, not by wearing a suit.
President Obama in his inaugural address said "the time has come to set aside childish things" but, of course for Republicans, words - such as those in Constitutions - never have much meaning. They're more conditioned to speak in code, in divisive cultural symbols. This is a return to the whole flag-pin controversy. This is on par with John McCain's claiming candidate Obama snubbed the troops in Germany because no cameras were present. For Republicans, politics runs skin deep. It's more important that a President and his staff wear jackets in the Oval Office than follow the rule of law:
"I'll never forget going to work on a Saturday morning, getting called down to the Oval Office because there was something he was mad about," said Dan Bartlett, who was counselor to Mr. Bush. "I had on khakis and a buttoned-down shirt, and I had to stand by the door and get chewed out for about 15 minutes. He wouldn't even let me cross the threshold."
I wish President Bush had taken as much time or shown as much concern when someone in the name of our country had prisoners dress up like this: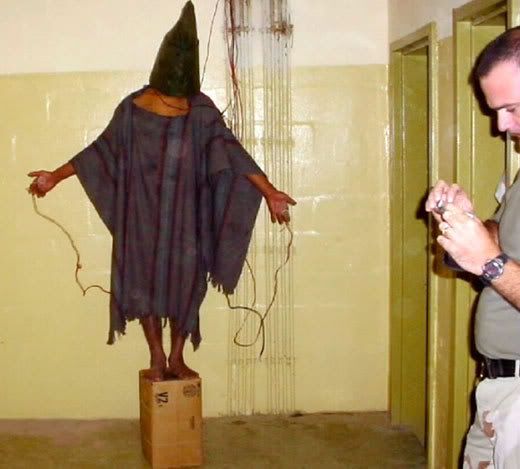 Hey, Andy Card, would this be appropriate attire for the Oval Office? Does this formal wear reflect well on the dignity of the Oval Office? If not, did you have anything to say to your boss when you saw this picture and how it represented the United States?
And hey, Andy, how respectful of the Oval Office was Bush here?
"Locker room experience" my ass. The Republican Party has so fucking lost its way in pettiness and childish things.
By the way, here's what a "locker room experience" looks like to Republicans. That's what happens when the only locker rooms you know of are at elite country clubs.