Now I bet most of you are sitting there scratching your head trying to figure out how pooties, Wendell Potter and Got a Happy Story could POSSIBLY all be in one diary. Well, the answer is 3 words long: PA Progressive Summit!
See my happy story for tonight is that in 26 short days the largest gathering of Pennsylvania Progressives will begin...PA Progress Summit and yours truly is on the organizing committee. And I can't WAIT to tell you all about it!
But first the unofficial official PA Progressive Pootie Pic
So what exactly is PA Progressive Summit? The Pennsylvania Progressive Summit will be the largest, most dynamic gathering of progressive activists ever assembled in Pennsylvania. Field organizers, Volunteers, Bloggers, Labor leaders, Politicians and Policy experts at the state and national level coming together to galvanize the progressive movement in our state, make new alliances, discuss the important issues of our time and prepare for the legislative and electoral battles of 2010 and beyond.
Featured speakers will include
* Anna Burger, Chairwoman of Change to Win & Secretary-Treasurer of SEIU
* Wendell Potter, Healthcare Industry Whistleblower extraordinaire
* Leo Gerard, United Steelworkers International President
* Keynote speaker William McNary, President of USAction
And the fun doesn't stop there- Friday night will feature a debate amongst PA Governor candidates- confirmed participants are Chris Doherty, Joe Hoeffel, Tom Knox, Dan Onorato and Jack Wagner.
And wait...that's not all!
We have workshops...panels...discussions...debates...movies:
* Healthcare Reform
* Immigration Reform
* Equality Issues
* The ins and outs of social media use
* Campaign How To's like Petition gathering, GOTV, running blue in a red district
And wait there's still more...but I can't tell you what yet cause it's still a secret but I promise you it's big (eg)
Remember after the first Yearly Kos in Chicago everyone who didn't go spent the next year saying "damn I coulda been at the first one"...well here's your chance to NOT say that about PA Progressive Summit- just go to the website and register now.
And of course if you come to PA Progressive Summit you'll make me happy and if you're really nice I'll mention you BY NAME in my next Got a Happy Story on the Monday AFTER Summit.
How can you resist such an offer?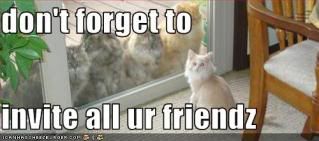 So tell me...what's your happy story this week?