I receive quite a few emails, mostly (thank goodness) nice ones. Here's one I received last night--I hope David Axelrod reads it.
This was a good one. She hit the nail on the head, we need to fire up the fed up base.
Hi nyceve-

I read what you wrote, I've been reading you for a long time. You're correct. What's happening makes no sense. I voted, worked and phonebanked for Obama because we really thought he meant what he said. Guess we were wrong.

I can tolerate a lot, what I can't tolerate (just like you) is that my health premiums are worse than ever. How can they give us reform which says it will make healthcare affordable, but in my life, things are worse than ever.

Are they stupid? Do they think we're stupid? I'm a super loyal democrat, but my neighbors aren't fired up any more, they're fed up.

Thanks for your work.

Cynthia
Why have Cynthia's neighbors moved from fired up to fed up?
Jobs, the economy, healthcare, Afghanistan. I'll focus on healthcare.
Australia, Canada, Germany, the Netherlands, New Zealand, Britain — all are outperforming the United States when it comes to most aspects of healthcare. As usual.
But we are #1 in something: spending.
Here's the summary of the shocking Commonwealth Fund report.
"But even when access and equity measures are not considered, the U.S. ranks behind most of the other countries on most measures. ... It is apparent that the U.S. is lagging in adoption of national policies that promote primary care, quality improvement, and information technology."
Charts (sorry, I only have charts, no pictures), from theCommonwealth Fundon how disasterously we Americans rank.
First chart.
Skyrocketing costs.
Please keep in mind of how much more we pay than anybody else. The PPACA has no price controls, and no competition hence skyrocketing premiums and many more very angry voters just like Cynthia.
This chart measures per-person health-care spending.
And remember, while reading it, that (sigh) the U.S. is actually in an advantageous situation. Because unlike the rest of the industrialized world, we don't have universal health care--we leave out around 50 million so we are spending less than we would if (perish the thought) we covered everyone.
Second chart.
U.S. Underperformance.
Spend and spend and spend some more, our outcomes are still deplorable. No wonder Howard Dean said, he'd rather be sick in Canada.
But even with all this spending, here's the news from the Commmonwealth Fund, "the U.S. ranks last overall, as it did in the 2007, 2006, and 2004 editions of Mirror, Mirror.
Most troubling, the U.S. fails to achieve better health outcomes than the other countries, and as shown in the earlier editions, the U.S. is last on access, patient safety, coordination, efficiency, and equity. The Netherlands ranks first, followed closely by the U.K. and Australia.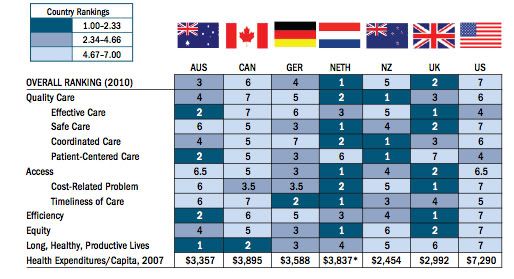 How will the Patient Protection and Affordable Care Act change these dismal realities and make life better for Cynthia and her neighbors?
PPACA will require private insurance corporations to cover more Americans regardless of their health. PPACA will require Americans to purchase their products despite the fact that with premiums skyrocketing, most of us will only be able to afford, the minimal Bronze plan which will cover just 60% of our medical costs.
There will be subsidies, so Cynthia presumably will receive some help. And as I said the other day, I think most Americans, other than the super rich will qualify by 2014 for some subsidy because premiums are skyrocketing out-of-control.
This is what happens when Democrats in power capitulate to corporate interests,and pass legislation that falls far short of campaign promises. In the end, desperate for a victory no matter how hollow, our representatives were willing to concede anything in order to pass anything, hence the PPACA was born. When this happens, it becomes our sacred duty to remind them that this is not an acceptable way to govern.
It bears repeating that populist rhetoric is resonating less and lesswith an angry electorate. Creating panic and fear of the Republican Party regaining congressional seats, or even (God forbid) the presidency will not miraculously make voters forget that they don't have a job and that the effects of this reform legislation are woefully inadequate.
The private insurance model does not and cannot work to control costs and insure everyone, no matter how much market advocates wish it could. It is the politicians, Obama and Congress, who bear much of the blame because they were the ones who decided to keep the private insurers in charge without even facing the most minimal competition.
Everyone would be well advised not to dismiss Digby.
But despite the passage and eventual implementation in 2014 of the PPACA, there will still be millions left out. And we damn well better keep that in mind. These people will find their last hope on the floor of a convention center at a Free Health Clinic. And we Americans will continue to have a healthcare system based on your ability to pay, not your right as a citizen to healthcare.
This is why going forward we need to wage a fight for Allan Grayson's HR 4789, a four page bill which "allows any American to buy into Medicare at cost."
This is also why I will go to Washington DC on August 4th to tell the stories of Americans who cannot access healthcare and rely on the Free Clinics Association to provide them with something--anything.
If you want help us with a small donation, we're very grateful to you.
The funds donated to the Progressive Congress Action Fund, a 501(C)4 not for profit, will be used to advocate on behalf of the progressive agenda, to advance progressive legislation, and may include payments to individuals engaged in fund raising.