Barbara Boxer has a progressive voice that Americans desperately need. While following the California elections from here in the east is probably misleading, reading a grim story in the San Francisco Chronicle this week, that Barbara Boxer is almost in a statical dead heat against Carly Florina is extremely disturbing.
While Democrats often like to stick to issues, Barbara Boxer seems like a scrapper and "Fiorina achievements" should get noticed. It also seems that issues alone should make this Fiorina's last stand but framed as "management skills vs California politics" is wrong. One of the worst CEO's of all time vs. a hard working public servant is more like it.
Perhaps you've already read the diary Fiorina makes Hewlett and Packard Turn Over in Their Graves. There must be many living California voters who were invested in HP while Fiorina was driving the company into the ground. Since I was invested in HP throughout the Fiorina massacre, I have a few memories of a failure who refused to listen to or get along with anyone.
As a worried New Yorker a calming effect can be found in this old interview from back when Fiorina was duking it out with Tom Campbell. Just another Republican with deep pockets and all sorts of complaints but no answers. Well there's that same tired old Republican chant "cut spending" and "cut taxes."
What Tom Campbell has to say about his fellow Republican when Fiorina won the primary is also helpful.
"We're not at a good point in our political system....We need to have people with experience in government so we can learn from what we have done before. So I am worried."
On Friday in Steve Singiser's CA-Sen: Carly Fiorina and Manufacturing Dissent there was a photo of a blimp showing Fiorina's website. It is amazing how Republicans so often get away with taking their own weakness and and placing it on their opponents. Failedsenator.com is the website that this miserable management failure is using to get elected.
The poll isn't really as devastating as it sounds. Another calming link on both Whitman and Fiorina's chances in a California election points out that Fiorina is enjoying a temporary free ride from the media but her social conservative ways will catch up with her as Californians see how offensive she really is.
Californians for Boxer are presenting the California voters with a Republican who presided over major layoffs and outsourced jobs. I remember the email from Barbara Boxer.
I am proud of my record of fighting to create jobs for California. I have met construction workers, law enforcement officers, teachers, scientists, and many other hard-working Californians who are working because of the Recovery Act -- a bill that has saved or created 150,000 California jobs.

Yet Carly Fiorina not only opposed that critical bill, she also opposed the HIRE Act, which gives tax breaks to businesses that hire long-term unemployed workers and extends the highway trust fund.

In fact, Carly Fiorina opposed every major jobs bill that I supported -- even though that legislation will continue to help create jobs and put our economy back on track.

Plus, remember that before Fiorina was fired as CEO of HP and walked away with a $21 million "golden parachute," she laid off more than 30,000 workers.
At Barbara Boxer's issue oriented website there is an interesting and very true page called Fiorina Facts that includes Perks and Pink Slips: The Fiorina CEO Story but the good Senator needs to get elected with her genuine reputation and doesn't have golden parachute money to create a fake reputation.
Even if the California electorate is going to go very far from what pundits are claiming and those polling numbers are because the media is being nice to the newcomers in the race, Fiorina getting away with using her golden parachute money to clean up her reputation on her campaign page should be challenged.
Carly served as the Chairman and Chief Executive Officer of Hewlett-Packard Company (HP) from 1999 to 2005, leading the reinvention of the legendary company, successfully steering it through the dot-com bust and the worst technology recession in 25 years.
The reality of Fiorina's unpaid for reputation is that she was bad for business even before she almost destroyed on of the finest companies in America. Her rise to fame was because of handling the spinoff of Lucent Technologies from AT&T, a company that disintegrated. Fiorina got out of Lucent just before the Feds arrived but many of the older fixed income investors who once found the dependable dividends of the telephone company were not so lucky.
Eventually California workers will be reminded of Fiorina's undying love for hb1 visas, outsourcing and layoffs. The fact that she thinks Californians are not good enough for California jobs and Americans are not good enough for American jobs will go a long way. But how do rich people feel about her? Well when there is a little familiarity, there seems to be a lot of contempt. David W. Packard's opinion is a good example.
Let's not forget that the HP board fired Fiorina early in 2005, and no company has hired her since. When she arrived in 1999, HP earnings per share (adjusted for stock splits) were $1.54. In her last year (2004) they were $1.16.
David W. Packard makes several points about Fiorina but one very valid point is that no company has hired her since. Following the business pages many major corporations decide to go in a different direction and the CEO usually ends up leading another major corporation. Perhaps not a move to a larger company but there are 486 smaller corporations than Hewlett-Packard that are still in the Fortune 500. Where are the job offers for the once "most powerful woman in American business?" Carly Fiorina was put in charge of the fourteenth richest company in America and after five and a half tumultuous years that included a proxy battle with Walter Hewlett and business headlines about fighting with board members Fiorina did not move on. She was very publicly fired and is now considered untouchable.
Fiorina's claim to have led Hewlett-Packard through the dot-com bust is extremely misleading since Hewlett-Packard was no stratospheric price to earnings ratio dot-com company. This investment period was not a recession for computer and printer sales but a correction for some very overvalued internet technology companies. Hewlett-Packard's problem that even today the company has not recovered from was never sales. The problem was and some extent still is Carly Fiorina. If you invested in HPQ on the day she took over, at Friday's close eleven years after Fiorina, even with the improvements since her departure you would still be down 13% on your investment.
Michael S. Malone who wrote Bill & Dave: How Hewlett and Packard Built the World's Greatest Company stated in a column that he avoided the entire history of the company because he did want to "spend weeks reliving the catastrophic and heartbreaking Carly Fiorina era" but back when she started rewriting history Mr. Malone cleared a few things up.
For all her attempts to rewrite history, there are certain facts that Fiorina cannot escape. The first is that in the only plebiscite on her leadership — the proxy vote over the acquisition of Compaq Computer — HP employees, men and women, repudiated her. Fiorina may claim now that HP's current strong business is the product of her strategy — a dubious claim in itself — but the fact is that the first requirement of corporate leadership is to get the employees to follow. At that, she failed miserably.

She's gone public with her opinion that she took a stodgy old company and moved it forward, turning it into a leading-edge business. But look at her tenure. She took a company that was one of the most innovative of all time, one that empowers its employees, and turned it into a top-down company that was trying to profit off the PC market — an aging business that was past its twilight. Where's the cutting edge in that?

Another fact is that the real reason Fiorina lost her job at HP was because, even as the rest of the tech industry was recovering from the dot-com bust, HP's stock remained flat — at least until current CEO Mark Hurd came along to tear down Fiorina's infrastructure and restore company morale. In other words, Fiorina's leadership was also repudiated by both the analysts of Wall Street and thousands of average shareholders with no personal interest beyond a return on their investment.

Finally, if Fiorina was fired by a conspiracy of her board of directors, as she claims, it was a conspiracy led by her own mentor at the company, Dick Hackborn, who had convinced HP to hire her and had formerly been her greatest champion. In the end, even he turned on her.
On the day that the Hewlett Packard board forced Fiorina to resign as chairman and chief executive officer of the company the headline news was Fiorina out, HP stock soars. Investors were so happy to see her go that at one point in the day HP was up as much as 10.5 percent, settling at a 6.9 percent gain on the day of her departure. But the the stock had a long way to go up after her leadership.
When Fiorina became CEO in July, 1999, HP's stock price was $52 per share, and when she left 5 1/2 years later in February, 2005, it was $21 per share—a loss of over 60% of the stock's value.
A comparison to another company in the same area tells the story. Dell was a start up compared with Hewlett-Packard and Dell also had one of those stratospheric price to earnings ratio when Fiorina took over HPQ. According to Google Finance Dell was up 10.59% during the Fiorina HP time line.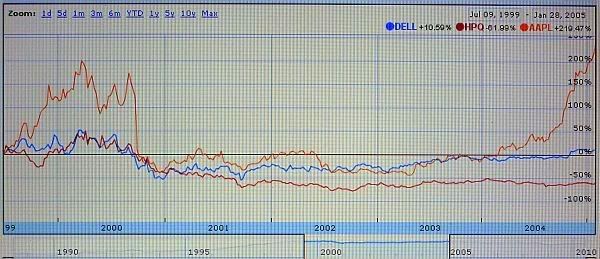 Apple, another established large cap computer manufacture saw the stock price go up 219.47% from when Carly Fiorina took over to Hewlett-Packard to when she was fired.
So how did Fiorina lead "the reinvention of the legendary company" while she was CEO? The link from The Democratic Strategist explains while pointing out that 'Condé Nast Portfolio' designated Fiorina as one of "The 20 Worst American CEOs of All Time" with the quote;
A consummate self-promoter, Fiorina was busy pontificating on the lecture circuit and posing for magazine covers while her company floundered. She paid herself handsome bonuses and perks while laying off thousands of employees to cut costs.
Or as Michael S. Malone closed out his column.
Trust me, that reputation endures in Silicon Valley, where she now enjoys the title (not easy to get) of the worst CEO in Valley history. And for real Carly-hatred, you need only visit a local HP division and ask any survivor of her time with the company. Ask them what they thought of Carly Fiorina, and then you'll have your answer.
If you live in California a good question to ask your neighbor would be "Did you have any money in Lucent or Hewlett-Packard during the Fiorina era?" followed by "Would you like to see her do for California what she had done for those companies?"
The Republicans are hoping to present Fiorina as a fresh face to Boxer's decades of service in elected office but in fact she has burned all of her bridges in the business world and is now seeking to mess up government as bad as she screwed up Hewlett-Packard. Barbara Boxer can certainly use a campaign donation to help Californians understand just how stale Fiorina really is.