You are in the current BP disaster ROV, number 211. Number 210 is here.
Please DO NOT Rec this diary, rather REC THE MOTHERSHIP instead. She needs your love to stay afloat.
Please be kind to kossacks with bandwidth issues. Please do not post images or videos. Again, many thanks for this.
PLEASE visit Crashing Vor and Pam LaPier's Diaries to find out how you can help the Gulf now and in the future. We don't have to be idle! And thanks to Crashing Vor and Pam LaPier for working on this!
For a description of the mothership/ROV liveblogging process, check out this thread.
Must read: Lax Oversight Seen in Failure of Oil Rig's Last Line of Defense. Watch video and interactive graphic page, too. Best overview of how the BOP works, and doesn't work, and the management interference that caused the accident.

Deepwater Horizon BP Oil Spill Reference Material - from Whitis is the best source for everything.. The quantitative data diary has also been moved there.

Jeff Masters of Weather Underground posted his take on the effects of a hurricane passing through the Gulf and making landfall.
Please DO NOT Rec this diary, Rec the Mothership here.
BP put up a video explaining the LMRP procedure and the future plans.
Go to the Deepwater Horizon Data Summary for a wealth of actual data from the Department of Energy.
The BOP and pressure drawings are viewable here. The CAD drawings come highly recommended by the techies among us. h/t Claudius Bombarnac. (As of 15 JUL, this link is invalid. It may be corrected in the future.)
This is what BP DOES NOT WANT YOU TO SEE. The following images are guaranteed to make you .
These images are not for the faint of heart - DO NOT VIEW THEM LIGHTLY.

Really, I mean it. Hold somebody's hand. Grab a tissue.
A brief reference guide to nicknames you may see in the ROV diaries:

Gertrude, aka Gerty: the oil volcano
Lizzy: the diamond saw cutter
Clampy: the cute ROV
Crunchy: 30 ft shear. bit the pipe, now a movie star
Wanda: the dispersant sprayer
laundry basket: yellow thing that brings things up and down
Thingy: those things, you know, those things
Shiny Thing: those really neat things
Ms. Blanche Flo, aka Blanche, aka Flo: the manifold thingy
Thanks to dov12348 for publishing a diary on Oil Terminology.
Here is a tutorial on the sources of pressure on the well
H/t to Pluto for finding this:
The official casing configuration under the wellhead.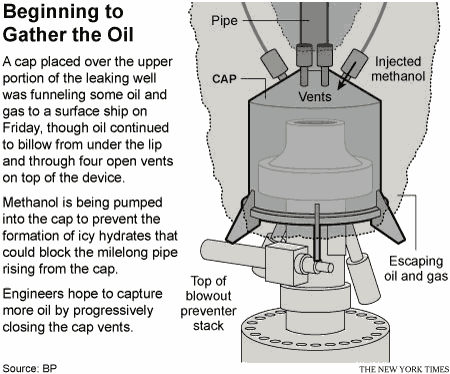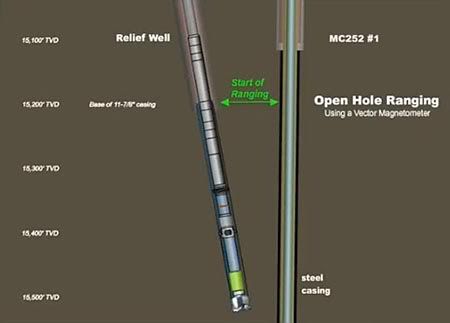 The initial approach above will be followed by open hole and drill pipe magnetic ranging. After they get within 5 feet of the blown out well's lower casing they will ream, case and cement the relief well prior to reaming through the blown well's casing. (Photos from The Oil Drum)

Audio, a slide presentation, and a transcript from Kent Wells' 6-28 briefing is available.
The video feeds we are watching:
==== ROV Feeds =====
44287/44668 - OceanInterventionROV1
44838/45135 - OceanInterventionROV2
46566/54013 - Viking_Poseidon_ROV1
55030/56646 - Viking_Poseidon_ROV2
31499/31500 - Boa_Deep_C_ROV_1
22458/23729 - Boa_Deep_C_ROV_2
45685/49182 - Skandi_ROV1 (herc14)
45683/45684 - Skandi_ROV2 (herc6)
47175/21144 - Enterprise_ROV_1
21145/21327 - Enterprise_ROV_2
37235/37270 - Q4000_ROV1
35523/35624 - Q4000_ROV2
41434/41436 - Oly_ROV1 (Olympic Challenger's ROV1)
40788/40789 - Oly_ROV2 (Olympic Challenger's ROV2)
24951/24975 - Inspire_ROV1 (Discovery Inspiration's ROV1)
30948/35246 - Hos_ROV1 (HOS Adventure ROV1)
35461/36301 - Hos_ROV2 (HOS Adventure ROV2)

Possibly outdated or redundant links (from The Oil Drum):
46245 - BP "Official" #1 (primary)
46260 - BP "Official" #2 (secondary)
46661 - BP mystery feed #1
46663 - BP mystery feed #2

Restricted to web browser based viewing:
CNN Video Streams Note: multi-view is sometimes unavailable.
PBS (fewer security issues than some others)
BP videos Links to all available live feeds from BP.
WKRG - Mobile/Pensacola (Contains link for an iPhone app at the bottom.)
ABC 7 Chicago Live Video Multiple ROV Camera Views (h/t to temptxan for the great find).

Multiple stream feeds (hard on browser/bandwidth):
The best multi-view feed Be patient as load time may take a bit.
Markey's multi-view page
Lusty/papicek/sullivanst multi-feed page (originally created by papicek, small improvement by , and huge improvement by )
Vote For America's awesome clickable multi-view Courtesy of one of our very own Kossacks.
A multi-view Contains feeds from BP, C-SPAN-2, WKRG, and PBS
High-def video feeds
See this thread for more info on using video feeds and on linking to video feeds.
Again, to keep bandwidth down please do not post images or videos.
Links, courtesy of several Kossacks
ACTION

BACKGROUND

DATA

HEALTH AND SAFETY

LEGISLATION/FEDERAL RESPONSE

PERTINENT BLOGS and collections of Oil Spill-specific JOURNALISM

WILDLIFE
16414/1911
Previous liveblog ROV diaries:
Daily Kos Gulf Watchers ROV #209 - BP's Gulf Catastrophe
- Lorinda Pike
Daily Kos Gulf Watchers ROV #208 - BP's Gulf Catastrophe
- Gulf Watchers Overnight
Daily Kos Gulf Watchers ROV #207 - The End of the Beginning Edition
- Petulans
Daily Kos Gulf Watchers ROV #206 - BP's Gulf Catastrophe
- Yasuragi
Daily Kos Gulf Watchers ROV #205 - Vigilance > Knowledge > Action Edition
- Conchita
Daily Kos Gulf Watchers ROV #204 - BP's Gulf Catastrophe
- Gulf Watchers Overnight/peraspera
Daily Kos Gulf Watchers ROV #203 - BP's Gulf Catastrophe
- Groucho Marxist
Daily Kos Gulf Watchers ROV #202 - BP's Gulf Catastrophe
- Tomtech
Daily Kos Gulf Watchers ROV #201 - BP's Gulf Catastrophe
- Gulf Watchers Overnight/peraspera
Gulf Watchers ROV #200 - Party and Community Celebration
- Garrett
Previous motherships and ROV's from this extensive live blog effort may be found here.
----------
Before the casinos, even before seafood became an industry in Mississippi, there was pine. There were stands of pine so amazingly large and wide-spread that a traveler riding inland from the swampy waste of the Mississippi Gulf Coast marveled at being able to hold his horse at a full gallop, the massive trunks flying by in a blur. In the 1840s, that same speedy traveler observed of the coast that "Just now it has a desolate air, a few little wooden houses scattered here and there." Within a few years, shifting demand for pine and overcutting in the northern pine lands caused timbermen to look south toward the virgin stands of yellow pine that covered the southeast. In the three decades before the outbreak of hostilities, railroad boosters canvassed the antebellum south searching for routes, land, and local politicians on which to construct their roads.
When war came, men and materiel were diverted to the South's war effort, and after the war was over, scions of the south found themselves cheek-to-jowl with their former adversaries. Throughout the south, on boards of directors for railroads, land companies, and sawmills, one finds the Confederate and the Yankee, side by side. Many times, and contradictory, to a degree, to the long held "truth" that Reconstruction forced economic peonage on the south, the former spent the money of the latter to build enterprises that would benefit both. Cash poor and cotton rich, Mississippi's postwar economic reality made infusions of northern and foreign capital a necessity, and northerners surveying the beleaguered south obliged. The peace at Appomattox also opened the eyes of southerners whose only antebellum opportunity at upward economic and social mobility hinged on acceptance into the planter class. More young and middle-aged men entered the professions; for many young men, industrious employment in an efficient factory or mechanical enterprise was both economically and socially preferable to planters' indolence.
Speculators and mill owners from all points north descended on the Coast almost as soon as the smoke had cleared, and they brought the know-how and capital to begin what would ultimately result in a clear-cutting of the three southernmost counties of Mississippi - Harrison, Hancock, Jackson, and the new county carved out of Harrison - Stone. Bonds and foreign capital (mostly British) served to build the Gulf and Ship Island Railroad, and the barbaric practice of convict lease provided the muscle. William Harris Hardy, for whom the main street in Hattiesburg, MS, is named, (and whose great grandchildren are still among my dearest friends) built his railroad, the Gulf and Ship Island, on convict labor.
The G&SI bisected the piney woods, eventually carving a line from Gulfport in the south to the state capital in Jackson. Hardy's railroad, like so many during Reconstruction, was eventually bought by the oil-and-coal man Joseph T. Jones. Jones moved to Gulfport and, not long before his death, implemented an electric trolley system connecting Pass Christian with East Biloxi, a park system that persists today, (Jones Park in Gulfport and City Park in Ocean Springs were his creations.) and was the progenitor of Mississippi Power - the electrical company that supplies the gulf south.
Those were our boom years - our timber boom years. Throughout the gulf south, states cut their timber with abandon, neither knowing nor caring much what they'd do after. For some idea of the sheer volume of timber taken from southern forests consider that around the turn of the 20th century approximately eight hundred million board feet of lumber were shipped annually to foreign markets from Mobile, Pensacola, and Pascagoula. During 1904-1905, two billion, two hundred fifty million board feet, not including hewn timber, were exported from Gulf ports, a larger quantity by approximately five million board feet than had been shipped in a previous two-year period or in any five-year period of the decade 1890-1900. In the business year ending 30 July 1913, 1,322,683,000 board feet went from Pensacola, Mobile, Gulfport, and New Orleans, making them for some time the four largest lumber exporting ports in the world.
When it was gone, there wasn't much farmers could do in our sandy soil. The vast majority of people in the gulf south didn't have "a dog in the fight" during the Civil War simply because their soil wouldn't support anything more intensive than subsistence agriculture. Removing the pine trees from the equation did nothing to improve the soil, and although "truck farming" became all the rage after the pines were gone, it wasn't until pulp mills sprang up like stinky surprise flowers that industries returned to the piney woods.
There were pine forests here a long time ago but they are gone. The bastards got in here and set up the mills and laid the narrow-gauge tracks and knocked together the company commissaries and paid a dollar a day and folks swarmed out of the brush for the dollar and folks came from God knows where, riding in wagons with a chest of drawers and a bedstead canted together in the wagon bed, and five kids huddled down together and the old woman hunched on the wagon seat with a poke bonnet on her head and snuff on her gums and a young one hanging on her tit. The saws sang soprano and the clerk in the commissary passed out in the blackstrap molasses and the sow-belly and wrote in his big book, and the Yankee dollar and Confederate dumbness collaborated to heal the wounds of fratricidal strife, and all was merry as a marriage bell. Till, all of a sudden, there weren't any more pine trees. They stripped the mills. The narrow gauge tracks got covered with grass. Folks tore down the commissaries for kindling wood. There wasn't any more dollar a day. The big boys were gone, with diamond rings on their fingers and broadcloth on their backs. But a good many of the folks stayed right on, and watched the gullies eat deeper into the red clay. And a good handful of those folks and their heirs and assigns stayed in Mason City, four thousand of them more or less.

Warren, Robert Penn. All the King's Men. 1946. New York: Harcourt, Brace, and World. 4
By the time my hometown of Wiggins had gotten its first pulp mill and was christened the "Pickle Capital of the World" because of its huge canning plant on the north end of town, Gulfport and Biloxi were widely touted as the "Riviera of the Gulf," and had found what they thought was solid economic footing in seafood and tourism. Our artificially-dredged beaches bolstered that claim and have become in many ways a fragile stucco that is supposed to somehow support the entire coastal economy.
Those first boosters, railroad men and timber barons knew the great stands of pine wouldn't last forever. Coast promoters, though, have always touted (sometimes, as in the case of Halfwit Haley, to some embarrassment) the beauty of our vistas and the richness of our waters. It seems Haley's sheeen - BP's gusher, although capped, is now going to force the coast to re-evaluate the possibility of losing the one thing we never thought we would: our ecosystem. When Camille came, we rebuilt. When Katrina came, we rebuilt. Now the oil's here, and we've poisoned our lifeblood - the Gulf - with our greed. I believe wholeheartedly that it will take a generation to recover ourselves and discover a new path, and I hope it will do some good to my brothers and sisters of the deep south to remember that we've reinvented ourselves before. However, I sincerely hope we can do so in a way that we can survive.
----------
in the dark time we held vigil,
we held vigil against the night,
we raged against the storm,
we moved with the force of nature
to right a great wrong,
to howl like the wind,
to hold the line,
to renew an ancient vow,
a sacred purpose,
to recall to life the human spirit,
to safeguard that which is most holy to us,
to forge and reforge,
this, above all, to be true,
to awaken our greater nature,
to commune from the deepest regions of our soul,
to heal this realm, to heal our people,
to guard all life, to guard life,
for this generation,
and all to come,

this is why we hold vigil ~

~ ArthurPoet ~
| | |
| --- | --- |
| | We Are Here |
| | We are here. |
| | We are watching. |
| | Years from now, |
| | if anyone asks, |
| | we will tell them: |
| | We were there. |
| | |
| | Maybe it will not matter. |
| | Maybe nothing matters. |
| | But if we throw up our hands now, |
| | maybe someday, |
| | years from now, |
| | we will ask ourselves, |
| | why did we not at least keep watch, |
| | why did we not? |
| | |
| | Maybe someday, some of us |
| | will talk with someone younger, |
| | and tell of the time we watched. |
| | Maybe that someone younger |
| | will try harder next time, |
| | will do more next time, |
| | remembering |
| | the time we watched. |
| | |
| | -- bigjacbigjacbigjac |
We're all stunned and horrified by this disaster. Huddling with good people to calculate the damage and monitor progress, have a laugh when we can, share the sorrow we feel, and learn a lot in the process... That's what I'm really here for.

This is how I best cope. And if it turns out to be a useful thing to others, then that's great.

Kimberley
This is where you want to be for discussion, worrying, tearing up, and caring for each other. It's also where you're welcome to be angry and scream and curse and cry and rant at the criminal negligence and greed that have brought us all together. Most importantly, though, it's where we can learn from those kossaks among us (I'll not name names for abject fear of leaving one of you out, but you know who you are.) who bring the light of knowledge - sometimes with heat, sometimes without it - and teach us about what's happening beneath our Gulf of Mexico. On a personal note, I'll ask you to please be kind to each other in our little boats. There's enough hurt going on outside without bringing it here. - khowell
Bandwidth Warning: NO IMAGES and NO VIDEOS. Readers who are on DIALUP will thank you!