This is a beautiful picture of the Wisconsin Governor's Mansion, also known as the home of Scott Walker.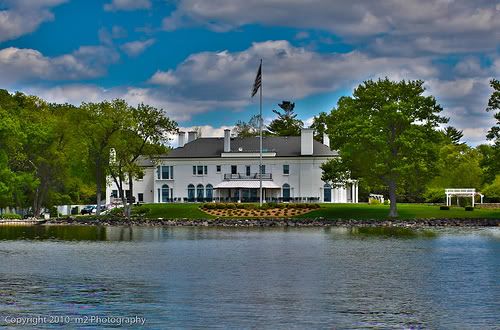 It is a beautiful home with a great lake view, Scott Walker must really love living in a huge taxpayer funded mansion where he can quietly relax and think about about how every public employee except for himself is living too high on the public dollar. I am sure Scott Walker must really enjoy his lake view, but in just a couple of months all the water that you see in that picture will be frozen over so thick that a person will be able to safely drive on it. Once this happens there are rumors that the Occupy movement might be there to make the view outside Scott Walker's window even more beautiful.
Winters in Wisconsin and my home state of Minnesota can be very harsh and it can make protests more difficult, but it also opens the door to some opportunities that we don't have in the summer. Here is a photo of me from a past winter protest I participated in that took place on frozen Lake Minnetonka, right outside the home of United Health Care CEO Stephen Hemsley.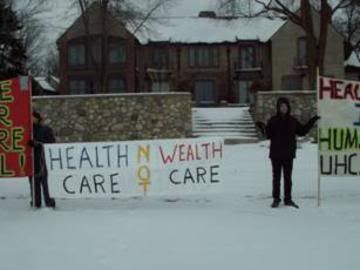 Lake view properties tend to be very popular among the 1%, Stephen Hemsley is only one of the CEOs that lives on the lake. Lake Minnetonka is home to several of Minnesota's wealthiest citizens and there is no shortage of people living on the lake who made their fortunes on the backs of the working class. While there have been protests on ice in the past I have never heard of an occupation on ice, although I have been hearing rumors that such a thing might happen this year.
This is a photo of what many Minnesotans bring to our lakes during the winter months.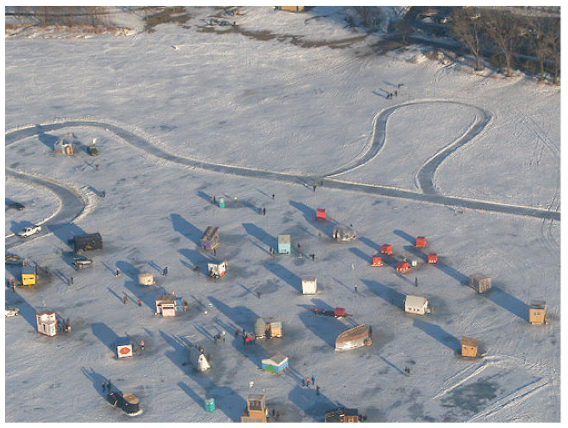 Imagine starting a shanty town of ice houses the size of that one right outside the windows of people like Scott Walker and Stephen Hemsley. The ice houses could be decorated in many creative ways and all winter long the 1% will have to look out their windows and be reminded that we are not going away.
Not only would we be taking our message straight to the 1%, but the occupiers will be able to keep much warmer in an ice house than they would be able to in a tent. The walls of the ice house will not only provide shelter from the wind and snow but you can also place small heaters in them that will usually keep people quite warm through the night. Most lakes are considered public waters so protesters will be able to set up pretty much wherever they want to set up on the lakes, and as long as they have a permit for the ice house there is really not much that the 1% can do to stop it. If ice houses are allowed for recreational purposes then they have to allow them for people expressing their first amendment rights as well, we could be there most of the winter up until the weather started to get warm enough to start melting the ice and there is nothing they could do to stop it.
The Occupy movement has done a great job of bringing their message to the streets this fall, as winter rolls in it will be time for them to bring their message to the lakes. Contests could be organized for the most creative ice houses and best ice sculptures, it could motivate a number of artists to create some incredible work that would be displayed for the bankers and CEOs to look at every morning when they wake up.
Right now there are rumors that this is going to happen, but if enough people pitch in to help we can turn the rumors to reality. Occupy the lakes.