It wasn't a favorite show of mine: but when the voice actor Dick Tufeld died at the age of 85 the other day, it was his role as the voice of the robot on the TV show Lost in Space for which he'll be remembered. Let's have a look at the show after the jump ....
But first: Top Comments appears nightly, as a round-up of the best comments on Daily Kos. Surely you come across comments daily that are perceptive, apropos and .. well, perhaps even humorous. But they are more meaningful if they're well-known ... which is where you come in (especially in diaries/stories receiving little attention).

Send your nominations to TopComments at gmail dot com by 9:30 PM Eastern Time nightly, or by our KosMail message board. Please indicate (a) why you liked the comment, and (b) your Dkos user name (to properly credit you) as well as a link to the comment itself.
I neither have the time (nor the inclination) for a comprehensive look at this show - and for which one can read in Wikipedia or else the Irwin Allen Productions websites - but perhaps a brief overview along with a "Where are they now?" might be in order. As the Wiki listing for the show begins:
Lost in Space is a science fiction TV series created/produced by Irwin Allen, filmed by 20th Century Fox TV and broadcast on CBS. The show ran for three seasons, with 83 episodes airing between September 15, 1965, and March 6, 1968 (the unaired pilot "No Place To Hide" and the 1998 reunion "Lost In Space Forever" bring the total number of episodes to 85).
The astronaut family of Dr. John Robinson, accompanied by an air force pilot and also a robot, set out from an overpopulated Earth in the spaceship Jupiter 2 to visit a planet circling the star Alpha Centauri with hopes of colonizing it. Their mission in 1997 (the official launch date of the Jupiter 2 was October 16, 1997) is immediately sabotaged by Dr. Zachary Smith, who slips aboard their spaceship and reprograms the robot to destroy the ship and crew. Smith is trapped aboard, saving himself by prematurely reviving the crew from suspended animation. They save the ship, but consequent damage leaves them lost in space.
Irwin Allen had the notion to base the story of the mission on the Swiss Family Robinson story, now in outer space. The music was scored by John Williams - the prolific film composer and future Boston Pops conductor.
Allen offered the series to the CBS network, which accepted it in place of Star Trek. And while it's easy to shake one's head in dismay at that decision in the year 2012: it should be noted that Star Trek was not a ratings success for NBC, whereas Lost in Space was a modest success for CBS. Indeed, Star Trek creator Gene Roddenberry never sought to compare the two shows, considering himself a philosopher, while Irwin Allen was a storyteller: "That show accomplishes what it sets out to do. Star Trek is not the same thing".
Lost in Space appeared in black-and-white for its first season (1965-1966) and then in color the next year, when the changeover across the TV spectrum took place. In its first year it was more of a serious show, but towards the end of the first season - and especially in its second season of 1966, when it was in the same time slot as the new, red-hot Batman series - Lost in Space began drifting towards more of the campy humor (focusing on Dr. Smith, Will Robinson and The Robot) that the Batman series was riding-high in the ratings on (although not for long, it turned out). Lost in Space wasn't the only show to do this: The Man from U.N.C.L.E did so for its third season, drifting from its tongue-in-cheek humor towards camp (and suffered in the ratings as a result).
And this is one of the main discussions amongst fans/critics of Lost in Space: what could the show have accomplished had it continued to develop as a serious program? Could it have found a niche once Star Trek joined the fray in its second season? Or would the show have been doomed, and thus the changeover allowed it to eventually reach 85 shows before being cancelled (due to its high costs)? As the saying goes, "We'll never know" for sure.
The change largely came at the instigation of Jonathan Harris, who was distraught at the fact that his character Dr. Smith - a foreign spy who was quite dour - would easily be written out of the script, if not killed-off outright. And so in the first season, he pleaded with Irwin Allen to allow him to flesh-out his character ... into a cowardly-yet-amusing anti-hero .... which amazingly, Allen agreed to (it's hard to imagine any producer allowing that today).
And that's the path the show took until its end in March, 1968. Thirty years later, there was a feature-length film starring Gary Oldman and William Hurt. That same year, there was a TV special called Lost in Space Forever with John Larroquette serving as host of primarily a documentary, but with some current interviews .... and below you can see a 3-minute reunion sketch between The Robot, Will and Dr. Smith:
Well, where are they now?
In a 2002 edition of A&E's "Biography" series, an up-and-coming actor came to the New York theater scene in the early 1960's and found a role model for himself. Not, in fact, for roles - for this newcomer was a definite leading man type, not the character actor he admired. Instead, it was the work ethic he saw in the older man, the way he went about his craft that inspired a young Burt Reynolds .... and in that biography Never Fear, Smith is Here it seemed that many people were curious about Jonathan Harris - wondering if he was British, due to his accent: "Oh no, not British, just affected".
He was born Jonathan Charasuchin in the Bronx in 1914 and after graduating from
Fordham University (majoring in pharmacology) he had an extensive career on the Broadway stage and in television (including two memorable "Twilight Zone" episodes). Years later, his young co-star Bill Mumy became a director and cast Harris in a role. On the aforementioned "Biography" show, Mumy said when Harris read the script he immediately started saying "No, no, this line won't work" and proceeded to write new ones. With a smile, Mumy said "Sure enough, just like the old days: the lines he wrote were superior to the ones in the script".
There was a plan in 2002 to film a reunion finale to be called Lost in Space: The Journey Home but Jonathan Harris died before filming could begin at the age of 88.
Cast in the lead role as Dr. John Robinson was Guy Williams - born Armando Catalano in 1924 who had several roles on television and films, eventually playing the lead in the series Zorro from 1957-1959. Curiously, "Lost in Space" was his last work, as he retired to Argentina after the series (where "Zorro" was immensely popular) and passed away in 1989 at the age of 65.
At age 86 (and having worked as recently as 2007), June Lockhart has had a long career on stage, in film and on TV. Famous as the mother in Lassie from 1958-1964, she said in a 2004 NPR interview that she has been a spokesperson for NASA, and that astronauts have told her watching Lost in Space (as the wife of Guy Williams) inspired them to seek their careers.
Mark Goddard played Major Don West, always thisclose from strangling Dr. Smith. At age 75, he is a special education teacher in Massachusetts, and released an autobiographical memoir To Space and Back in 2009.
Robinson daughter Judy was portrayed by Marta Kristen - who was born Birgit Rusanen in Oslo, Norway, to a Finnish mother and a German soldier father who was killed during World War II. She was adopted in 1949 by an American couple from Detroit and renamed Marta. She has had film/TV roles into the 1990's and at age 66 is still active in West Coast theater.
Robinson daughter Penny was portrayed by Angela Cartwright who was born in England. A prolific child actress (who appeared in "The Sound of Music" as well as "Make Room for Daddy") she acted into the 1980's, and at age 59 has been a children's photographer for many years.
Young Will Robinson was portrayed by Bill Mumy (pronounced "moo-mee") and has had the most varied career of any of the cast: in television and film, but also as a musician, songwriter, recording artist and writer, in addition to his directing duties. He will turn age 58 on February 1st and is still asked about his "Twilight Zone" episodes, including that of Anthony in the episode It's a Good Life - sending people into the cornfield.
Finally, HAIL and FAREWELL to the actor Dick Tufeld who has died at the age of 85. He was the voice behind several Irwin Allen TV productions, such as "Voyage to the Bottom of the Sea" and "The Time Tunnel". But he was best known as the voice of the robot on the Lost in Space television series: shown with Bill Mumy on the left, to whom Tufeld used to intone this legendary warning:
Danger, Will Robinson!
Note: this was not the actor who was inside the robot's body (named Bob May who previously passed away), simply the voice of the robot.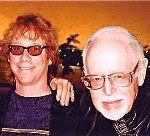 The surviving cast members often appear at Lost in Space conventions - and in the photo below (taken over a decade ago) Dick Tufeld and Bob May are the two on the farthest right.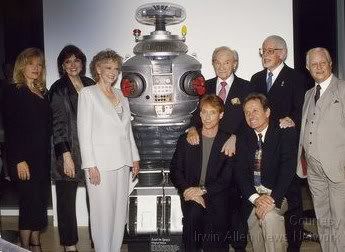 Now, on to Top Comments:
-------------------------------------
From noweasels:

In the Overnight News Diary hosted by Oke - BentLiberal notes Newt's plans to establish a permanent colony on the moon, and Magnifico speculates as to the true reason why.

From mrsgoo:

In that same Overnight News Diary hosted by Oke - this time about the actions of your-friend-and-mine, Jan Brewer - Magnifico just slayed me in this thread with that caption to my request.

From AllisonInSeattle:

In the front page story about Mitt Romney's taxes, ZedMont takes out his own receipts ... it's hilarious, and totally on point.

From Wee Mama:

In the front-page story about the Romney campaign's oversight of a $3 million Swiss bank account was 'trivial' - drewfromct makes the essential distinction between money and worth.

And from Ed Tracey, your faithful correspondent this evening ........

In the front-page Morning elections diary, Socks the Cat gets the ball rolling on Chris Christie's claim that people would have loved to participate in a referendum on civil rights - and the analysis begins.

Next: yesterday's Top Photos (as compiled by Jotter each day) - click on the photo to see the story behind it.



And finally, yesterday's Top Mojo - mega-mojo to the intrepid mik ...... who rescued this feature from oblivion:
1) They don't hate him because he's black... by David Kroning II — 206
2) Yeah, he's "uppity" to them. by Punditus Maximus — 162
3) This is fucking ridiculous. by voracious — 152
4) As someone who worked the front ... by Yellow Canary — 151
5) Eric Cantor by blue aardvark — 136
6) Obama knew by the time of the speech by tomjones — 123
7) Yes But You Have to Show Thossssse People by Gooserock — 120
8) Politics is like the circus by MinistryOfTruth — 118
9) Unfortunately you have to keep repeating this by ontheleftcoast — 115
10) She says it so well in a manner in which by TomP — 106
11) AND they are the same assholes who say that poor by voracious — 97
12) this is part of our new defense doctrine: by G2geek — 92
13) Know what else is a medical condition? by BoiseBlue — 88
14) Of course the Republicans will say it was Obama's by tiredofcrap — 86
15) Eric Cantor IS a lemon by MinistryOfTruth — 86
16) Looks like Obama knows how to by hannah — 82
17) Can't stand Jan Brewer. by Free Jazz at High Noon — 82
18) Psst! Hey Mitt! Iknow what Pelosi's secret info by Calvino Partigiani — 78
19) We spent Thanksgiving with my winger in-laws by voracious — 76
20) In contrast, by Great Lakes Liberal — 75
21) Score one for OWS by Shockwave — 72
22) She's good! by lmnop — 71
23) Ed Kleinbard is a damned good tax lawyer. by flashmans ghost — 69
24) Maher: O is 'one black ninja gangster president" by John Campanelli — 68
25) Thank you for saying that. by smoothnmellow — 66
26) This is the problem with Facebook. by Loquatrix — 66
27) when paul discusses by Laurence Lewis — 65
28) No president has had to put up... by BarackStarObama — 65
29) I loathe that woman by Vita Brevis — 64
30) Well, they're assholes that won't pass anything by ontheleftcoast — 64