Yes. You. Who ever you are. Where ever you are. You hold my son's life in your hands. He's my hero. My baby. My eldest, who is spite of all the nightmare odds against him has fought with quiet courage and dignity for life for over thirty years.
The odds have been stacking up against him even further these last months. Medical complications have risen up, one after the other. We're tap dancing on the edge again as a tide of uncertainty and fear rises.
Last night he told us that things are getting worse. He never complains. Hates to worry us and yet I can see the fear in his eyes. The fear he tries so hard to hide.
And today is Election Day. Today this country chooses between the President who thought of families like mine, who thought of children like my son, when he fought so hard for the Affordable Care Act, and the man who doesn't think about us at all. Today my fellow citizens will choose between re-electing President Obama or voting for Mitt Romney, the man who said the first thing he would do in office is repeal ObamaCare.
So, to my fellow Americans - to those who vote, to those who could vote but don't because you think your vote doesn't matter - my son's life is in your hands. My heart is in your hands. And I'm far, far, from alone.
There are so many of us who have loved ones whose lives are literally riding on the outcome of this election.
Please think of us. Because we think of you all the time. We don't want the fear and uncertainty that we've known happening to you and those you love. We don't want you to worry about your child or wife or husband or brother or mother or grandparents being able to get desperately needed medical care. We don't want you buried under a mountain of medical debt. We don't want you going bankrupt. Above all, we don't want you to lose someone you love because they could not get the health care they deserved.
Please vote today. Please help re-elect President Obama and down ticket Democrats.
Even if you're not registered, if you live in Idaho, Iowa, Maine, Minnesota, Montana, New Hampshire, Wisconsin, or Wyoming you CAN register and vote today.
We need you to vote. Your family and friends need you to vote. You deserve to vote!
Our lives and hearts are in your hands. We're voting for you and those you love. Won't you do the same?
Today you can truly make a difference. If you have already voted, please help GOTV.
Online/Remote/Virtual Phone Banking Links for Election 2012
---
Phone Banking Guidelines - Please read this.
Our list is targeted at available resources that allow, for example, Californians to phone bank for close races in Ohio, Florida, Virginia, and other battleground states even when online phone banking is not provided by the campaigns. The new tool is remote/virtual phone banking.
Many campaigns don't have online phone banking like you might have experienced in the past for the Obama-Biden Campaign, which is one click away to a script and list of voters. Please contact the following Democratic campaigns that use a variety of alternative resources including Facebook applications and dedicated software. Volunteers can log on from inside or outside the state or Congressional District. Some campaigns will email PDFs of names and numbers to interested political activists from all over the country. Read the directions carefully for each campaign.
Let's work hard for the next few days and on to victory on November 6th!

Call out the vote! Sign up to call voters from home for bold progressives like Alan Grayson and Elizabeth Warren between now and election day.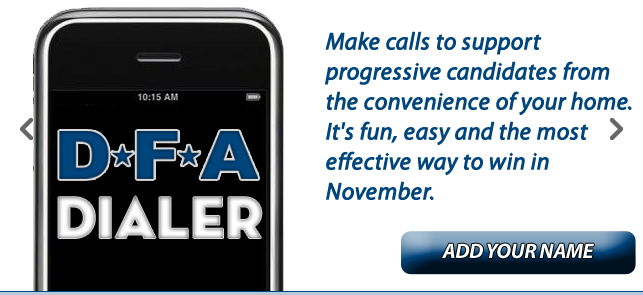 DFA's Dialer is set up for supporting progressive candidates from your home.
Click onto tab "MAKE CALLS" on the top of page. If registered at site, it will take you to phone banking page that has the script and list of names to call.
If not registered, it asks you to register.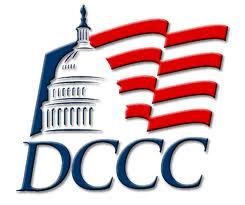 Sign up at the DCCC volunteer page to make calls from home. Complete a short form with your email, first name, and other optional information (last name, city, zip, state, and phone) and then choose the checkbox by "Call voters from home."
A DCCC staffer will make contact via email to explain the process and to register you. Click this link for more details.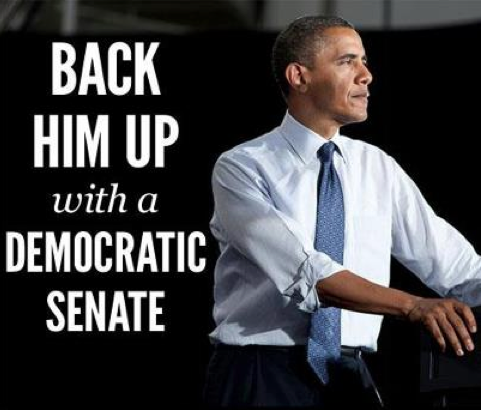 - Elizabeth Warren (D-MA) - Register at her website with name, email address, and password. After you register, you can make phone calls for her from out-of-state, similar to President Obama's phone banking set up.
- Tim Kaine (D-VA) - Click this link to make phone calls.
- Tammy Baldwin (D-WI) - Contact Lauren Peters at 202-997-6642 or laurenp@wisdems.org and she will set you up for their online phone bank.
United States House of Representatives
The Speaker's gavel belongs in Nancy Pelosi's hand. Work hard to make it happen!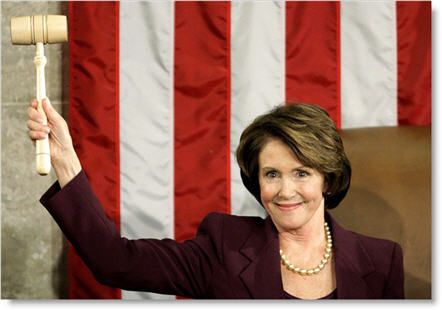 - Kyrsten Sinema (AZ-09) - Only option for virtual phone banking is via the DCCC (if Sinema is targeted for their support).
- Ami Bera (CA-07) - Call 916-670-1864 or sign up at this link.
- Jose Hernandez (CA-10) - Email Nick at namattes@gmail.com to learn how to register and login to the system.
- Raul Ruiz (CA-36) - Only option for virtual phone banking is via the DCCC. (if Ruiz is targeted for their support)
- Scott Peters (CA-52) - Contact Kate Lyon at k.lyon@cadem.org or 858-715-1369.
- Elizabeth Esty (CT-05) - Call or email Matt at 203-716-1669/mjaniszewski@ctdems.org to be registered for phone banking Sat 11/3 through Tues 11/6.
- Al Lawson (FL-02) - Email alex@lawson4congress.com and request a PDF with the names and phone numbers of people to call.
- Alan Grayson (FL-09) - Click this link to do phone banking for the campaign. It is called "Call for Grayson."
- Val Demings (FL-10) - Email Brian at blacey@fladems.com and request phone lists.
- Patrick Murphy (FL-18) - Go to this link for immediate registration and login to do virtual phone banking.
- Lois Frankel (FL-22) - Click this link to create account.
- Joe Garcia (FL-26) - Email Franco at fcaliz@democracyforamerica.com to sign up to make calls starting now through the election and/or for a major DFA call session on Th. Nov. 1. (Spanish speakers are especially welcome)
- Tammy Duckworth (IL-08) - Only option for virtual phone banking is via the DCCC. (if Duckworth is targeted for their support)
- David Gill (IL-13) - Email Meagan at Meagan@gill2012.com.
- Wanda Rohl (IL-16) - Click on this link - http://rohlforcongress.com/... - and choose a county. In the "name" field type in "Daily Kos" and then supply your email as instructed, and someone will get in touch with you.
- David Crooks (IN-08) - Call Matt at 574-807-2576 or email him at mattlafortune@gmail.com.
- Gary McDowell (MI-01) - Call Matt at 203-710-9454.
- Mike Obermueller (MN-02) - Call Nathan at 952-239-0531 or email him at coulter.nathan@gmail.com.
- Jim Graves (MN-06) - Call 320-252-4446 or email ray@jimgraves.com.
- Kim Gillan (MT-AL) - Call 406-694-4100 or email team@gillanforcongress.com for a list of names and numbers to contact.
- Ann McLane Kuster (NH-02) - Email John at jgreene@nhdp.org or call 603-225-3327.
- Shelley Adler (NJ-03) - Email shelley@shellyadlerforcongress.com or call 856-574-4178.
- Michelle Lujan Grisham (NM-01) - Call 505-554-1623.
- Mark Murphy (NY-11) - Email CorinneRoller@gmail.com or call 718-273-0424.
- Sean Patrick Maloney (NY-18) - Follow this link to sign up for calling from home.
- Julian Schreibman (NY-19) - Call Erica at 845-765-9494.
- Pam Gulleson (ND-AL) - Call Luke Quandt at 701-566-7343.
- John Oceguera (NV-03) - Email Jonathan at jpattillo@nvdems.com.
- Betty Sue Sutton (OH-16) - Contact Cayti at 440-842-4227 or cjohnson@ohiodems.org.
- Manan Trivedi (PA-06) - Email info@trivediforcongress.com or call 610-621-2366.
- George Badey (PA-07) - Call Tim Brown at 484-432-6438 or email him at tim@badey.com.
- Kathy Boockvar (PA-08) - Call Brian at 267-544-9224; there is a coordinated GOTV dry run with OFA this weekend.
- Eric Stewart (TN-04) - Call 931-548-6831; email volunteer@votestewart.com; or go to this link.
- Suzan DelBene (WA-01) - Email info@delbeneforcongress.com for joining the GOTV phone banking, with set days and times.
- Rob Zerban (WI-01) - Go to this link and help defeat Paul Ryan twice!
- Jamie Wall (WI-08) - Call Ben Gardner at 920-737-2971 or email him at beng@wisdems.org.

---
Our GOTV Blogathon team members are Patriot Daily News Clearinghouse, Onomastic, JekyllnHyde, boatsie, peregrine kate, ShoshannaD, rb137, and adviser Meteor Blades.
This is my message in a bottle, this is my SOS, this is my hope, this is my heart calling out to you, whoever you are, where ever you are.
Please
Vote and help GOTV