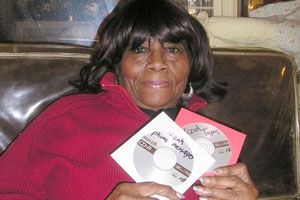 It has been ten years. But it is not surprising that Roslyn Wilkins still wants to know what happened that ended up with her child dead.

The outrage is just the same. Here we are, 10 years later, a grieving family [that's] still bewildered by the crazy story we're getting [from officials].

--Roslyn Wilkins
Early in the morning…or late at night, depending on your point of view, on December 22, 2002…
Nizah Morris
was seen staggering, presumably intoxicated, in front of the Key West Bar near 13th and Walnut in Philadelphia. The bar is not there anymore. From what I can discover, it was Philadelphia's only integrated gay bar.
Reports indicate that police agreed to transport Nizah to her home at 15th and Walnut. The trouble with that is that she lived in West Philadelphia.

I'm still waiting to hear where exactly they thought Nizah lived. Nizah lived in West Philadelphia. Nobody lives at 15th and Walnut. We're not buying any of it.

--Wilkins
Two days after the "courtesy ride" Nizah died in a Philadelphia hospital of a subdural hematoma.
Police say they have no clue as to who may have killed Nizah. Family members wonder if they have looked at themselves. The family believes that Morris was struck by a police officer before being dropped off at 16th and Walnut. Indications are that if she had been transported directly to a hospital, she would likely have lived.

An animal would have been treated better. We're not saying the police set out to hurt Nizah. But something went terribly wrong.

--Andrea Brunson, Nizah's sister
Rather than being taken to the hospital, Morris was left at the scene for 40 minutes. Then she was taken to Jefferson University Hospital…at 4:13 am. She died at the hospital at 8:30pm on Christmas Eve.
[Police] closed her small window of opportunity to survive. In my opinion, that's murder.

--Brunson
There have been no family dinners in Roslyn Wilkins home since Nizah died. The dining room table has been converted into a shrine for her child.
There were public hearings in 2006 to review the case. At that time Officer Elizabeth Skala, who initiated Nizah's transportation, testified that Nizah was in her presence for 16 minutes, from 3:10 to 3:26 am. The 911 call about Nizah's head injury was made at 3:27am.
Other testimony revealed that Officer Thomas Berry placed a jacket over Nizah's face as she lay on the ground at 16th and Walnut while Nizah was still alive, barely clinging to life.
Officer Kenneth Novak, another officer dispatched to the Key West to investigate Morris, has never accounted for his actions between 3:13 and 3:25am. In an interview with an investigator he said he tried to reach Morris at 3:10 until Skala reported she was "back in service" at 3:26. There is no indication in Novak's patrol log that he spent those crucial 16 minutes looking for Nizah.
We only had Nizah for 47 years, but those years were precious.

--Wilkins
She described her child as "a vivacious, gentle soul who befriended people from all walks of life." Family members also said that Morris handled the attention her transgender status drew with grace and dignity.
People just gravitated to Nizah. Even straight men were in awe of her.

--Brunson
The family agreed to a settlement in a wrongful-death civil suit in 2004. The majority of the $250,000 went to the lawyers, according to Wilkins.
I was ill-advised. I wanted to push forward with the lawsuit. I got very bad legal advice. The lawyers got the bulk of the [settlement money]. But money is nothing compared to the loss of Nizah.

--Wilkins
The family still wants the true story.
We're not satisfied with any of it.

--Wilkins
Police have had no comment on the story. The Philadelphia Police Advisory Commission has an ongoing investigation, which the family says they are thankful for. The wish to receive a copy of the PAC's final report, expected in a few months, but acknowledge that the PAC is an administrative body, while the family desires a criminal investigation.
We'd like to know who killed Nizah Morris.

--Brunson
Bring in the feds.

--Wilkins
They are particular concerned that the Philadelphia District Attorney's office and police testified to the PAC that they don't have any 911 calls related to the case. They also want to know why the DA refuses to account for a police log related to the case, which might explain why Nizah was not immediately transported to the hospital.
The Morris family reports that they have compact disks containing more than 100 911 transmissions made around the time of the events.
They view the DA's behavior as stonewalling.

And whatever happened to the video-surveillance tapes along Walnut Street that [investigators] got back in 2003?

--Brunson
This case will never go away.

--Tasha Jamerson, spokesperson for the DA, said with a sigh
So many questions. So few answers.
Personally I wish they had done a blood-oxygen test to see how much Nizah had actually had to drink. Because one of the first questions that popped into my mind when reading about this case concerned whether or not Nizah had already been hit in the head and was staggering because of a hematoma. It would be nice to at least be able to rule that out. An autopsy did not reveal any drugs or alcohol in her system, but that was three days after the event. A hospital report showed a blood alcohol level of .342 and indicated that traces of marijuana use were also found.
This family deserves answers. After 10 years they at least should be given that much. Transwoman or not, Nizah deserved a timely trip to a hospital and a chance at survival.