"Neither snow nor rain nor heat nor gloom of night stays these couriers from the swift completion of their appointed rounds". The above quotation is from Herodotus, and is inscribed around the pediment of the New York Post Office building on 8th Avenue, between West 31st and West 33rd Streets, which was erected in 1912.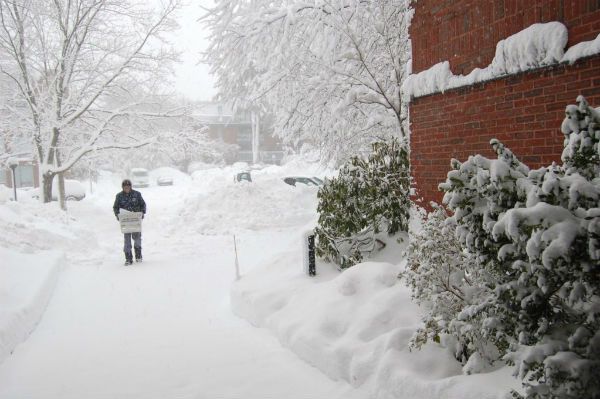 This imposing piece of architecture, known as the James A Farley Post Office Building, is in Beaux Arts style, and is significant enough to have been placed on the National Register of Historic Places. However, the inscription on the building is not, as some suppose it to be, the 'Post Office oath' or 'the Post Office motto' (the Post Office has neither), it is, actually, a line from the ancient Greek historian Herodotus (c.484 BCE – c.430 BCE), and he was making a comment about a service of mounted couriers, employed by the Persian state under their ruler, Cyrus the Great (c.576 BCE – 530 BCE). The quotation was selected by Mitchell Kendal of the architectural practice McKim Mead and White, who designed the New York Post Office Building.
Back in 1787, the fledgling Republic of the United States of America realized that a collection of small states, strung out along the Eastern Seaboard of the continent of North America, needed strong communications if it was to survive. Under a provision in Article One of the United States Constitution, the Federal Government was authorized to establish a postal system, and designate post roads (indeed, I live not too far from the old Boston Post Road, which linked Boston and New York). The very first Postmaster General of the United States was no less than Benjamin Franklin (1706 – 1790) one of the Founding Fathers of the American Revolution, who had been a postmaster under the British colonial authorities. Until 1971, the Postmaster General was a Cabinet-level position but a re-organization meant that the USPS still remained a Government agency, but had no political role. Until that time, believe it or not, the Postmaster General was 'last in line of succession' to the Presidency of the United States, should a 'mass extinction event' occur involving the President, Vice-President and every other Cabinet member!
Present-day America still needs postal 'delivery to the door'. For the disadvantaged, the poor, or those in remote areas, the US Government must rely on the US Mail (and its 596,000 employees and fleet of nearly 218,000 vehicles of various types) to deliver official notices, voting data, etc. The private delivery services, such as UPS and FedEx, have a growing slice of the US 'home delivery' market, but despite this and the financial difficulties it has, the USPS remains a vital organ of the US Government.
Here we can see one of those dedicated mail carriers, bringing in the mail to our condominium building in Massachusetts during a blizzard. It is good to know that the mailman still gets through!