It's been a while since I wrote and diary. Near a different solstice. Generally one I prefer much better to winter's companion. This year has been ... different. Usually I'm mired in something akin to seasonal depression, but I seem to be doing ok. I've slogged through some physical challenges (including a hospital stay), while continuing to hold onto, and improve upon, most (emphasis on most) of the personal progress I've achieved. December 1st, 2008 is my quit anniversary so it's been a little more than 4 years since I had a cigarette. The memories are still there, and I still have an urge occasionally, but nothing I can't easily dismiss. I've worked hard to improve myself and smoking even one would be a really bad decision and I know it.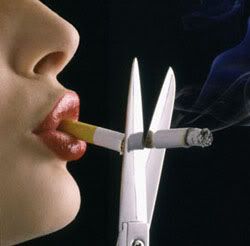 GUS (Gave Up Smoking) is a community support series for Kossacks in the midst of quitting smoking. Any supportive comments, suggestions or positive distractions are appreciated. We avoid discussion of political issues. If you are quitting or even thinking about quitting, please -- join us! You can add GUS to your stream by clicking on the ♥ next to the GUS tag. The GUS Library at dKosopedia is organically evolving, and stocked with free-range information: quit-smoking links, and helpful GUS writing tips.

"A message to all quitters: you don't have to avoid GUS if your latest attempt to quit didn't work out. We won't give you a bad time and we consider the attempted quits as practice for the real quit." (h/t FG)
Kinda nervous.
Lights please?

That's better. I'd forgotten how harsh the spotlight can be. Ok, not forgotten. Avoided. But I've put myself in the position of presenting the strength of this community on one of the most popular days people choose for ending the need to smoke because I believe in what happens here. I've been a witness and a participant to something special. I'm also writing today because as I alluded to before, my personal progress has been incomplete without challenging myself to write regularly. There is proven strength there, and it comes easily when I just let go and let it happen. I know the world has often been changed by the turn of a simple phrase.

I postulate that quitting smoking revolves around

behavioral modification
and two great way to help change behavior are

) through positive distractions and redirection, especially those things you are (or were) passionate about doing.

) through being a part of something larger than yourself, like being in a group with a common bond.
I've covered this ground any number of times before. Writing about my positive endeavors and sharing them with this community. These subjects are ones I have first hand knowledge of and good writing frequently draws from that well of strength. "Write what you know about." This exercise is as much for me as it is for you. The old saying "use it or lose it" is entirely appropriate. If my voice seems a little hoarse, or I don't exactly connect, some of the fault lies in a lack of practice.

One of the activities I've developed an affinity for since I quit smoking (and drinking) is bike riding. I've shared a good deal of my experiences riding a bike here. I love being out on the road in the sunshine & fresh air. It's unbelievably fun and I'm sorry it took me 35 years to rediscover how fun it is. It's like being a kid again. It instills a huge sense of freedom in me (and danger [but that danger is a sense of excitement & empowerment too]) It never seems like exercise, or a chore when I ride. Even at 2 hours, I'm spending less than 10% of my time in any given day, treating myself right.

When I'm out riding I've noticed that with a little grit in the tread, or asphalt bubbles on the road, the tires can sound exactly like a turntable needle on an LP. That thought leads into me using a stationary bicycle when weather is less than ideal, and when I'm riding indoors, I get to indulge in another interest of mine: Listening to music.

I usually still get my music the old fashioned way. I go to a brick and mortar store, and buy a physical copy, usually on compact disc. And because of economics, I buy most things used. This year I've gotten way behind in working with the discs I've brought home. They're overflowing up here (300 or so in various stages of importing, copying, data entry) and I haven't been motivated to reconfigure the room downstairs and the storage units I house them in for a couple years. Coming up on 5000 total. It's a crazy number and amount.

I want to comment on just one release I bought this year.
SouthPort Weekender Volume 3
A 3 disc DJ compilation from 2005, mixed by
Dimitri From Paris,
Jazzie B, &
Quentin Harris

IMO, Jazzie B is definitely the weakest of the three, not that I don't like Jazzie B, for instance in Soul II Soul. Of the other two, I'm a huge fan of Dimitri From Paris, and his mix doesn't disappoint, with house-y goodness from beginning to end. Leading off with Sylvester's soul/disco classic You Make Me Feel, the whole disc is a great 70+ minute ride including a personal favorite in Joey Negro's Club Mix of the Sunburst Band's He Is, a marvelous inspirational with children doing voice overs of their impressions of what "he" is. Equally as strong (and house oriented), is Quentin Harris' mix and he wraps up his disc with one of his own songs, Let's Be Young (words to live by, in and of themselves), immediately preceded by the Francois K & Rob Rives Acapella Mix of Audio Soul Project's Community, so the two songs mix together as one fades and the other begins.

The spoken words

"I feel it,
So should you feel it,
Don't be so stuck on the past,
I hear so many people say we don't do it the way we used to do sh*t, but uh,
why not focus on making us do it the way we need to do it now,
Leave the past in the past,
and look towards the future"

are followed by nearly 10 minutes of one of the most addictive synth notes I've ever heard, woven into a rich modern uplifting dance classic. It is, once again, a great 70+ minute ride in total, and I always think of this forum and GUS in particular when I hear it.

I'm thrilled to be a part of the DKos community in general, and this one in particular. I get to express myself, I get to write about what I'm passionate about and share the things I'm interested in. I also get to hear about everyone else's interests. Exotic travels & vacations, fabulous recipes, pets of all varieties, home remodeling and repair, stunning photography, arts and crafts, the weather from every corner of the country, wit, humor, music, movies ... and then there's the quitting smoking thing.

I can't offer anything more than information ,support, caring, concern, hope, first person knowledge, laughter, useless trivia, positivity, useful trivia, a shoulder, and a cold yet sweaty hand. figuratively.
(they call that clammy, don't they?)[shhhh, I'm presenting and representing here]
I know in the end it's nothing more than words, but maybe it will be the right ones or the right amount to affect a change in just one person's world.

One additional reason I chose to host and post today was my desire to bring the Buddy List I've created and managed for most of last year, into 2013. I'm pretty sure it's up to date, and I've noted every time I made a change to it or edited it in this diary. I'd like to target every link to open in a new tab, but that's something I can work on at my leisure. So going forward I'll use this one to make updates and it would be wonderful if someone with keys to the Library would update the list there.
The Buddy List is who we are and it's pretty cool to see my own name right up there with so many other wonderful people. We all work hard to make this a welcoming and enjoyable place and I'm glad to be a part of it.

If you're a smoker, please, please think about what you're doing today. Change begins with one decision, one action. You could make that decision today and join us.
You are so worth it.
edited 1/3/13
added "jarbyus"
edited 1/15/13
added "MBNYC"
edited 1/17/13
"MnRaindog" listed in memoriam
edited 1/28/13
added "BrianParker14"
edited 1/31/13
added "MargaretPOA"
edited 2/4/13
"JVolvo's Mom" listed in memoriam
edited 2/6/13
added "Aunt Acid"
edited 2/11/13
"GreenMountainBoy02" listed in memoriam
"kestrel9000" removed due to boney mojo
"ChiTownDenny" removed due to boney mojo
edited 2/17/13
added "Melanie in IA"
added "slksfca"
edited 2/24/13
added "plok"
added "GulfExpat"
edited 2/26/13
"Melanie in IA" removed due to boney mojo
edited 3/1/13
added "One Pissed Off Liberal"
added "here4tehbeer"
edited 3/14/13
added "JBL55"
edited 3/24/13
added "fauve"
edited 3/26/13
added "SoCalSal"
edited 4/11/13
added "Senor Unoball"
edited 4/12/13
"Lady Kestrel" removed due to boney mojo
edited 4/14/13
added "broths"
edited 4/16/13
"glorificus" removed due to boney mojo
edited 4/19/13
"jbou" removed due to boney mojo
edited 4/23/13
added "Lava20"
edited 4/28/13
added "Via Chicago"
edited 4/29/13
added "Nespolo"
edited 5/1/13
re-added "jbou"
edited 5/5/13
added "Cedwyn"
edited 5/8/13
added "viral"
edited 5/9/13
added "electricgrendel"
edited 5/11/13
added "just another vet"
edited 5/12/13
added "RumsfeldResign"
added "Bugsydarlin"
edited 5/14/13
added "soros"
edited 5/18/13
added "Damnit Janet"
edited 5/21/13
added "mollyd"
added "2thanks"
added "417els"
edited 5/22/13
added "BadKitties"
edited 5/28/13
added "GuerillaLiberal"
edited 6/6/13
added "Dreggas"
edited 6/7/13
added "peterfallow"
edited 6/18/13
added "also mom of 5"
edited 6/23/13
added "RoCali"
edited 6/24/13
added "ItsaMathJoke"
added "LtdEdishn"
added "sewaneepat"
edited 6/26/13
added "jbalazs"
edited 6/27/13
added "cagernant"
edited 7/1/13
added "betterdemsonly"
edited 7/9/13
added "ExpatGirl"
edited 7/25/13
added "James Earl"
edited 8/1/13
added "john keats"
edited 8/9/13
added "kos"
removed "soros" due to boney mojo
edited 8/11/13
added "TrueBlueMajority"
added "maybeeso in michigan"
edited 8/18/13
added "fat old man"
edited 8/22/13
added "lunacat"
edited 8/28/13
added "exlrrp"
edited 10/2/13
added "palmer18"
edited 10/10/13
added "lunachickie"
edited 10/11/13
added "lying eyes"
edited 10/15/13
added "Ole Texan"
edited 11/4/13
added "edr"
edited 11/5/13
added "Matf"
edited 11/18/13
added "susans"
edited 11/21/13
added "Portia Elm"
edited 12/22/13
RiaD listed in memoriam
edited 1/1/14
added "BlueMississippi"
The Buddy List:
1BQ, 2thanks, 3rdGenFeminist, 417els, A Man Called Gloom, Abra Crabcakeya, Actbriniel, addisnana, AfroPonix, aishmael, Alise, Alpha99, also mom of 5, ambeeeant, American in Kathmandu, amk for obama, andsarahtoo, angry marmot, Anne933, anodnhajo, aoeu, AoT, aquarius2001, arcadesproject, Archie2227, arodb, Arthur Wolf (in memoriam), assyrian64, Aunt Acid, awkawk, b4uknowit, BadKitties, bamablue, BARAKABETH, barnowl, b barrie, bdizz, beatpanda, beefydaddy18, betterdemsonly, BFSkinner, bgblcklab1, BigAlinWashSt, Bike Crash, BirderWitch, BJKay, bleeding heart, blingbling65, blue husky, Blue Intrigue, bluedust, BluejayRN, BlueJessamine, BlueMississippi, Bluerall, bluestatedem84, BoiseBlue, boudi08, Brahman Colorado, breedlovinit, BrenP, BrianParker14, Bronxist, broths, BrowniesAreGood, bsmechanic, buddabelly, Bugsydarlin, bumbi, BusyinCA, cactusgal, cagernant, Carol in San Antonio, CathiefromCanada, CathodeRay, CDH in Brooklyn, Cedwyn, cee4, Cen Den, ChocolateChris, ChurchofBruce, ciganka, cinnamondog, citizenx, ClapClapSnap, claude, Cleante, Code Monkey, codobus, Coldblue Steele, Colorado is the Shiznit, coloradomomma, common green, commonmass, Common Sense Mainer, congenitalefty, coppercelt, dadanation, Damnit Janet, dangoch, DarienComp, dauber, Dauphin, Dave in AZ, Dave in Northridge, David54, deedogg, demkat620, Dexter, Diana in NoVa, Dickie, DiegoUK, Dingodude, dirtdude, distraught, djMikulec, docreed2003, dolfin66, donnamarie, Donna O, dotsright, Dr Teeth, Dreggas, DRo, droogie6655321, Dube, duckhunter, Eclectablog, Eddie C, EdgedInBlue, edr, effervescent, elbamash, El barragas, el vasco, electricgrendel, entrelac, ericlewis0, Everest42, Ex Con, exlrrp, ExpatGirl, ezdidit, fat old man, fauve, fhamme, Fineena, fiona2, fishhawk, Flea, flumptytail, Friend of the court, fritzi56, FrugalGranny, Garrett, Gator, gchaucer2, GDbot, Geiiga, GenXangster, glpaul, gooderservice, gooners, gravlax, GreenMountainBoy02 (in memoriam), greylox, grndrush (in memoriam), GrumpyWarriorPoet, GuerillaLiberal, GulfExpat, gzodik, Haole in Hawaii, HappyinNM, henlesloop, here4tehbeer, HeyMikey, hideinplainsight, High Tide, hiliner68, history first, hold tight, Hugh Jim Bissell, hulibow, I love OCD, I said GOOD DAY sir, Im a frayed knot, imisa, Indexer, indubitably, indyada, Interceptor7, Inventor, Isaacsdad, ItsaMathJoke, itsbenj, Jahiz, James Earl, JamesEB, janl1776, Janeo, jarbyus, JayinPortland, jayjaybear, jbalazs, JBL55, jbou, Jeffersonian Democrat, jillwklausen, jmadlc55, jmonch, Joes Steven (aka Steven), john keats, john07801, johngoes, johnny wurster, jsfox, just another vet, JVolvo's Mom (in memoriam), jwinIL14, Kai99, kailuacaton, Kamakhya, kat herder, katchen, Kelly of PA, khloemi, Khun David, Kitsap River, kittania, kos, KrazyKitten, Kristina40, Ksholl, labwitchy, ladypockt, Lahdee, langerdang, LarsThorwald, LA rupert, last starfighter, LaughingPlanet, Laurie Gator, Lava20, Leo in NJ, Lipstick Liberal, litoralis, lmdonovan, lockewasright, Lonely Liberal in PA, Lonely Texan, longislandny, Lorinda Pike, LtdEdishn, lunacat, lunachickie, luvsathoroughbred, lying eyes, maggiemay, magicsister, mango, Marc in KS, MargaretPOA, Marjmar, Mark E Andersen (Kodiak54), marknspokane, marsanges, maryabein, Matf, Matt Esler, Maxiemax, maybeeso in michigan, MBNYC, mdemploi, Meteor Blades, Micburke, michael1104, MillieNeon, minerva1157, MinervainNH, Missys Brother, mjbleo, MnRaindog (in memoriam), mntleo2, mollyd, Morague, MotoGP, Mr Bojangles, mrsgoo, mskitty, msmacgyver, MsWings, Murphoney, nannyboyz, ncsuLAN, NearlyNormal, Nedsdag, Nespolo, Nick Zouroudis, nokkonwud, notgivingup, NY brit expat, oceanview, Ole Texan, OleHippieChick, Olkate, one pissed off democrat, One Pissed Off Liberal, Onomastic, operculum, OrangeMike, Ordvefa, Overseas, Over the Edge, Pager, paige, PaintyKat, palmer18, paradox, parryander, paulitics, peglyn, Pennsylvanian, peterfallow, phrogge prince, plok, Portia Elm, Positronicus, post rational, PowWowPollock, Proud Mom and Grandma, psycho liberal, ptolemynm, Purple Priestess, PvtJarHead, racheltracks, randallt, ray bob, real world chick, red mittens, Reepicheep, regis, relentless, revelwoodie, revsue, Rex Manning, rexymeteorite, RiaD (in memoriam), rickeagle, ridemybike, rightiswrong, Rileycat, rincewind, rkex, roadlion, RoCali, Roger Fox, Rosebuddear, roses, rscopes, Rudini, RumsfeldResign, Safina, SallyCat, Sanuk, Sark Svemes, sboucher, scooter in brooklyn, Scrapyard Ape, seenaymah, Senor Unoball, sewaneepat, sfbob, sgary, Shahryar, sheddhead, shesaid, Shifty18, shmuelman, shopkeeper, sidious666, sidnora, slksfca, slowbutsure, smartcookienyc, smeesq, Smoh, snoopydawg, snorwich, SnyperKitty, SoCalHobbit, SoCalSal, sofia, soonergrunt, sostos, sowsearsoup, SpecialKinFlag, spmozart, spotDawa, SpotTheCat, StateOfGrace, Statusquomustgo, stiffneck, stonekeeper, suesue, sunbro, Super Grover, susans, Syoho, tallmom, Tay, tdslf1, teknospaz, theatre goon, The Eyewitness Muse, TheGeneral, TheStoopingRabbit, TigerMom, Tim DeLaney, tiredofcrap, TomP, tonyahky, Toyotabob7, TracieLynn, TreeFrog, triciawyse, tripodisblack, trs, trueblueliberal, TrueBlueMajority, ttanner, Tulsonian, Turn VABlue, Turtle Bay, Tyto Alba, uc booker, UncleCharlie, Unduna, Unforgiven, ursoklevar, USArmyParatrooper, VA02 femocrat, Vacationland, valadon, Vayle, vc2, Vetwife, vgranucci, Via Chicago, Village expects idiot home soon, viral, vulcangrrl, waytac, webranding, weelzup, Wes Opinion, Whimsical Rapscallion, willy be frantic, willy mugobeer, Wood Dragon, wolfie1818, Wordsinthewind, Wreck Smurfy, x, xopher, yet another liberal, Zotz
Have you had some experience with the effects of smoking, and want to write a GUS diary or host an open thread? Please sign up in the Butt Can (Tip Jar), and name the day and time that works for you (AM, PM, late-night, early-bird...) Regular diarists' names have been enhanced for your viewing pleasure. Click on the link to learn how to write a GUS diary the easy way. It's really easy. Did I say it's really easy? It is.
It's . really.
"Seriously, it doesn't have to include specific elements or require all sorts of fabulous diary formatting skills. The regulars will make sure stuff gets carried over from diary to diary, so if you want to just tell your story and host for a few hours, that's cool too." (h/t Vctnld)




Mon AM: this humble submission
Mon PM: open
Tue AM: gchaucer2
Tue PM: open
Wed AM: open
Wed PM: Vacationland
Thu AM: open
Thu PM: FrugalGranny
Fri AM: flumptytail
Fri PM: open
Sat AM: effervescent
Sat PM: open
Sun AM: gchaucer2
Sun PM: open
Mon AM: anod's 2012 Music Picks Edition