This weekend marks the 1-year anniversary of the Costa Concordia nautical disaster - and a look at two of the main protagonists follows after the jump ......
But first: Top Comments appears nightly, as a round-up of the best comments on Daily Kos. Surely you come across comments daily that are perceptive, apropos and .. well, perhaps even humorous. But they are more meaningful if they're well-known ... which is where you come in (especially in diaries/stories receiving little attention).

Send your nominations to TopComments at gmail dot com by 9:30 PM Eastern Time nightly, or by our KosMail message board. Please indicate (a) why you liked the comment, and (b) your Dkos user name (to properly credit you) as well as a link to the comment itself.
It seemed almost surreal: in the year of the 100th anniversary of the Titanic disaster, an even larger ship disaster (although, mercifully, with fewer lives lost) took place. By now, the story is well-known: the ship sails too close to the island of Giglio, and strikes large rocks. Had the shop been sailing at a slow speed, experts believe the damage may have been manageable - but it travelled at a quite swift (for a ship of its size)
sixteen knots
- which left little room to maneuver, and thus the impact tore a gaping hole in the vessel.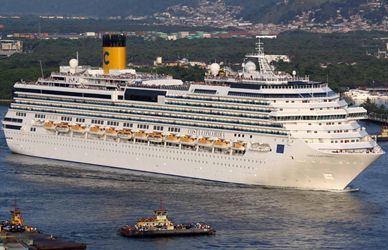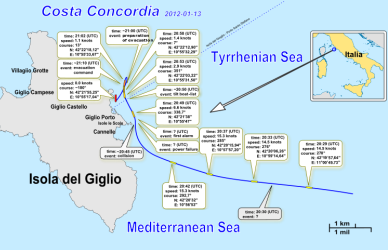 Until his trial date is set (and comes to pass) we may not know for sure what led Captain Francesco Schettino to first cause a shipwreck and then to abandon ship - but he has become a human punching bag - (with Captain Coward among his many nicknames). There is also a Facebook page that regularly ridicules him ... mostly in Italian (but with some English commenters, as well).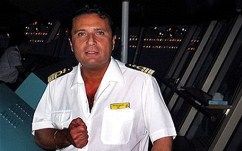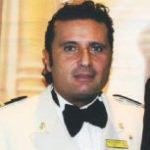 Here are excerpts from various recordings made between Captain Schettino and an unlikely hero of that night: a Coast Guard captain named Gregorio De Falco ... and it's not pretty, that's for sure:

Livorno Port Authorities: "Concordia, we ask you if all is OK there."

Concordia: "All is well."

-----------------------

Port authority: "Concordia, We ask you if all is well there."

Concordia: "All is well. It is only a technical failure."

-----------------------

Port authority: "How many people are on board?"

Schettino: "Two-three hundred"

Port authority: "How come so few people? Are you on board?'

Schettino: "No, I'm not on board because the ship is keeling. We've abandoned it."

Port authority: "What? You've abandoned the ship?"

Schettino: "No. What abandon? I'm here."

-----------------------

Italian Coast Guard Capt. Gregorio De Falco: "Captain. This is De Falco from Livorno."

Schettino: "Commandant, I've also alerted the company… I'm being told that there are still passengers on board, apparently they are about one hundred… but I repeat…"

De Falco: "Captain. You are not able to tell me an exact figure? About a hundred people, it seems?

Schettino: "Commandant, I am not able to give you an exact figure because let me explain... while we were evacuating the last passengers… now we are all here with all the officers…"

De Falco: "Where are you? On the lifeboats? All the officers?"

Schettino: "Yes, we are with the second commander…"

De Falco: "Forgive me, but before you were only with a sailor. If the officers managed to get down, it means that they could still move."

Schettino: "Yes...in fact...

De Falco: "Then why don't they get back on board? To monitor the operation and then they can tell us. Thank you."

Schettino: "No it is not possible…"

De Falco: "Send them on board. Send one person on board to coordinate..."

Schettino: "But I am doing the coordination."

De Falco: "I'm giving you an order captain. You need to send someone on board."

Schettino: "We are going on board to coordinate."

De Falco: "Exactly. You need to get on board to coordinate the evacuation. Is that clear?!"

Schettino: "But we can't get on board now…the ship is now…(hard to understand)..."

De Falco: "Why did you tell them to get down?"

Schettino: "What do you mean get down? We abandoned the ship…the ship turned ..."

De Falco: "...and with one hundred people on board you abandon the ship? (expletive)"

Schettino: "I did not abandon any ship with 100 people…the ship (hard to understand)...we were catapulted into the water..."
By this time, De Falco has had enough. With an eye towards a future investigation, he returns ... with his own tape recorder:
Italian Coast Guard Capt. Gregorio De Falco: "Listen, this is De Falco from Livorno. Am I speaking with the captain?"

Schettino: "Yes."

Italian Coast Guard Capt. Gregorio De Falco: "Tell me your name."

Schettino: "This is Captain Schettino, commandant."

De Falco: "Listen Schettino, there are people trapped on board. Now, you have to go with your lifeboat and go under the boat stem on the straight side, there is a ladder there."

De Falco: "Get on board on the ship and tell me, you tell me how many people there are."

De Falco: "Clear? I'm recording this conversation, Captain Schettino."

Schettino: "Well then commandant, I need to tell you something."

De Falco: "Speak loudly."

Schettino: "The ship now…I'm here in front of it..."

De Falco: "Captain, speak loudly."

Schettino: "Commandant, at this moment the ship is tilted."

De Falco: "I understand. Listen. There are people who are coming down the stem ladder. You must take that ladder in the opposite direction. Get on board the ship and you tell me how many people are on board, and what do they have. Clear? You tell me if there are children, women, people with special needs. And you tell me how many there are of each category..."

De Falco: "Is that clear?"

De Falco: "Look Schettino, you might have been saved from the sea, but I will make sure you go through a very rough time…I will make sure you go through a lot of trouble.

Get back on board, damn it!"
And with that last sentence, the catch-phrase from the disaster was born. It is not often that English language newspapers print an entire sentence in a foreign language, instead of merely translating it. One time happened five years ago, when Spain's
King Juan Carlos
- upset when Venezuela's Hugo Chavez kept interrupting his prime minister at an Ibero-American summit conference - fired back with the rejoinder,
¿Por qué no te callas?
- ("Why don't you shut up?") - which wound up on t-shirts and ring tones across Spain.
The same was true with De Falco's words (in the original Italian) - "Vada a bordo, cazzo!" - which as NPR correspondent Sylvia Poggioli explains, "cazzo" is a strong expletive. But it can mean "damn it!" in context, and so it's often translated as "Get back on board, damn it!". Regardless, Gregorio De Falco's words were not only a hit in Italy (hash tags, t-shirts, ring-tones, etc.) but also reprinted (verbatim) in English language newspapers.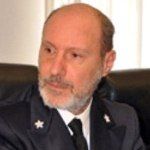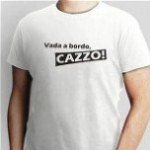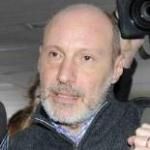 It was Sylvia Poggioli (of whom Zippy the Pinhead certainly approves of) that presented a short yet very concise contrast between the two men - at this link - with some excerpts here:

By steering his ship with 4,200 people onboard too close to a rocky coastline, Schettino's nautical bravura was all too reminiscent of what many commentators call "Berlusconismo."

They are referring to the extravagant lifestyle associated with former Prime Minister Silvio Berlusconi, who was synonymous with flashiness and cutting corners.

De Falco is an unlikely idol — 48 years old and balding, with a gray beard. He tried to avoid reporters as he entered a magistrate's office to give testimony for the investigation, insisting he's no hero. But judging from comments posted on Twitter, Facebook and newspaper websites, many Italians disagree.

One tweet from a woman named Sofia Rosada said, "It's men like De Falco who should be governing, instead we are full of men like Schettino."

A boy named Salvatore Garzillo wrote, "The next time someone asks me what I want to be when I grow up, I'm going to say, a man like De Falco."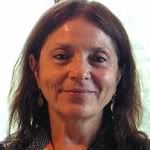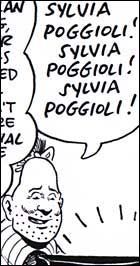 To be sure, others are more circumspect. Gregorio De Falco's wife Raffaella told the newspaper Corriere della Sera that she rejected the idea of her husband as a hero. "The worrying thing is that people like my husband who simply do their duty every day: immediately become idols, personalities, heroes in this country. That is not normal," she said. And veteran reporter Beppe Severgnini suggested, "If normality has become heroic, Italy is in trouble" in agreement.
As noted, while some preliminary hearings have been held, no trial date has yet been scheduled for Francesco Schettino. If you thought the Amanda Knox trial was big in Italy .... this will easily top it.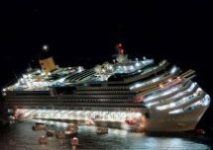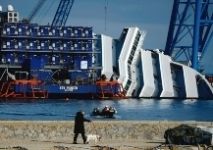 Schettino has been in the news, though: confined to house arrest for several months after the shipwreck, he was later freed but ordered to remain in the area until his trial begins. Fired after the accident, he sued his employer for wrongful termination, then announced plans to write a book to tell his side of the story and - in attempting to defend himself - has granted interviews (in English) to both US and Canadian news programs.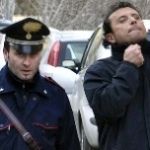 Now, with the one-year anniversary coming up, he even fretted that in the media, "(I) was painted worse than bin Laden which ridicules not just 30 years of my work, my experience in the whole world, but also the image of our country, which has been exposed to the criticism, often unjust, of the entire planet".
Finally, though this is a nearly 45-minute video - if you're interested, here is an American-made documentary with not only interviews with survivors, but also commentary from officials at the Massachusetts Maritime Academy, about what went wrong nautically.
Now, on to Top Comments:
-------------------------------------
From A Siegel:
Normally, my TC recommendations are for single comments however an exception is in order. Mokurai's diary Global Warming: What can I do? sparked a wide range of "I can do" / "I have done" and "things we should do" comments that make interesting and worthwhile reading. Amid the 100+ comments, there are easily 10-20 that would merit TC recommendation. Taking the time to read the diary and in the comments would be time well spent.

Amid discussion (in the diary by beach babe in fl) of Australia's hellish conditions - DrTerwilliker responded to Skod with the next TV show on alien technology in ancient history
From
edrie:
In the diary by BornAgainDem about the teacher who talked down a shooter today in California - pollbuster has the best comment yet on the gun issue.
And from
Ed Tracey
, your faithful correspondent this evening ........
In the diary by Bill Moyers (and oh, how much I enjoy writing that!) about the nomination of Jack Lew to be the next Treasury Secretary - kovie notes that - as much as we'd all love to have Paul Krugman in that post - he's most suited to doing just what he is doing now.
TOP PHOTOS
January 9, 2013
Next - enjoy jotter's wonderful PictureQuilt™ below. Just click on the picture and it will magically take you to the comment that features that photo.



(NOTE: Any missing images in the Quilt were removed because (a) they were from an unapproved source that somehow snuck through in the comments, or (b) it was an image from the DailyKos Image Library which didn't have permissions set to allow others to use it.)
And lastly: yesterday's Top Mojo - mega-mojo to the intrepid mik ...... who rescued this feature from oblivion:

1) I did assume their motives by Noddy — 149
2) only one problem with this argument by louisev — 102
3) Social equality and legal equality by Scott Wooledge — 89
4) There is a very simple change by twigg — 82
5) By that analogy by ontheleftcoast — 82
6) Maybe Dad's on the computer... by detroitmechworks — 81
7) I've never understood why businesses, both by Becky Badger — 76
8) $.15 for a side of healthcare... not bad nt by k9disc — 70
9) I still want a ban on assault weapons. by Boppy — 69
10) Pat's a founding member of the "He-man Women, by ontheleftcoast — 68
11) every time democrats make a deal by Laurence Lewis — 64
12) CO woman -- Bless you for taking your time by rubyr — 63
13) Thank you for telling the truth. by TomP — 61
14) Jon Stewart nailed it with THIS: by earicicle — 60
15) What I noticed most was the increasing by moose67 — 59
16) In my inbox yesterday! by Eddie C — 58
17) Give me one valid by jsfox — 56
18) Let's wait until it's too late to do anything... by bobswern — 56
19) Not even original by Andrew C White — 55
20) That's one thing about the military... by cooper888 — 53
21) Just sent some money. by badscience — 53
22) Scott, you might be interested to know that by brooklynbadboy — 52
23) Sad by abbysomething — 51
24) People come and go here by Land of Enchantment — 49
25) All I have to say about this is that tacos by coquiero — 48
26) Thanks to all of you working on by JaxDem — 48
27) If you've spent any time with Marines by kyril — 48
28) Wow. by slksfca — 47
29) SO by Captain Pants — 47
30) Republicans want all of by TomP — 47