Or more simply put, Why is the Filibuster constitutional?

Well the Constitution allows the Senate to set its own rules, with a simple majority vote, at the start of each session.
So obviously it -- the Filibuster Rule -- it's allowable. The Senate has to call an end to debates, and take a vote on proposed bills, somehow right?
What's that? The Filibuster doesn't do that? A Senate Filibuster does the exact opposite of that?
It prevents debates from happening; it prevents votes from ever happening on proposed bills, all based on a single objection, and a Minority coalition (41 votes).

Well THAT -- a single objection can block a Vote -- is something most people should have a problem with. -- THAT is the primary reason why we have a "Broken Congress" in the first place, because of routine and endless use of Vote-blocking Filibusters. Without even the courtesy of a debate.
THAT is something that even the Founders of the Constitution, would have a problem with, I suspect, -- if they were around today to comment on their "constitutional legacy."
But given their clear preference for simple Majority rule, the Founders explicitly stated within our nation's founding document itself ... we might be able to hazard a guess, as to what they might think about this "concept" called the Filibuster. That these per-eminent Statesmen just might have an "Objection" or two about it, themselves ...



People say we should read and follow our the Constitution. That is very good advice.
Perhaps our oh-so deliberative Senators should take it. Especially with respect to this vote-blocking device they've invented: The Silent Filibuster.
by David RePass, theAtlantic.com -- Jan 4 2011
[...]
For the first thirteen decades of its existence, the Senate allowed unlimited debate. This meant that a single senator, or just a few, could hold up passage of legislation by talking interminably (filibustering). This tactic was rarely used at first, but over the years it began to be employed often enough that in 1917 the Senate adopted a Cloture Rule; debate could be ended by a two-thirds vote. The two-thirds was later changed three-fifths.

In recent years, cloture has been turned upside down. Now all the minority needs to do to prevent a bill from even reaching the floor is simply to threaten to filibuster. Debate never begins. Real filibusters almost never take place. This is called a "silent" filibuster -- an oxymoron if there ever was one.
[...]

The demise of majority rule in the Senate is a violation of the Founding Fathers' clear wishes and intent.

When it came to procedures, they believed that simple majorities, not supermajorities, should be the rule. This is demonstrated in Article 1, Section 5, of the Constitution which says that "a majority of each House shall constitute a quorum to do business."
[...]

Furthermore, the Founding Fathers required supermajorities in only five very special circumstances -- another clear indication that they assumed majority rule would be the norm. Two-thirds majorities were prescribed only to override vetoes, ratify treaties, expel members of Congress, propose amendments to the Constitution and to convict in impeachment cases.
[...]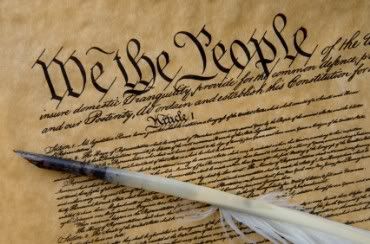 Despite, the Founder's written intentions; despite their clear language in Article 1, Section 5; Senate rule-makers have once again seen fit to grant the Minority Party the agenda-setting power -- to Block proposed Bills from ever coming to a Vote, whenever they choose. For whatever unstated reason, whatsoever.

I would argue, this invention known as the Silent Filibuster, is an extra-constitutional concept -- something that grew haphazardly, perhaps from the idea that the Senate should be the place that serves as "the saucer that cools the tea." A place where "calmer minds prevail."
Whatever that means. A place where ALL opinions matter, I suppose. Well doesn't that imply that actually Voting on bills, should matter too? Voted on, after ALL opinions have been heard and considered?

In that sober light, the Silent Filibuster -- this counter-initutive "Senate rule" of requiring a Super-majority agreement, in order to take a Simple-majority Vote -- surely appears to be reaching a bit beyond the simple intent of Constitution. Especially considering, the Founders' clear preference for simple Majority rule: "a majority of each House shall ... do business."
(The 5 exceptions to this, those requiring a Super-Majority, were clearly stated in the Constitution. Guess what, the Filibuster wasn't listed. The Filibuster didn't even exist, back then, at the founding of this great experiment in democracy. No, the filibuster is a modern-age invention.)

At minimum, when seen in its best light, this collegial senate rule the Silent Filibuster, is designed to "let all views be heard and considered" -- but in reality, it actually doesn't do that. This contradiction in results, at minimum violates common sense. It's resulting "shut-down of any further debate," clearly goes against the tradition of the Founding Fathers, who believed in Debates without end, and Deliberation into the wee hours, and sometimes for days on end, and THEN finally after all that -- then actually taking the damn Vote!
Otherwise, without ever voting, What's the damn point? They might as well just have "some tea" and trade some war-stories, for all the good they do. Or don't do, as now is, far too often the case.
The Floor is now closed. Enjoy the peace and quiet, America. Your Business now requires a Super-Majority, to even be considered, possibly-maybe actionable ... Minority party willing, simply as a matter of course.