The Daily Bucket is a regular feature of the Backyard Science group. Here is where we keep track of what's happening, nature wise, in our neighborhoods. You may find us talking about birds, bats, flowers and bees, or rocks, skunks, weather, or trees. Nothing in nature is off limits and nothing is too big or too small so please let us know what is going on around you in a comment. Include, as close as is comfortable for you, where you are located.
Missouri has two species of skunks, one spotted and one striped, but I haven't seen a spotted one for many years. The striped skunks on the other hand are doing pretty well, though I believe their numbers may have declined a little over the years too. But I still see them fairly often around here. We've had them on the back porch several times and neither my wife nor I will ever forget the night that one got into an argument with one of my hounds in the crawl space just under our bedroom. Nothing like waking from a sound sleep with the smell of skunk wafting up around you. It reminded me of the time they put us through gas mask training in boot camp, sans the mask. Neither of us could handle it and with eyes watering and nose running, I ended up setting up the popup camper in the middle of the night to get away from the worst of it.
But overall, my experiences with skunks have been uneventful, with the two of us noting each others presence and going on about our business. I had one walk right up to me as I sat in the dark in a lawn chair one night while star gazing. I didn't see him until he was right in front of me and I believe it was the same for him. He stood there for just a few seconds, (although it seemed much longer at the time), looking at me and then slowly shuffled on past whereupon I let out my breath and began breathing again.
This little fellow was hunting in the field behind the house late Thursday afternoon. They usually show up after dark, though I do see them out in the daytime occasionally. February and March is breeding season for them here in mid Missouri and the males often travel far from their home territory in search of a mate, which may explain why this particular one ventured out during the day. This time of year I see a lot more road killed skunks than any other time of the year too, also most likely due to it being breeding season.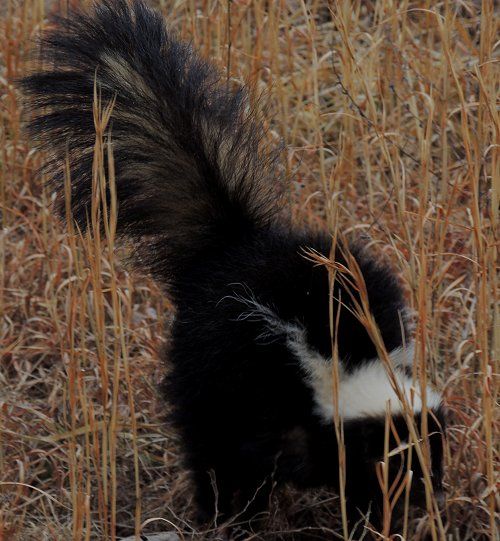 They have pretty poor eyesight and not many predators so they are quite easy to approach and I walked right up within eight or ten yards of this one before he seemed to notice me. Once he did he stopped and stood there peering at me for a bit and allowed me to take a couple more pictures.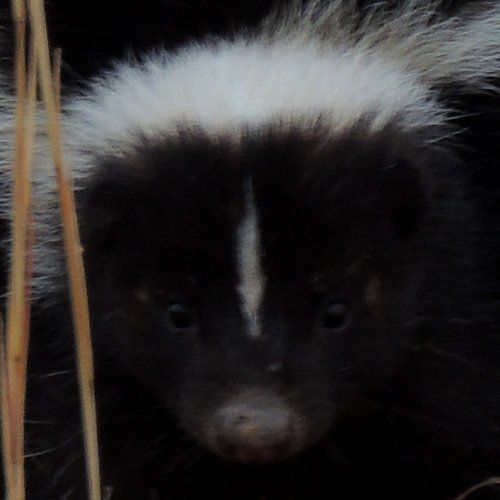 Oops, that stance and raised tail tells me it's time for me to back off. Nooo problem, I can take a hint; color me gone. See ya little guy.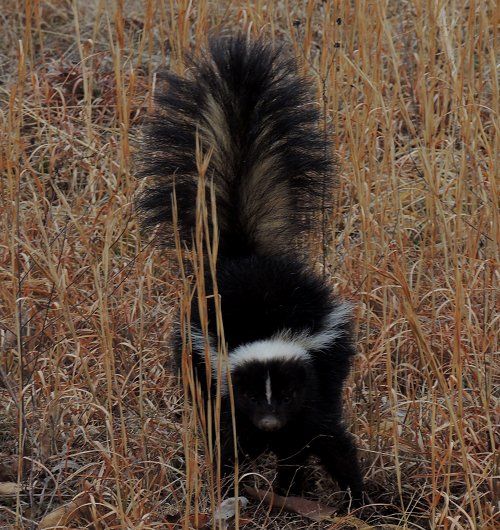 So what's happening in your neighborhood? Any eye-watering smells in the air?
P.S. To me they are completely odorless unless they actually spray.
Update. I was just doing a bit of research to look up the scientific name (Mephitis mephitis) for these animals and learned something else along the way. I expect most people know them to be members of the mustelid family, along with weasels, mink, otters, wolverines, badgers and many others. I thought so too, but I just read that with the great advances in genetics the past few years it has been discovered that skunks are different enough, genetically speaking, to be classified in a separate family of their own, the Mephitidaes. Who knew?
Update number two......
I got to thinking that I should probably add a caveat to this and say that approaching a skunk may not be the wisest thing to do. They are after all, wild animals and thus unpredictable. All of them I've ever encountered, and there have been many over the years, have shown no aggression other than the obvious warning they give when they feel you are getting too close. But nevertheless, that's not to say you might not encounter one with a different attitude. Plus the fact that skunks seem to be more prone to rabies than most animals so there is that danger as well. I feel comfortable around them as long as they don't do a hand stand, stomp their feet and/or raise that tail. That's their way of asking me to back off and I never argue with a skunk.