I post a weekly diary of the historical notes, arts & science items, foreign news (often receiving little notice in the US) and whimsical pieces from the outside world that I featured this past week in "Cheers & Jeers". For example .....
Current events, anyone?
SEPARATED at BIRTH - the newly-installed Pope Francis - of Italian-Argentine descent - and former New York mayor Rudy Giuliani of Italian-American descent.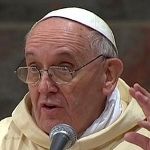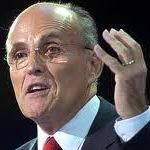 OK, you've been warned - here is this week's tomfoolery material that I posted.
ART NOTES - a survey of African American Art since 1950 is at the Taft Museum of Art in Cincinnati, Ohio through April 21st.
DESPITE the suggestion of Tucker Carlson at a prior CPAC gathering to create true journalism, blogger Eric Alterman responds with an essay we can all concur with: "Real Reporting and Right-Wing Ideology Don't Mix".
BRAIN TEASER - try this Quiz of the Week's News from the BBC. Note: very UK-centered quiz today; scores may decrease.
MONDAY's CHILD is Zuul the Cat - an Indiana kitteh, hidden in the walls for days after a plane crash hit his home ....... discovered moments before a wrecking ball destroyed the remains of the house.
RAIL NOTES - the birthplace of Harry Beck, the man who designed the iconic map of London's Underground - and influenced the maps of other major subway systems - will be marked with a blue plaque, nearly forty years after his death.
IF YOU CELEBRATE IT .... Happy Easter!
TUESDAY's CHILD is Koshka the Cat - an Afghanistan kitteh that a US Army soldier adopted when he was a month old .... and Sgt. Jesse Knott was able to bring him home to Oregon through the kindness of strangers.
JEERS to the affiliate in India of the advertising firm J. Walter Thompson - forced to apologize for an advertisement showing bound, gagged women in a vehicle of former Italian prime minister Silvio Berlusconi (a known womanizer) - although, mercifully, it never appeared in print or on TV.
WEDNESDAY's CHILD is the late Marzipan the Cat - an Australian kitteh who became the pet of a movie theater, purring and often settling on patrons' laps - who has died at age 21.
RECENTLY many websites noted the 50th anniversary of the case establishing the right for a criminal defendant to be represented by counsel, even if unable to afford one. Two years ago, I devoted a Top Comments diary to the case of Gideon vs. Wainwright - a simple, layman's description of the case (with photos/exhibits) based upon the book "Gideon's Trumpet" by Anthony Lewis (who died just this past weekend).
It turns out that the young, assistant attorney general of Florida - whose job it was to defend that state's law that denied counsel to poor defendents (except in capital cases) - was sympathetic to Gideon's argument. And today at age 78, Bruce Jacob - the emeritus dean of the Stetson University law school - is only sorry that many states fail in their obligations to provide such counsel, as for many years he dedicated his time to helping indigent criminal defendants.
ART NOTES - the exhibition Revealing the Early Renaissance: Stories and Secrets in Florentine Art is at the Art Gallery of Ontario, Canada in Toronto, through June 16th.
BEFORE THE FALL of Communism, the black-market medium of exchange in Romania was Kent cigarettes .... today, in the nation of Iran (due to sanctions and currency restrictions) it is expensive automobile sales that are the way to deal with scarcity.
THEATER NOTES - although the names will be changed, and take place in Scotland: a UK playwright has plans for a production based upon the killings in Norway by Anders Breivik ..... and as a musical, no less.
THURSDAY's CHILD is Skabenga the Cat - a resident at a five-star South African hotel, who spends his days lounging by the poolside and enjoying the spectacular view of the Indian Ocean.
JEERS to a driver for a Swedish bus company who - on one route between downtown Stockholm and a ferry to an island in Finland - directed passengers to two separate buses depending upon whether they were 'Swedish looking' .... and said driver has now been pulled off that route.
END of an ERA? - a Spanish anti-fascist association is campaigning to change Francisco Franco-era street names in Madrid to sports-oriented ones (from Jesse Owens to Rafael Nadal) as Spain's capital prepares a bid to host the 2020 Olympic Games.
Reader Requested SEPARATED at BIRTH - film star Alan Rickman and the veteran guitarist Joe Walsh (not the politician, mercifully). Whaddya think?
THE OTHER NIGHT yours truly hosted the Top Comments diary with a look at Viola Liuzzo & Jonathan Daniels - two martyrs from the Civil Rights Era who deserve even more recognition.
HAPPY TRAILS to the veteran journalist and interviewer Barbara Walters who is (reportedly) ready to retire in May of 2014.
FRIDAY's CHILD is Timmy the Cat - an Oregon kitteh who was reunited with his family ... due to a microchip.
.......and finally (repeated for the West Coasters) for a song of the week ................................................a band that wasn't exactly a supergroup (its members weren't all-star names previously) yet who reached the sky before crash-landing like a supergroup was the blues-rock band Humble Pie - best-known for a release that makes the "greatest live albums" lists in rock. Yet their influence is strong, and its band-members certainly are in the annals of British rock'n'roll (playing largely American R&B that endeared them to the US market).
Guitarist/vocalist Steve Marriott was tiring of the Small Faces by late 1968. He wanted to bring in The Herd guitarist Peter Frampton but was turned down, and he famously walked off-stage at a New Year's 1968/69 performance. Also on the bill that night was the band Spooky Tooth, whose bassist Greg Ridley was also souring on his band's fortunes.
Marriott approached Ridley with the idea of forming a quartet with Frampton and the 17 year-old Jerry Shirley on drums. Ridley agreed, and in the photo below left you see Marriott, Ridley, Shirley and Frampton from L-to-R. They went into seclusion (for some intense practice before) they were ready to emerge - doing so on former Stones manager Andrew Loog Oldham's Immediate Records label.
Their first two albums As Safe as Yesterday Is and Town and Country were well-received in Britain, with a mix of blues-rock-R&B ("Natural Born Boogie") as well as acoustic numbers ("As Safe as Yesterday Is"). But after a late 1969 US tour, Immediate Records went bankrupt, and they signed to A&M with Dee Anthony.
Anthony prevailed upon Marriott to emphasize the blues-rock sound, rather than Frampton's more acoustic sounds, and after the band's first two A&M albums Humble Pie followed by Rock On (from 1970-71) saw the band develop into a boogie band: Frampton decided to strike out on his own. You may recall that turned out to be a .... well, quite a lucrative move (bringing with him the song Shine On from the "Rock On" album).
But first: the band released Performance: Rocking the Fillmore which was recorded during Frampton's last tour (and by the time it reached #21 on the US album charts, he had begun his solo career). The album made them into stars (and as noted, making the "best live rock album" lists for many years) .... and they began touring the US earnestly.
Replacing Frampton was guitarist Dave (Clem) Clempson - formerly of Colosseum (and back with them again, nowadays). Their 1972 album Smokin' solidified the band into the blues/boogie camp - and with songs like 30 Days in the Hole as well as a cover of Eddie Cochran's C'mon Everybody the album reached #6 on the album charts.
Then the band expanded in 1973 to include three backup singers to Tina Turner as well as tenor saxophonist Sidney George. The resulting album Eat It reached #13 in the album charts ........ but 1974-75 releases such as Thunderbox and Street Rats sold much less well. Add to that some creative differences emerging, and the excesses of the road taking its toll ...... and Humble Pie disbanded by late 1975.
The group came back (with some personnel changes) thrice more - Marriott and Shirley were joined by former Jeff Beck vocalist Bobby Tench from 1979-1982, releasing two albums (with modest success; Fool for a Pretty Face reaching #52 in the US singles charts) before disbanding when Marriott developed an ulcer.
In 1989, drummer Jerry Shirley formed a new version of the band which had some success touring, yet never were able to release a studio album and they split in 1999.
Jerry Shirley put together a final version of the band in 2001 (along with Greg Ridley) which did release 2002's Back on Track before the band ended for good in 2003.
Back in 1991, Peter Frampton and Steve Marriott made some demo tapes together, discussing a possible original members reunion. Before it could take place, Steve Marriott died in a tragic home fire in April at only age 44.
Ten years later in April, 2001: the three surviving original bandmembers (plus later member Clem Clempson) reunited for a Steve Marriott memorial concert which was later released on DVD and the second photo shows Frampton, Shirley, Ridley and Clempson (L-to-R) at that London show.
Greg Ridley died of pneumonia in November, 2003 at age 56 (leading to the final dissolution of the band) but several compilation albums carry on the band's heritage.
Peter Frampton continues as a solo artist and drummer Jerry Shirley - who wrote his autobiography last year at age 60 - most recently worked with singer Deborah Bonham - yes, the late Led Zeppelin drummer John Bonham's sister.
Of all of their songs: it's their live version of the 1956 Ray Charles tune Hallelujah I Love Her So (fair-use extract below) that is my favorite. Many others have recorded it, including Peggy Lee, The Beatles, Frank Sinatra and Eddie Cochran.
At this link you can hear their 1971 Fillmore East version (with Ridley, Frampton and Marriott alternating the vocals) .... and below is the 2001 Steve Marriott memorial reunion concert version - with Dave Clempson in place of Marriott.
Let me tell you about a girl I know
She is my baby and I love her so
Every morning before the sun comes up
She brings my coffee in my favorite cup
That's why I know: yes, I know
Hallelujah, I just love her so

When I call her on the telephone
And tell her: I'm all alone
By the time I count from one-to-four:
I hear her knocking on my door

In the evening when the sun goes down,
and there is nobody else around
She kisses me and she holds me tight
And says, baby: it's alright
That's why I know: yes, I know
Hallelujah, I just love her so