Last weekend, Sara R posted the second diary in the Spring, 2013 edition of the Kos Katalogue. We have dozens of artists, craftspeople, and merchants on this site who create and sell wonderful products and services, and whose businesses need support. With spring officially here, we have lots of gift opportunities in the offing - Mother's Day, Father's Day, graduations, weddings, new babies, and of course all the usual birthdays and other festivities. The focus this week is on weddings and new babies, but I've expanded that a bit. It's a time of year for celebrations and ceremonies, but not all of them are (or need to be) weddings as we currently conceive of them - and not every new addition to a family is a newborn. In keeping with the spring theme, it seemed appropriate to include commitments and family additions in all their glorious and beautiful life-affirming forms.
Sprite by Andrew Lang, image from wikipedia

Last winter, the Kos Katalogue launched the Secret Santa program: Kossacks nominated people (themselves or others) for specific items for Kos Katalogue merchants, and orange elves went to work donating to make it happen. It's now Spring, and Santa's busy prepping for Christmas, but never fear - we have the Sprite of Spring! Kind of like Rite of Spring, only with more bling: She helps make sure that Spring-y gifts make it to their intended owners. It all works exactly the same way, so if you want something from Wings's inventory but can't justify spending the money on yourself, or if you know of someone who you think needs a particular piece, let me know in comments or Kosmail, and I'll put them on the list.
Here are our first two nominees:
Requested by racheltracks:
"A Single Piece of Sky." Sterling silver and natural Arizona turquoise. $185 + $10 shipping/insurance ($195 total).
* $50 paid; balance is $145.
* $20 paid; balance is $125.
* $50 committed; balance is $95.
Mnemosyne, for a Warrior Woman pin:


"Sacred Spaces." Sterling silver and lapis lazuli. $225 + $10 shipping/insurance ($235 total).
If you want to contribute to either of these items for fellow Kossacks, let me know in a comment or Kosmail me. ;Likewise, if you want to nominate yourself or someone else for a piece shown here (or on the Web site), let me know in a comment, or send me Kosmail.
Over the jump, many more items to choose from:

WINGS: HANDS ON SILVER
Featured here are pieces by Wings himself, both jewelry and collectibles, and art by other Native artists whose work we sell. We also carry many, many more items than are shown here, in a wide array of areas: dreamcatchers, drums, leatherwork, paintings, pottery, sculpture, weaponry, and others, We also have a sizeable selection of jewelry by other Native artists: Some are old pawn and trade pieces; others are new and contemporary in style. Jewelry items range from strands of stone and coral beads and coil bracelets to inlay jewelry and earrings carved of bone, antler, and various semi- and non-precious stones. Prices for jewelry by other artists range from $35 from small stone earrings all the way up to several hundred dollars for multiple strands of old turquoise beads. If you're looking for something specific, leave me a comment or send me Kosmail.
There are also many more photos of Wings's own work on the Web site, as well as a gallery of photos devoted to work by other Native artists.
CELEBRATIONS: ENGAGEMENTS, WEDDINGS, OR OTHER COMMITMENT CEREMONIES
Not every commitment celebration or ceremony involves a wedding, and not every wedding involves the standard American diamond-ring-and-white-gown-and-tux format. If you're looking for something that's outside the mainstream - perhaps something that will have deep personal meaning for the two of you, but doesn't follow the crowd - then we may have some things that might interest you.
Jewelry
Granted, we don't have diamond solitaires or gold wedding bands. But we do have a variety of rings that, for some people, may be the perfect expression of a deep and abiding love and commitment. Note: Rings can be sized as needed.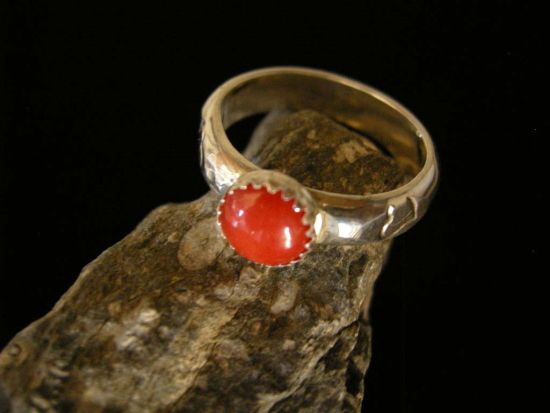 "Hearts Aflame" ring. Sterling silver and coral. $135 (+ $10 shipping/insurance).
In some parts of the country, "promise rings" are still popular among young people. Nothing so flashy (or expensive) as a diamond, but something that can be worn on that finger, something that demonstrates a public commitment. The following ring could be regarded as a version for adults: intended as an early-stage symbol of love and commitment. It could also work as an extremely affordable engagement ring for people who prefer colored stones to diamonds and who don't want a gold or platinum band. The stone is coral, in some traditions a potent symbol of of love, passion, sex, or womanhood. The band is sterling silver, hand-shaped at the top on either side of the stone to provide a flat surface, and then hand-stamped at each side with a small heart.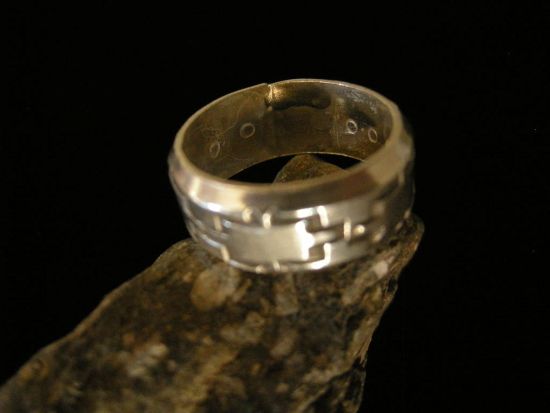 "Storm Hoop" ring. Sterling silver; $125 (+ $10 shipping/insurance).
This ring was designed as a men's ring, but could work for women, too. It's made from heavy-gauge sterling silver triangle wire, with the triangle point shaped by hand into a flat surface. Thunderhead symbols (fertility, bounty, prosperity) are paired down the length of the outer band; tiny stamped sacred hoops trace the inner band. Sterling silver with a Florentine finish.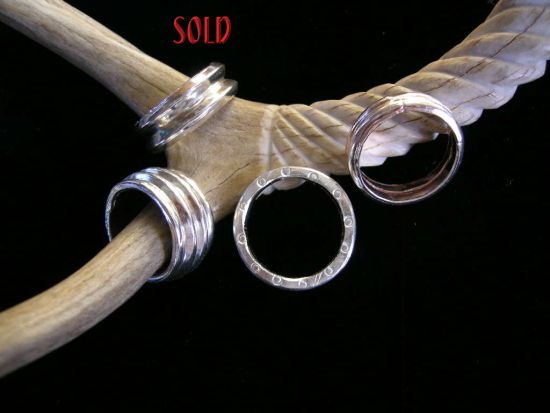 "Sacred Hoops" rings. Sterling silver. $125 each (+ $10 shipping/insurance).
The two rings on the left are sold; the two matching ones on the right remain. Made of dual-strand raised triangle wire, the only other accent is hand-stamping on the sides, in a sacred hoop pattern. Sterling silver; suitable for wedding rings for both men and women.

"Molten Sky" Anticlastic Cuff Bracelet. Copper; $175 (+ $10 shipping/insurance).
In the wedding ceremonies of some traditions, bride and groom are joined symbolically by wrapping their wrists together with a single scarlet ribbon. We don't have scarlet ribbons, but we have brilliant copper-red cuffs that can serve as a permanent symbol of that commitment, one that you can wear every day. Despite the lighting in the photos, these two copper cuffs are identical in color; the only difference is that one has been hammered by hand to create a more ancient effect. Both are crafted in a gently curved anticlastic style.
"Copper Lake" Cuff Bracelet. Copper; $175 + ($10 shipping/insurance).

Maybe your relationship hasn't reached the point for rings yet. Or maybe you just need a little extra love medicine. In some cultures, hummingbirds and dragonflies are symbols of romantic love. They're also messengers of the Spirits, so they might bring you good luck in multiple ways.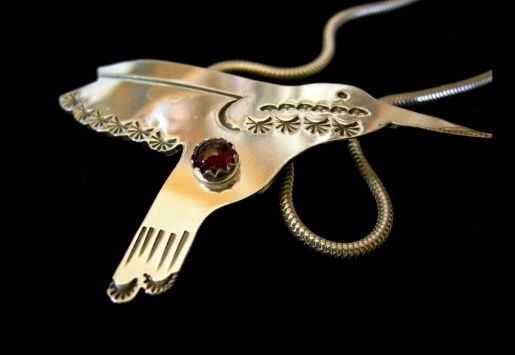 "LittleFeathers" necklace. Sterling silver and garnet; $325 (+ $10 shipping/insurance).
This little messenger is hand-cut from sterling silver and hand-stamped with traditional designs to create her feathers. A small garnet cabochon is set at the base of her wings. She hovers suspended from a sterling silver snake chain.

"Twilight Dancer" necklace. Sterling silver and amethyst. $325 (+ $10 shipping/insurance).
Hummingbird's hovering cousin, Dragonfly, is also made of sterling silver, but in his case, varying sizes of solid round wire form his body and wings. Hand-stamped traditional symbols create the iconic banded pattern on his body; his eyes are tiny amethyst cabochons set at either side of his head. He also hangs from a sterling silver snake chain.
Other Art
For some people, jewelry may not be the way to celebrate a commitment. If you prefer more practical forms of art, or art in a more demonstrably symbolic style, we have those, too.
Fetishes
Whatever their own term, many traditional cultures use fetishes for various symbolic purposes. In some cases, they have religious significance; in others, they may be spiritual but not ceremonial. In still others, they may be used to attract luck or ensure protection, or to enhance a particular talent or skill. Fetishes make good gifts because they can be used to impart such symbolism easily and relatively inexpensively, packing a great deal of meaning into a very small package. The case below show a selection of what is currently available (and we also have full-sized sculptures of some animal and spirit figures).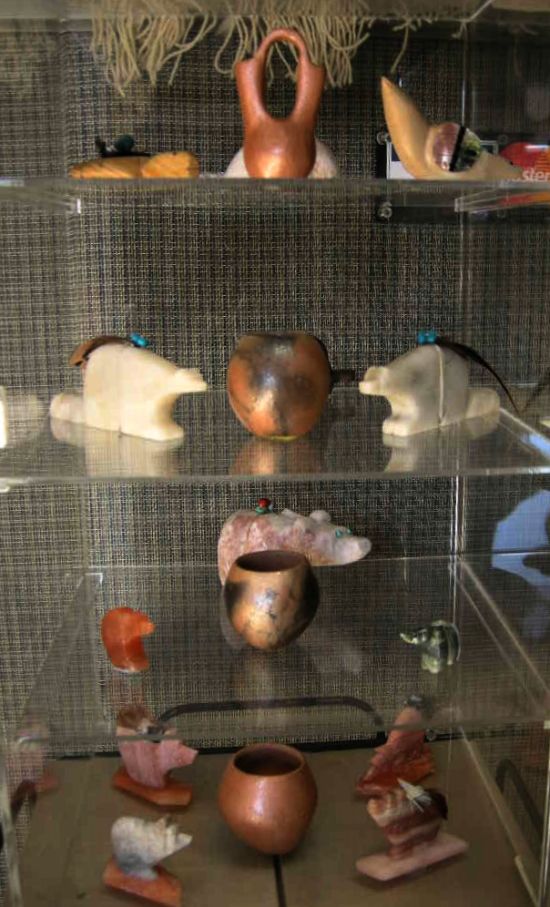 Figures include bears, beavers, birds, buffalo, and one remaining turtle. Materials range from micaceous clay to Pilar slate to various shades of alabaster to sandstone to serpentine and travertine. Prices range from about $30 to about $160 (+ $10 shipping/insurance), depending on the carver, the size, and the materials used.
Pottery
One classic wedding symbol common to Pueblo peoples is the weddings vase: a micaceous jar with a spout on either side, connected by a handle, from which bride and groom can drink together. In the past, we've had full-sized wedding vases made by a number of Taos Pueblo potters; we're currently sold out of them, but if you're interested in purchasing one, we can always commission new ones from the potters whose work we carry. [One caveat: It has not yet been consistently warm enough here for potters to do much in the way of new pieces, so if you're interested in such a piece, you'll need to factor in the time needed to create it and whether that fits your timetable.]
We do, however, still have a couple of miniature wedding vases left. They resemble the little handled jar in the photo below:
This wedding vase, like the pots surrounding it, is made of the Pueblo's native micaceous clay. The artist is Wings's cousin, Bernadette Track, who specializes in miniatures. Prices are $30-$35, + $10 shipping/insurance.
Sculpture
Traditional Native sculpture can take many forms, but animals and Spirit Beings are two of the most popular. We have a variety of pieces in pink alabaster, marble, Pilar slate, and sandstone, featuring bears, buffalo, and multiple Spirit Beings combined. But for purposes of commitment celebrations (or for anyone seeking a little extra luck for pregnancy and childbirth), Corn Maidens are perhaps the most suited symbolically:
These Corn Maidens are made of sandstone and accented with macaw feathers, in Mark Swazo-Hinds's signature style. Mark is from Tesuque Pueblo, and he and Wings have been art buddies for probably 30 years. He's known for everything from relative miniatures like these (6" high or less) to larger-than-life industrial-sized installations. $275-$425 (due to weight, extra shipping charges apply).
FOR LITTLE ONES: BABY SHOWERS, BIRTHS, ADOPTIONS, OR OTHER NEW ADDITIONS

Silverwork by Wings
Jewelry
In many cultures, it's not unusual for children to begin wearing traditional jewelry in infancy. The iconic silver cuff bracelets that are so representative of Southwestern Indian jewelry are often seen in miniature form, worn by children at very young ages. These two are classic examples, but with a delicate and rather contemporary design that would suit a child of any background.

"Amethyst Blossoms" and "Snowflakes" child cuff bracelets. Sterling silver and amethyst (L); sterling silver, denim lapis, and snowflake obsidian (R). $135 each (+ $10 shipping/insurance).
Collectibles
When I was a child, a popular gift for mothers-to-be and new mothers was a silver baby spoon: It marked the occasion of the child's birth, and was passed on to the child in adulthood. [Some of our customers simply collect these miniature spoons for themselves, with no thought of any connection to children.] Ths is the last one currently in stock:

"Spirit Path" miniature collector's spoon. Sterling silver; $125 (+ $10 shipping/insurance).
Work by Other Artists
We have a large variety of different types of Native art that would make suitable gifts for new parents, hoping-to-become parents, babies, or children generally. In addition to the small selection of items shown here, we have celebratory items like drums, protective objects like dreamcatchers and medicine wheels, and symbolic pieces like katsinam (kachinas). Prices range from a low of $45 for featherless red willow dreamcatchers to a high of $875 for our largest powwow drums. Basic shipping and insurance on most items runs $10; for large, heavy, or very fragile items, extra shipping charges apply.
Fetishes
Many of the fetishes shown in the case in the photo above have symbolic value appropriate for children and families, too. Bears can mean protection and healing; buffalo, strength and courage; turtles, fertility, childbirth, and abundance. Here's an example of one of the most inexpensive: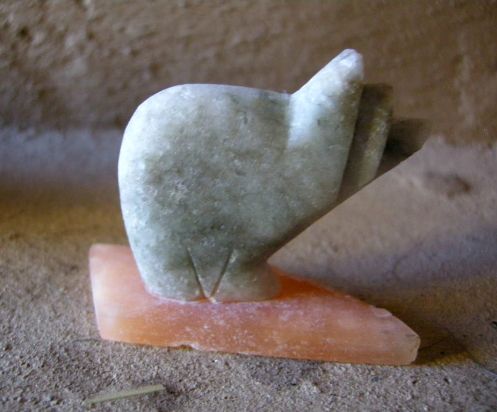 This is one of four bear fetishes by Justin Gomez. This little guy is plain white alabaster on an orange alabaster base. $30 (+ $10 shipping/insurance).
Moccasins
Normally, we carry child moccasins regularly; with the closure, we have not replenished our stock yet. The infant moccasins, however, are easily ordered, since they're hand-made by Wings's little sister. The picture below gives you an idea of what they look like, although the remaining infant-sized pair in stock is white deerhide with red, yellow, and green beaded accents: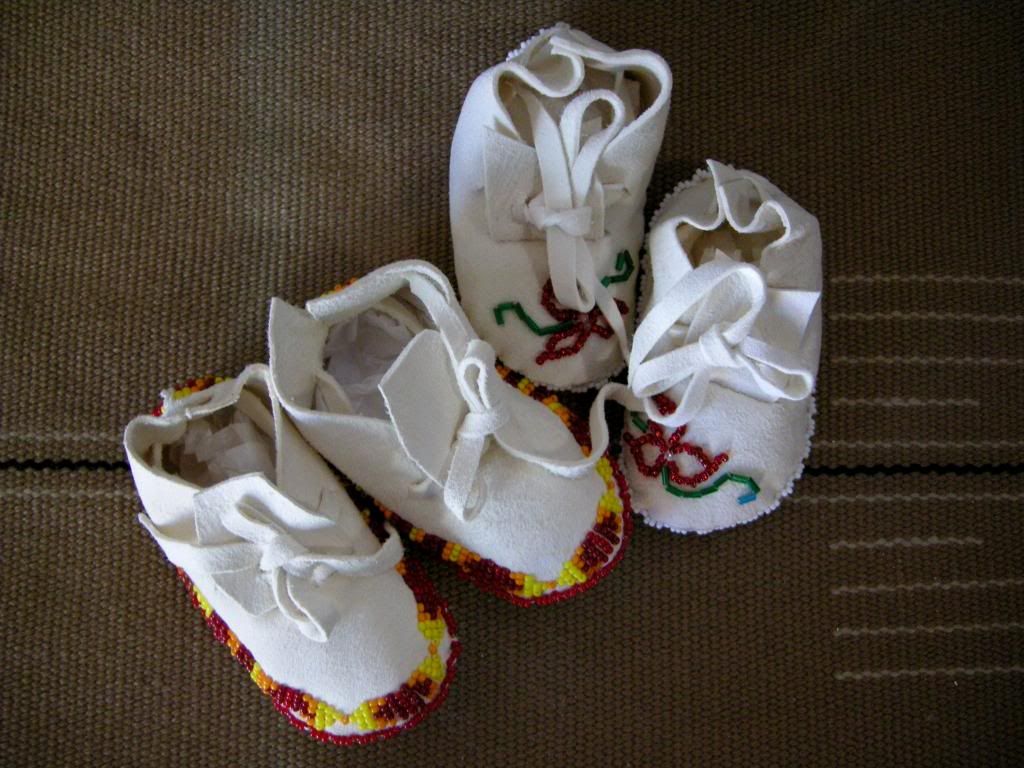 The infant moccasins are $45 a pair (+ $10 shipping/insurance).
We also have one remaining pair of child moccasins of smooth white deerhide, by a 00Standing Rock Sioux leather artisan. They are currently packed in a box, so I don't have measurements handy, but my guess is something that would fit a 5- to 8-year-old. If you're interested, let me know; I'll unpack them and get the measurements for you. $125 (+ $10 shipping/insurance).
Storytellers
The storyteller is a unique Pueblo art form; it's modern incarnation originated at Cochiti Pueblo. It's a clay figure, usually a grandmother or grandfather with a lapful of children, passing the traditional stories down to the youngest generation.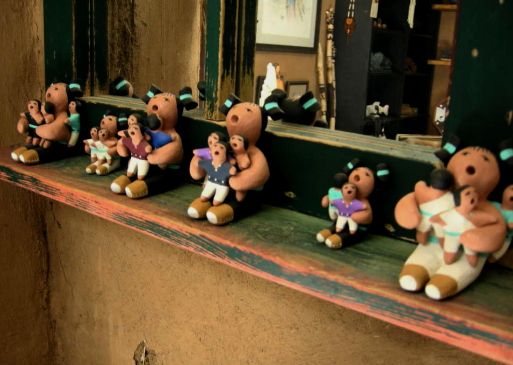 These storytellers come in two sizes: the larger are roughly 3.5" high; the smaller, about 2.25" high. All are made of local micaceous clay and hand-painted. The larger ones are $125 apiece; the smaller ones are $55 each (+ $10 shipping/insurance).
Traditional Toy "Weapons"
We have a variety of traditional toy Indian "weapons," suitable for kids from 5 to 105. [I think the average age of those who purchase such toys from us probably runs in the 50- to 65-year-old range. For that matter, we also have adult weapons, too - definitely not toys - including a full-sized bow-and-arrow set in a white fringed buckskin quiver and an iron axe with a beaded wooden handle.] Pictured here are slingshots (rocks not included), and miniature bow-and-arrow ornaments. The ornaments were created by two local girls who are sisters. We also have youth-sized bow-and-arrow sets, both with and without arrow tips.
The slingshots are made out of roughly-carved local wood, with leather and rubber slings. $20 each (+ $10 shipping/insurance).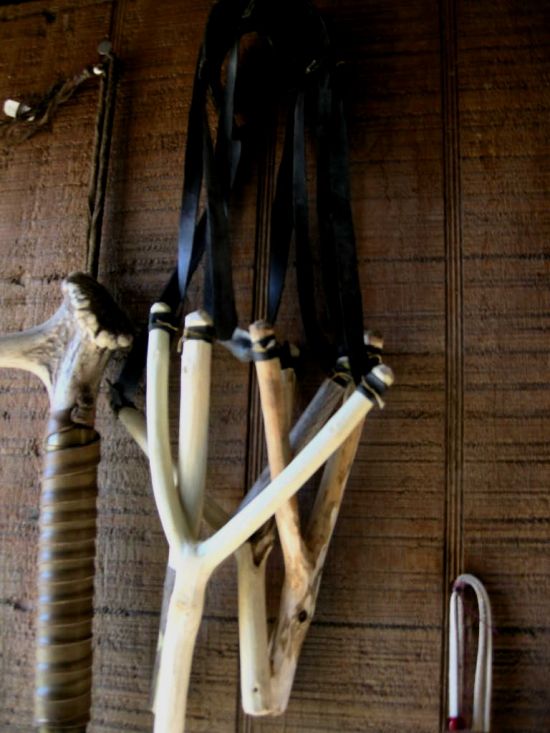 These little bow-and-arrow ornaments are untipped, and hang from a sinew thong for use as Christmas tree decorations or rearview-mirror ornaments. $15 each (+ $10 shipping/insurance).