Damian Garcia declared female at birth, but he grew out of that. He identifies as male and had a legal name change last year. But being a minor, he has not had the surgical procedures required by the State of New Mexico to have the sex marker on his birth certificate changed.
According to Becky Allison, who collects information on such issues,

New Mexico will change both name and sex, and will issue a new birth certificate rather than amend the old one. The old information will be "sealed" and cannot be opened without a court order.

You will need an original letter from your SRS surgeon, and an original or certified copy of the court order for your name change.
Now that Damian is graduating from Saint Pius High School in Albuquerque,
school administrators have decided to make this a big issue
…and their last chance to ruin a special day for Damian and his family.
You see, Saint Pius requires girl students to wear white robes and boy students to wear black robes. And school administrators have decided that they can be really nasty to Damian by giving him the option of either wearing a white robe or not walking at graduation.
Other students, faculty, staff and his family recognize him as a boy, but that is not enough.

I look at him and I call him my son. That's how he wishes to be acknowledged is as a male.

--Luis Garcia
The Garcias do not expect the school to change its policy in time for this year's graduation ceremony, but hope the school will eventually consider having all students wear the same color gowns.
I just want to walk in my black robe, nice and proud and have that memory to look back on with my family and friends. I would rather not walk than to embarrass myself by wearing a female robe.
All you want in life is to see your kids happy and healthy. You never want to see them suffer or being ridiculed or be made fun of.

--Luis Garcia
There is a petition at ForceChange.com.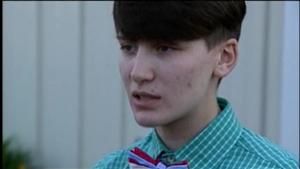 Meanwhile, across the country in Pennsylvania, Isaak Wolfe is pressuring the Red Lion Area School District to reverse its decision to read his birth name at graduation, a decision he called "pointless and incredibly hurtful."
Thursday evening Isaak and more than 50 supporters attended the Red Lion Area School District board meeting, wearing stickers that read,
His name is Isaak.
Unlike Damian, Isaak has won the right to wear a boy's black graduation gown, but the school insists it is entitled to one last putdown. Also unlike Damian, Isaak has not yet had his new name legalized.

It's incredibly hurtful, and if I can prevent somebody else from being hurt in that way, that's what I want to do.

--Isaak Wolfe
Isaak is also upset about the fact that Principal Mark Shue removed his present name from the ballot for prom king last month, instead entering his birth name under the candidates for prom queen.
I've never gotten too much trouble from other students about who I am. But when Principal Shue listed me under my old name on the prom queen ballot, it was the most humiliating and demeaning thing that has ever happened to me at school.

--Isaak Wolfe
The ACLU accompanied Isaak to the meeting. The organization has demanded an apology from Shue, but the only outcome has been a claim from the district that they had already apologized for "lack of communication."
Wolfe is working on a legal name change. He said in his statement to the school board that the district's insistence on reading his female name at graduation "serves no other purpose than to hurt me more."
Around half of the teachers refer to him as Isaak, while the rest use his birth name.
My teachers have not changed how they treat me. They're all still great. The name thing is stressful, but they haven't changed their behavior toward me.

--Isaak
I stood up for myself, other students, students in the future and that's what counts. There will be precedents that nobody will ever have to worry about this again.

--Isaak