The Daily Bucket is a regular feature of the Backyard Science group, a place where everyone is welcome to note the observations you have made of the natural world around you. Fledglings, insects, blossoms, fish, climate, reptiles and/or amphibians: all are worthy additions to the bucket. Ask questions if you have them and someone here may well have an answer. All we ask is that you let us know where you're located, as close as you're comfortable revealing.
This diary is a follow-up to the
short diary
I wrote a couple weeks ago regarding the hard lesson my grand-daughter learned when she found out that while nature is full of wonderful and fascinating things, it's not always as peaceful and serene as she had thought. She learned this when we went to check on the progress of a growing clutch of chickadees in one of our nest boxes. When we opened the lid to look at the cute baby birds she had come to see, we found instead a black snake curled up inside, having already eaten the entire clutch of chickadees. I too was disappointed, even though I've witnessed the same thing before so although saddened, it wasn't the complete surprise to me that it was to her. But my own sadness at the loss of the birds, was nothing compared to the sadness I saw in her face as she stood there, tears welling up in her eyes, and feeling as much indignation towards that snake as a five year old is capable of.
Giving her that painful lesson wasn't on my to do list that day, but even though it was a tough one, especially for a tender hearted five year old, I wasn't sorry that she had been along to learn it. I so hope that she develops a strong and lasting love of nature,and I'm doing all I can to lead her in that direction, but I want that love based on the truth. I don't want her growing up believing in a fairy tale world of animals.
We sat down, right there in the woods, and we talked about it for awhile, and I think by the time we went back to the house she was feeling just a little bit better but I knew she was still carrying quite a bit of resentment towards that black snake and probably would be for quite some time. I was sorry that she felt that way and I felt even worse because I wasn't able to find the right words to fully convince her that the snake wasn't some horrible, evil monster that did nothing but go around gobbling up baby birds.
Then a couple of days ago, the answer more or less fell right in my lap when several birds alerted me that something was amiss out in the yard. On checking out what all the commotion was about, I found another,(or possibly the same) black snake. I mentioned this in a comment in the daily bucket that day but I got there late, as is getting to be my habit these days, and I don't think too many of you saw it. But in that comment I said that I was worried because there were four active nest boxes in the same area as the snake. I have been monitoring them all spring so I knew that three of the four boxes held baby birds that were right on the verge of fledging and the other wouldn't be far behind them.
I was in a quandary deciding what to do, leave the snake and risk those babies or intervene on their behalf. After much thought and with lingering doubts concerning the right or wrong of it, I made the decision to temporarily confine the snake, for a few days, until the nearby birds had fledged. I know that there are some here that will believe I was wrong and I won't argue the point with them. I understand that viewpoint and even agree that not messing with nature's plan is usually the way to go. After all, it's a plan that's been working for millions of years, and it works quite well. So how foolish and arrogant I would have to be to think that I had a better one.
But in the end this wasn't about the right or wrong of it, it was simply me doing what I had to do in order to protect some baby birds, birds that are being raised in nest boxes that I had built, put up, and kept a close eye on since before the eggs were even laid. Wrong? Ok, wrong. But the snake will soon be released, probably within the next 24 hours. He'll go right back to hunting for something to eat, and almost certainly baby birds will be part of his diet in the future. But it won't be these particular birds that I've been watching grow up in my backyard this spring.
And an added bonus is that this snake has given me a golden opportunity to help my granddaughter get past her recently developed dislike of black-snakes. Step carefully over the ball of snakes and see how this snake helped her get her old perspective back again. I won't waste your time with too many words trying to explain what's taking place in her mind. I think the expressions on her face say it much better than I could. Watch her apprehension and loathing melt away, and slowly change into fascination and delight.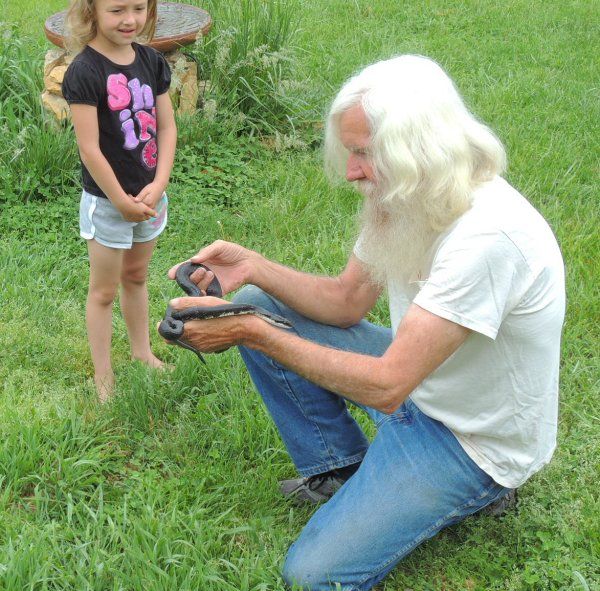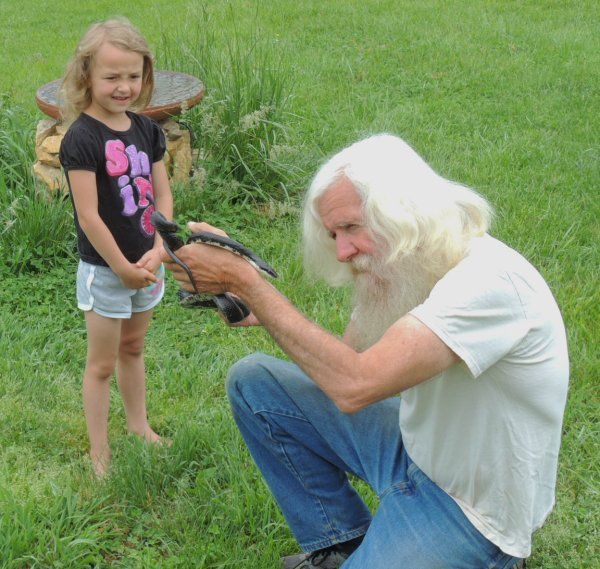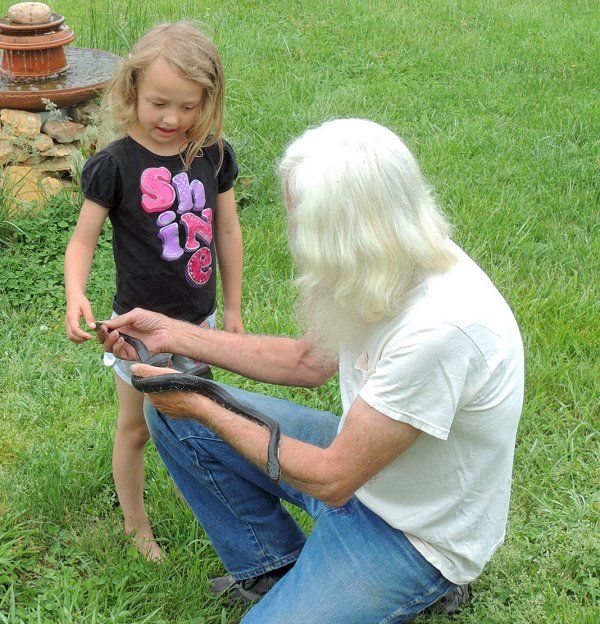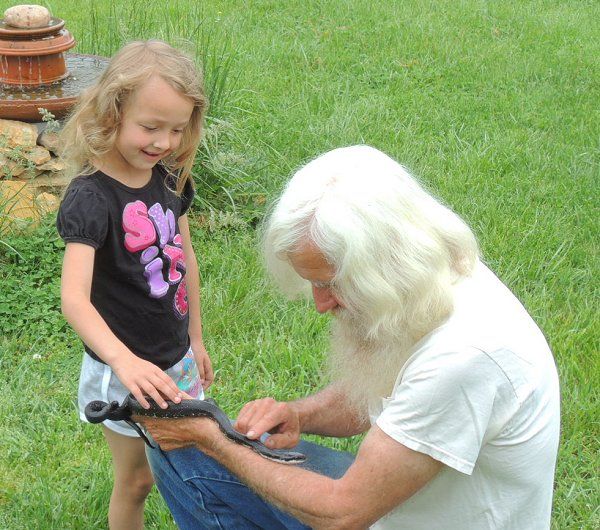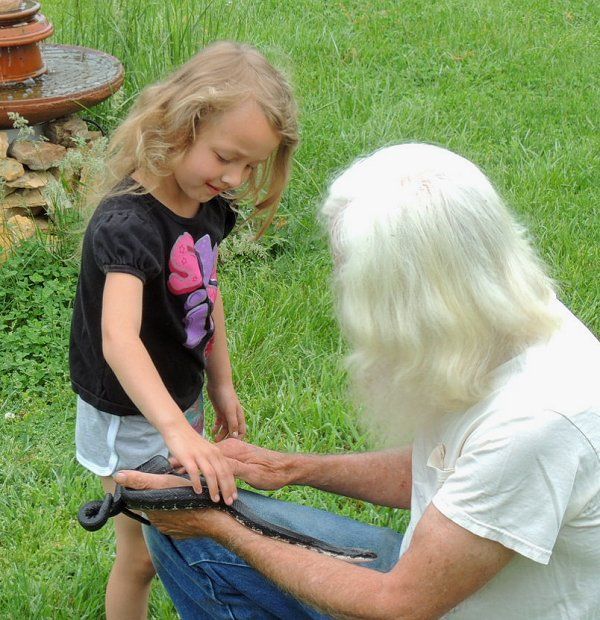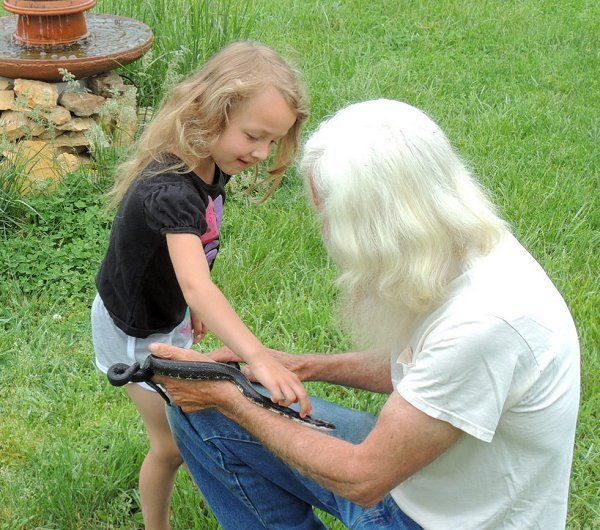 I thought that this next picture could use a short explanation. When the snake suddenly made a move in her direction it startled her for just a bit. I explained to her that he was just as curious about her as she was about him and he only wanted a closer look at her. She quickly accepted that explanation and was soon mesmerized by the beautiful creature once again.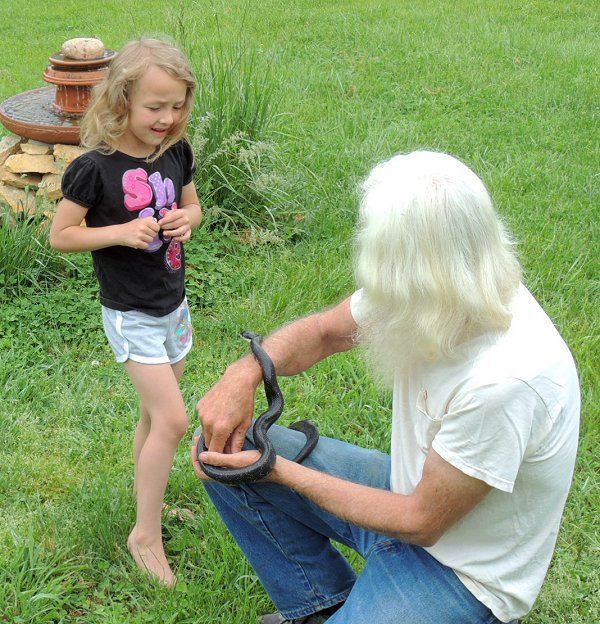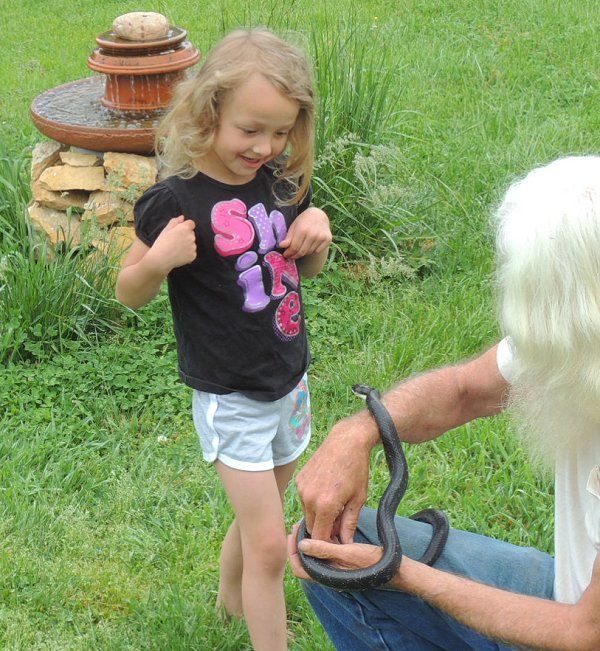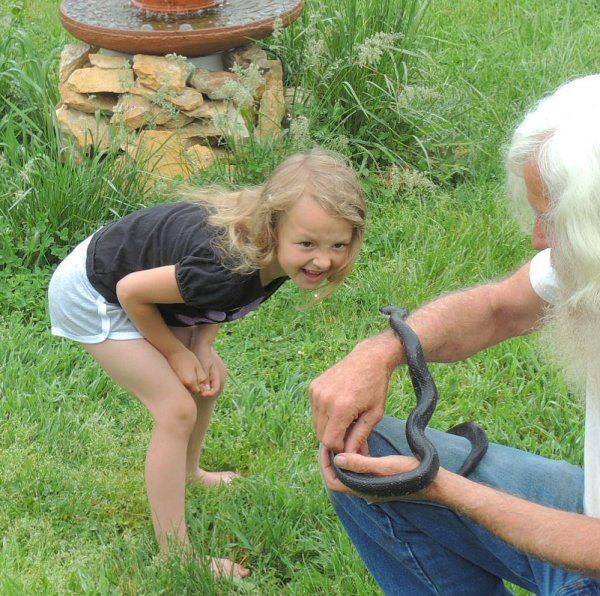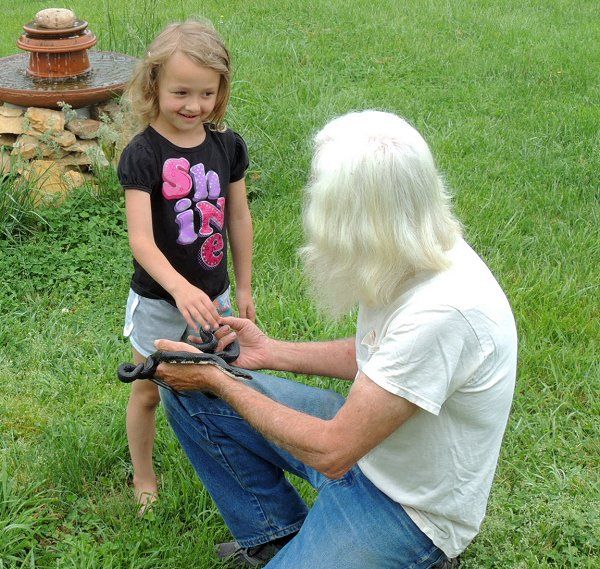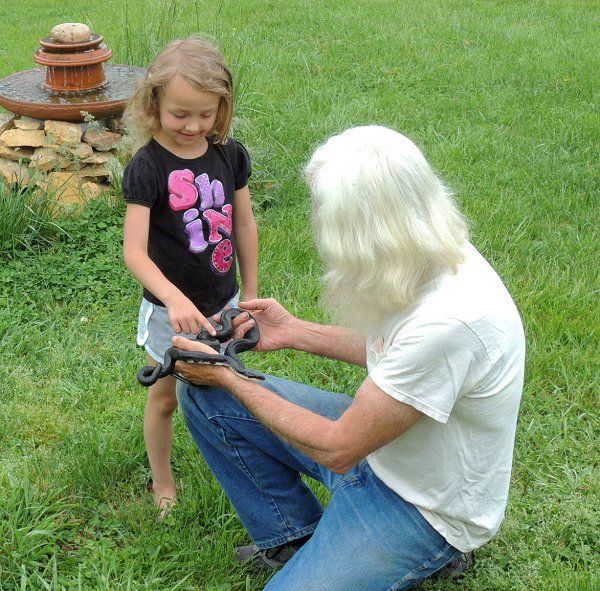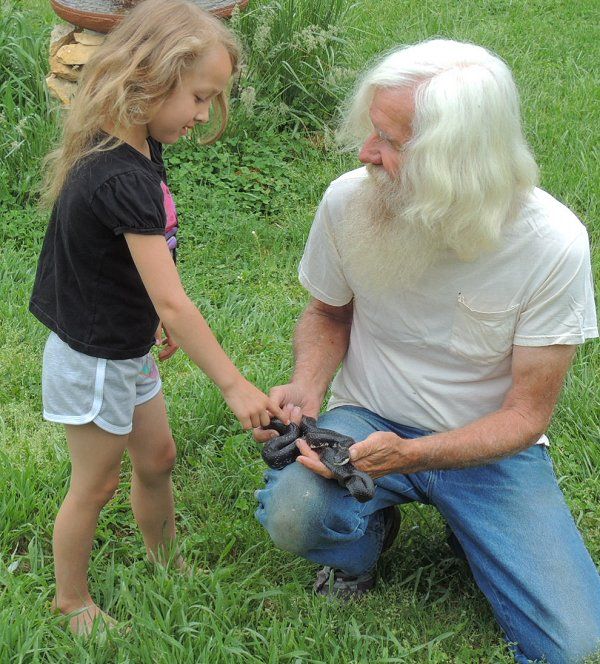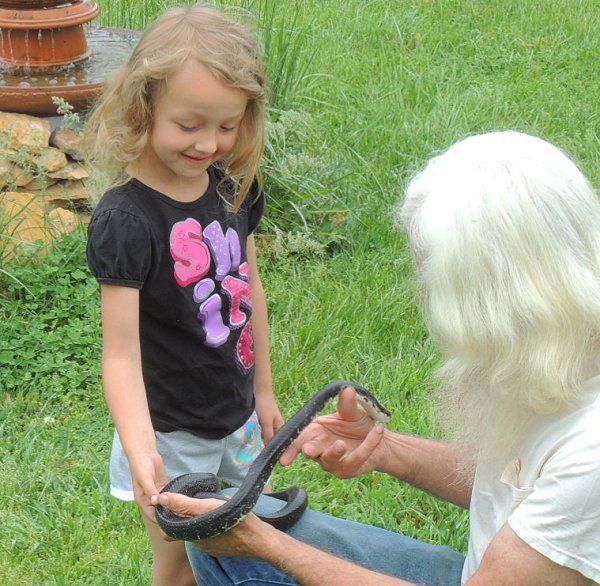 As much progress as she made in her attitude towards snakes since the chickadee incident, she still isn't quite ready to hold one herself. Not to worry though, I'll find a little Ringneck snake sometime this summer and she won't be able to resist it's charm.
All of my bucket observations are from the yard where I spent the day mowing, trimming, etc. Rose bushes are fast filling up with blooms now, iris's are nearly at their peak and some of the peonies are on the verge of opening. Still haven't seen any chats in the yard, no brown thrashers anywhere, and we still have a few pine siskins, after I mistakenly reported a few days ago that they had all finally gone home. I'm not sure how much I'll be around today, but will check in whenever I get the chance.