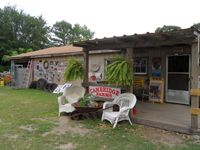 Last weekend we boarded the Zwoof Family Sports Truckster and headed to Cambridge Farms near Milton, Florida. We were greeted warmly by the folks there as well as quite the menagerie of critters, all of which had one thing in common. Their bodies contained no chemicals.
We were given a tour of the "Outlaw Farm" and saw many kinds of fruits and vegetables, all which had one thing in common- no chemicals.


We also saw a meeting going on.
Concerned area residents and Outlaw Farm Co-op members sat under a shade tree discussing the upcoming protest against Monsanto on May 25. These folks were planning a march in downtown Pensacola in coordination with world-wide demonstrations against the "Monsanto Protection Act" because it "effectively bars federal courts from being able to halt the sale or planting of controversial genetically modified (aka GMO) or genetically engineered (GE) seeds, no matter what health issues may arise concerning GMOs in the future".
Interestingly, the Monsanto Protection Act was originally entitled the Farmer Assurance Provision in the usual fashion of Republican semantic contortion, but is now known globally as what it is, a law protecting corporations that want to takeover the word's food chain.
This hideous piece of legislature was insidiously tucked into a bill signed by Obama "with little or no floor debate and in a period of turmoil for the Senate Appropriations Committee." Politico
Fortunately, the rider has come under fire, most recently by Sen. Jeff Merkley (D-OR), who announced he will introduce an amendment to the Senate version of the farm bill that would repeal the Monsanto Protection Act in its entirety.
As of Feb. 17, according to a link from Democratic Undergound, 27 countries have banned GMO's and 50 others require labeling.
If there is a march against Monsanto in you area, please attend. Here is a list of all demonstrations around the globe. Find your city and join in Occupy Monsanto.
If you cannot attend a rally, you can participate in an Online March Against Monsanto now through May 25.
For those in the Pensacola, here are the details.
March Against Monsanto Pensacola, FL (Plaza De Luna)
May 25 at 2:00pm
900 South Palafox St. Pensacola, Fl 32502
See you there.