Last year's general election to the House of Representatives saw Democrats win the popular vote yet only claim 201 seats to Republicans 234. While there is reason to believe that gerrymandering was the determinant factor for this split, the seat total provides us with an interesting data point that can be held up to a previous similar minority. In this diary, I take a look at the seat shifts between 1994 when we held 204 seats and today when we hold 201. Additionally, I'll take a look at our 1992 and 2009 majorities when we held the exact same number of districts at 258 at their peaks. Looking at these two maps, you'll get a strong indication of the regional trends over the last 20 or so years.
1994 to 2012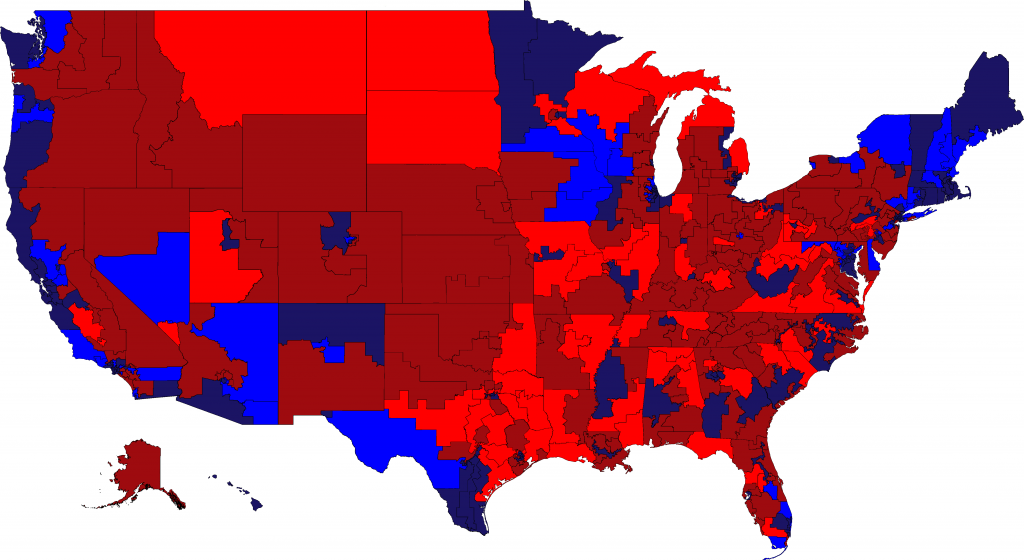 (click for full size)
Through a combination of a variety of factors such as retirements, redistricting and reapportionment, and changing underlying partisanship, the House districts saw a massive shift from the 104th Congress to the 113th despite Democrats holding a similar number of districts. In particular, you can see the utter wipe out Democrats suffered in the South and this was only exacerbated by switching from Democratic drawn maps to aggressive Republican gerrymanders. This is especially striking in the state of Texas which went from a 21D-9R split to a 12D-24R break down. In most of the states in the Deep South Democrats lost every single white majority seat they held, even ones that voted Democratic since Reconstruction such as Arkansas' 1st or Alabama's 5th. Democrats now just hold four white majority seats in the South (GA-12, NC-07, TN-05, WV-03) and only one in the Deep South.
That wasn't the only region where Democrats suffered large losses. The midwst in particular, aside from the Driftless Area where Minnesota, Wisconsin, and Iowa meet, saw Democrats lose a good number of seats. Unlike in the South where the underlying partisanship of the voters was to blame, the shift in the Midwest is largely attributable to gerrymandering as many of these states went from a more neutral map to a Republican gerrymander, such as Ohio and Michigan.
To make up for these large losses in the South and Midwest, demography and partisan shift saw us make very large gains in the West and Southwestern states, which was largely attributable to the gradual growth of the non-white electorate in those states, particularly thanks to Hispanics. This factor should continue to affect the region over the next several decades as the age distribution of whites is heavily skewed towards the elderly and the distribution of minorities is heavily skewed towards the young, relatively speaking. Another region, non-culturally Southern Florida, swung Democratic for this same reason as the Hispanic population in particular grew significantly and older Cuban voters phased out of the electorate to be replaced by younger Cubans who didn't have such staunch Republican foreign policy views.
Next, the Driftless area of the upper Midwest which has been trending Democratic at all levels for quite some time now swung to the Democrats, though I am not quite sure why this is so as the region is largely white and heavily rural.
The final region to see a large scale trend was the northeast, particularly New England and upstate New York, the first of which is entirely Democratic for basically the first time ever (along with 2009). Pennsylvania is the outlier here, but that is almost entirely due to gerrymandering as even formerly staunch Republican southeast Pennsylvania outside of Philadelphia has been swinging towards Democrats downballot.
Overall, what this changing House vote dynamic means is that the parties have become much more sorted out ideologically with conservative rural areas electing Republicans and center-left urban and suburban areas voting Democratic. As such, even though we hold a similar number of seats, our House minority is significantly more liberal than it was in 1995 and the Republican majority is significantly more conservative than it was that year, which is a very scary thought. The other result of these regional changes is that our caucus is significantly less white male than it was in 1995 thanks in large part to the extinction of dixiecrats and the rise of more minority heavy districts. Luckily for us though we've largely bottomed out in many of these states whether due to underlying trends in places such as the South or gerrymandering in states in the midwest, so it's unlikely that we can fall much further in those regions. Republicans though have much further to fall in California where I suspect that present day swing districts will become safely Democratic and currently red districts will become swingy over the next decade or two as the state grows less white.

(ignore the 2004 GA and TX lines, the net effect is the same)
Here we have the changes between our 103rd and 111th Congress majorities. I find it incredibly ironic that our majorities peaked at the same number of 258 both times, yet so much more was accomplished in the 111th Congress, such as Health Care reform, etc. In large part this is due to the same factors that drove the swings in the previous map; conservative Democrats were replaced by conservative Republicans and moderate Republicans by liberal Democrats, leading to a much more liberal Democratic majority.
We can still see some of the same regional trends, though they are somewhat less pronounced. The south still swung away from Democrats though three districts did indeed swing to us and are worth looking at in particular. Arkansas 4th was at the time a Democratic leaning district and we should have held it in 1992 but didn't. Alabama's 2nd saw an incredibly strong candidate eke out a plurality win in a massive Democratic wave year and North Carolina's 11th was a right leaning swing district that fell with the 2006 wave. Elsewhere though, Republicans made massive gains in the south, particularly in states like Texas which again, went from a Dem drawn map to a much more aggressive Republican gerrymander. Even so, Republicans made significant gains in states where redistricting played little role such as Oklahoma.
Democratic gains in the southwest are more pronounced here and somewhat obscured in the West. Democrats picked up seats in the regions which are close to the coast, but lost seats in the more inland heavily white seats in places such as eastern Washington and eastern California. The same factors that drove Democratic gains between 1994 and 2012 were of course at play in this same region. For comparison, Bill Clinton was the first Democrat to win California since 1964, but every Democrat has carried it easily since and the state is no longer winnable for Republicans at any level and Oregon and Washington are almost the same way.
What we don't see though is the same swing to Republicans in the Midwest. This is largely because the Democratic waves of 2006 and 2008 washed over those gerrymanders, particularly in states like Pennsylvania. You still see the same Democratic swing in the Driftless area, but other areas of the midwest such as southern Illinois and northern Missouri still swung Republican which should be unsurprising of heavily white rural areas. Additionally, you don't see the swing to Democrats in southeast Florida as much since our gains there were especially candidate driven in 2012 with Republicans nominating flawed ones, but also because the state is gaining seats due to reapportionment that allowed Democrats to gain more in the state.
Moving on we come to the Northeast where the swing towards Democrats was even more dramatic. Upstate New York in particular saw several seats fall to Democrats as did the remainder of New England when we took all the seats in the region for the first time since before the Civil War. Between our 1992 and 2009 majorities this region saw us gain a whopping 14 seats and lose none to Republicans. This region will form a heavy part of our next House majority as it will likely be very solidly Democratic and around a 4th of our whole caucus by the 2020s or 2030s.
Looking into the future, our next majority will almost certainly have to consist of districts with growing minority populations and those that are urban and suburban. In particular, we're likely to lose our remaining rural districts in the greater South such as GA-12, NC-07, and WV-03 and even IL-12, but if we're to regain the majority this decade we'll need urban districts such as Nebraska's 2nd, suburban districts such as Colorado's 6th, and rural northern districts such as New York's 19th, all of which are attainable when Republicans insist on pursuing the radical agenda that they recently have.