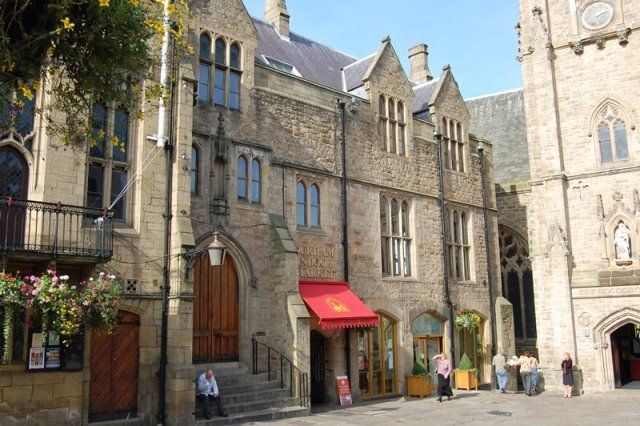 As I said earlier, life is politics – well, politics plus desire, anyway! This is illustrated by the existence of Durham Market Hall. In 1569, the Catholic barons of the North of England, abetted by some support from the South and East Anglia rebelled against 'their sovereign Queen Elizabeth', who, unlike her late sister and Queen before her, Mary, was a Protestant. This Revolt of the Northern Earls was an attempt to end Elizabeth's reign and replace her with her first cousin, once removed – Mary, Queen of Scots – who was to be married to the Catholic nobleman, the 4th Duke of Norfolk, and then placed on the throne; England was to be a Catholic nation, once again.
As you would imagine, Elizabeth reacted to this rebellion with the usual mix of threats, confiscations and military action. It wasn't as bad as her father Henry VIII had been when he suppressed the turbulent (and mostly Catholic) North whilst facing the triple Catholic rebellions of the Licolnshire Rising, the Pilgrimage of Grace and Bigod's Rebellion in the period 1536/7, but it was still pretty harsh. After all, the rebels had gone ahead and celebrated a large public Mass in Durham Cathedral in November, 1569, in defiance of the Protestant laws supported by Elizabeth, and that was something she could not let stand.
After forces loyal to Elizabeth had broken the rebellion, retribution followed. Over 750 noblemen, priests and others were executed. Thomas Percy, 6th Earl of Westmoreland, escaped to Scotland, was betrayed, captured and handed over to Elizabeth's supporters; he was beheaded. His co-conspirator, Thomas Percy, 7th Earl of Northumberland, fled to Flanders, and was stripped of his lands and houses – and this is where the story of Durham Indoor Market really begins!
One of the properties taken was the Neville's palace and gardens known as New Place, in the center of the ancient city of Durham. From Saxon times, there had been a busy market in Durham, with local farmers bringing their crops to market, and all kinds of wares being sold. This tradition carried on for hundreds of years, but as the city grew, more space was needed. The remains of New Place were bought from King James II in 1612 by Henry Smith's Charity, an organization that ran a charitable school, and then a workhouse, in the building until it became too dilapidated. Eventually, New Place, and part of the site was considered for a permanent indoor market. With the aim of re-organizing the whole local market system, the Durham Markets Act of 1851 was successfully moved through Parliament. New Place was demolished, and a handsome stone-built Victorian Market Hall erected on the site. Initially, the market was only held on Saturdays, with the end of trading – 11 pm – being signified by the ringing of a large bell! The market, at this time, also included the sale of cattle, sheep and horses at special fairs, as well as the traditional 'hiring fairs' of domestic servants, twice a year. With the passage of the Master and Servant Act of 1823, there was SOME protection from the worst excesses of servitude, but it was still open to abuse.
The Market Hall was completely refurbished in 1996, and trading from Monday through Saturday began. At least the refurbishment did not alter the lovely Victorian cast iron pillars and roof trusses, but did make the building more shopper-friendly, including disabled access, and a lift to the upper level. Around 60 traders offer local produce and goods, and you can buy anything from a mandolin ('Market Music', run by John Oxley), to a cat toy ('Garnham's Pet Supplies' – trading for over 60 years!). The delightful bistro, Café Cenno has lovely sandwiches, and offers free Wi-Fi to customers, something which is hard to come by in Durham. However, my favorite has to be 'Akins Family Bakers'; a local, family-run concern, that uses one and a half TONS of flour a week, they produce everything from cupcakes to multi-seeded bread. I can heartily recommend the Scotch Bap, made from a traditional bread recipe from over the Border; it takes 18 hours of fermentation for the dough to achieve that ambrosial taste – oh God, I'm starting to drool, again! If that isn't enough to make you like Akin's, it is what they do after the working day is done that makes them great. Any bread which remains unsold (and it is still fresher and more wholesome that the average 'supermarket white loaf') is offered to the public for 50 pence (around 60 cents). This means that the students from the nearby University and local seniors eat well. Not only that, but any remaining day-old bread – still very edible – is donated either to local food banks or directly to charities who work with the homeless! Long may 'Akins Family Bakers' prosper, I say.
Sometimes, outdoor entertainment by local history re-enactors, 'The Time Bandits', is provided, and the traditional Christmas Market is a sight to behold.The Durham Indoor Market is a classic Victorian building of its type, that also contains some really lovely people. Yet another reason to visit the beautiful city of Durham.
Bucket list, ladies and gentlemen! Bucket list!