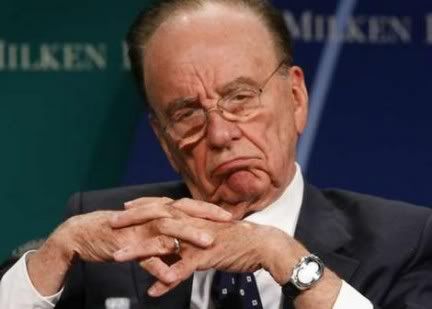 Rupert Murdoch is having a bad 4th of July. It seems that one of his own journalists taped a secret meeting held by Murdoch in the boardroom of his company's London headquarters this past March. During the meeting, between Murdoch and several of his journalist staff, the man who claimed to have been "humbled" just two years ago in his appearance before the British House of Commons Select Committee was anything but humble:
In the recording, apparently made in March during a meeting with journalists at Mr. Murdoch's tabloid The Sun, Mr. Murdoch is heard saying of the investigation: "It's a disgrace. Here we are, two years later, and the cops are totally incompetent."

"The idea that the cops then started coming after you, kick you out of bed, and your families, at 6 in the morning is unbelievable," he said, dismissing the investigation as "the biggest inquiry ever, over next to nothing."
This stands in stark contrast to the
crocodile tears
he shed in July, 2011:
"So, let me be clear in saying: invading people's privacy by listening to their voicemail is wrong. Paying police officers for information is wrong. They are inconsistent with our codes of conduct and neither has any place, in any part of the company I run.

"But saying sorry is not enough. Things must be put right. No excuses. This is why News International is co-operating fully with the police whose job it is to see that justice is done.
Scores of Murdoch's employees have been arrested in the police investigation of Britain's phone hacking scandal. On the tape, Murdoch makes it fairly clear that he doesn't care if they're convicted, he'll still "support" them (read: keep them on his payroll):
.

"I will do everything in my power to give you total support, even if you're convicted and get six months or whatever," he said.

"You're all innocent until proven guilty," he said. "What you're asking is: What happens if some of you are proven guilty? What afterward? I'm not allowed to promise you — I will promise you continued health support — but your jobs ... I've got to be careful what comes out — but, frankly, I won't say it, but just trust me."
The fact that the meeting was surreptitiously recorded and then leaked suggests not all of his journalists are particularly confident about Murdoch's assurances:
Some British media analysts suggested that the fact that Mr. Murdoch's remarks had been recorded and leaked — potentially turning tabloid eavesdropping tactics against the tycoon himself — showed that not all of the Sun journalists attending the March meeting had been satisfied by his assurance of support.
There's much more on the tape than just Murdoch's whining and promises. According to
BusinessDay
, he also admits his news organization had been bribing British police and public officials for news tips from the get-go:
According to the transcript, Mr Murdoch tells senior staff at The Sun that he was aware his journalists had been bribing police and public officials from the day he bought its sister paper, the News of the World, in 1969.

''We're talking about payments for news tips from cops: that's been going on a hundred years, absolutely. You didn't instigate it,'' Mr Murdoch is heard saying on the tape.
Again, from his Select Committee testimony:
Paying police officers for information is wrong. They are inconsistent with our codes of conduct and neither has any place, in any part of the company I run.
The tape was obtained by the British investigative website
Exaro News
which has already released a
transcript
, with a 13-minute audio clip now available (subscription). The
Guardian
weighed in today:
Rupert Murdoch's grovelling public apology over the phone-hacking scandal was, it pains us to disclose, not genuine. Those soft-focus advertisements, in which Rupert himself evinces his contrition, cannot be taken for good currency.
* * *
Murdoch can be heard cannily identifying with his employees' grievances and deflecting the blame for their sudden misfortunes (a situation for which the internet term "lol" seems to have been invented) on to everyone else: the lawyers, the government, whingeing lefties, and so on. This, in microcosm, is essentially what the Sun does to its readers.
Ouch.
Transcript excerpts Here.
There are excellent links in the comments and also in this Diary from ericlewis0 (which I missed).