Cross posted at Dirigo Blue
Paul LePage, the Governor of Maine, has a history of using false anecdotes to further his political agenda. He once claimed that a wind turbine on a University of Maine System campus that it has "an electric motor so that they can show people wind power works" when the wind is not blowing.
Gov. LePage also has a habit of sending late-night hand written notes to legislators - sometimes changing pens in the middle of them.
It appears that these two impulses have come together this past week.
This spring, a recruiter wrote to Maine's Department of Education and alleged that seven high schools had told military recruiters that they were not allowed to wear their uniforms on the campus of the schools. Outraged, the Governor submitted a bill in May (LD1503) that would "provide uniformed recruiters for the United States Armed Forces or the Maine National Guard the same access to secondary school students as other post-secondary and career recruiters."
Because the bill was a mandate, it required a two-thirds majority of each chamber of the Legislature to pass. It was passed unanimously by the Maine Senate, but fell short in the House.
The trouble is that there is no evidence that the seven schools denied access to uniformed military recruiters. In June, the Portland Press Herald reported that it could not verify the claim, and that two of the named schools flatly denied the accusation:

"We were very surprised that would be considered," Sanford Superintentdent David Theoharides said of the bill. "They're always allowed in here."

---

Steve Connolly, superintendent for RSU 60, which includes Noble High School in Berwick, said in an email interview that the school has no written policy on what recruiters can wear when visiting the school, and that they do visit in uniform.
The
PPH
reported yesterday that a third school also denied the accusation:
"I can understand when we get accused of something that we did, but when we didn't do it, and don't do it, that's pretty frustrating," [Yarmouth High School's Principal Ted Hall] said. "The accusation just isn't true."
Gov. LePage has been labeled a draft dodger by some, since he lived in Canada during the Vietnam War. In fact, his draft number was so high that there was almost no chance that he would be drafted. That said, he did not enlist, and after marrying his first wife, moved to New Brunswick to work for her father's lumber business.
After the Maine House failed to enact LD1503 on 9 July (by five votes, 96 to 42), LePage was outraged. He used his weekly address this past Saturday to blast those who voted no, saying:

I'd bet my life on the word of a recruiter over a superintendent any day of the week and twice on Sunday.
So it comes as no surprise to learn that Gov.
LePage sent handwritten notes chiding Democrats on recruitment bill
:
Since the Legislature rejected his proposal to ensure that military recruiters have access to high schools, Gov. Paul LePage has made it a major issue in Augusta -- even more than the lawmakers' override of his veto of the state's two-year budget. Last week, he followed up the heated rhetoric with handwritten notes apparently mailed to the homes of all the Democrats who opposed the bill.

Rep. Charles Priest, D-Brunswick, said he got his note Friday, at first thinking the small envelope from the governor's office was an invitation to some state event. But instead, inside he found a note from LePage that read:

"Wow! I have not seen or heard such disregard for our men and women in military since the Viet Nam era. I thought that mind set had long ago died off. Shameful behavior from the past showing its ugly head again," it read.

Priest, who won a Bronze Star in Vietnam, said the note left him somewhere between baffled and upset. "To say that I'm somehow not in favor of the military is absurd, given my background," Priest said.
Update:
Here is an example of one of the notes sent to Democratic legislators. This one to Rep. Brian Hubbell (D-Bar Harbor), co-chair of the Education Committee: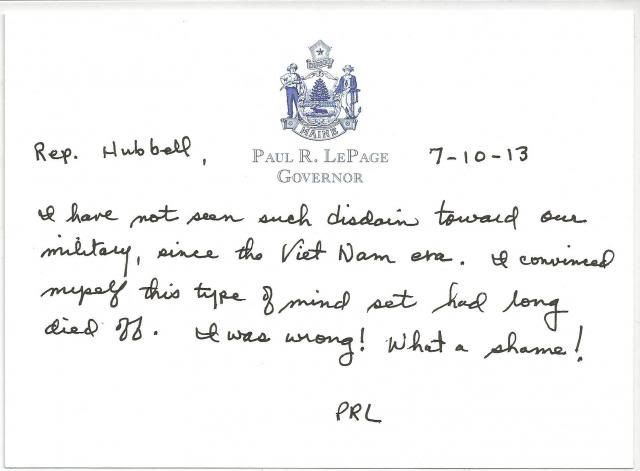 Why is it that those that chose to not wear our nation's uniform are the ones to speak about it so often and so loudly? Why is it that those that chose to not defend our nation's flag are the ones to speak about it so often and so loudly?