Every day is a new day and with that, a new opportunity.
EVERYONE is welcome and please join us each morning at 7:30 AM PACIFIC
to tell us what you're working on, share your show & tell, vent, whatever you want...
...this is an open thread. Nothing is off topic.
There are a lot of choices one must make in life: Democrat or Republican? Liberal or Conservative? DC or Marvel? Baked or Fried? Tom or Jerry?
However, none of those challenge us so much as the penultimate choice: Pirate or Ninja?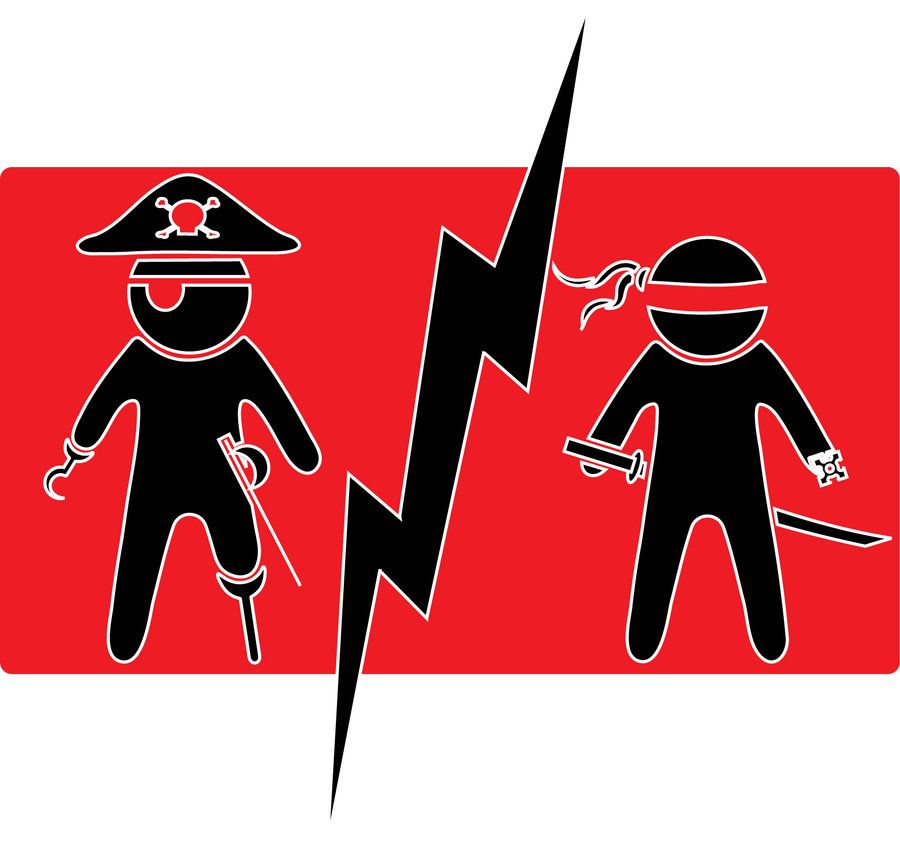 From the wiki (and yes, there's a wiki for this):
Pirates vs. Ninja is a comedic Internet and gaming meme regarding a theoretical conflict between archetypal Western pirates and Japanese ninjas, generally including arbitrary "debate" over which side would win in a fight. The meme is sometimes referred to as PvN and has a long history on the Internet. Humorist Jake Kalish writes (in the pro-ninja column) that the reason for the popularity of the meme is that "pirates and ninjas are both cool, but kind of opposite, see, because one is loud and the other ... never mind." Several competitive web sites and games based upon the ninjas vs. pirates theme appeared later, including Pirates vs. Ninjas Dodgeball.

Ninja supporters hold the position that a ninja would win over a pirate because of their superior mental and physical capabilities, as well as usage of belical gadgets such as nunchucks and shurikens. Those who support pirates argue that a pirate's use of both sword and gun would ensure their victory in battle. A real-life confrontation of European pirates with ninjas has never been recorded in history[citation needed], and there is little evidence to suggest that pirates and ninja ever had hostilities. The debate has accumulated a wide following in cyberculture nonetheless (or perhaps because of this). A wide array of YouTube videos, websites, and online debate forums can be linked to the pirate vs. ninja conflict.
I'm a ninja. Why?
BECAUSE BATMAN IS A NINJA.
What's good enough for The Bat is always good enough for me. Always Be Batman.
How about you?
(throws smoke bomb and disappears...)

Latest Updates on Kossack Regional Meet-Up News Below the New Day sunrise cloud
:: COMMUNITY BUILDING UPDATES ::
Let's build communities!

Every region needs a meatspace community like SFKossacks.
We take care of each other in real life.
I urge YOU to take the lead and organize one in your region.
Please tell us about it if you do and we're here for advice.
•
THINK GLOBALLY, ACT LOCALLY
>>>Instructions on
HOW TO FORM A NEW DAILY KOS GROUP
NEW GROUPS IN THE PROCESS OF ORGANIZING:


Send a Kosmail to the organizers and ask for an invitation to the group.

• Northern Indiana Area: Kosmail Tim Delaney

• Long Island: Kosmail grannycarol

• Northern Michigan: Kosmail JillS

• Nebraska: Kosmail Nebraska68847Dem

• Westburbia Chicago Kossacks: Kosmail Majordomo

• New York Hudson Valley Kossacks: Kosmail boran2

• North Carolina Triangle Kossacks: Kosmail highacidity

• Caprock Kossacks (Panhandle/Caprock/Lubbock/Amarillo area) : Kosmail shesaid

• West Texas Kossacks (including Big Bend Region and El Paso) : Kosmail Yo Bubba

Note to the above new leaders: Feel free to leave a comment any day reminding readers about your new group. Also, tell us about your progress in gathering members. Kosmail me when you've chosen a good name for your group and have created a the group. Then I'll move you to the NEW GROUPS LIST. When you've planned a date for your first event I'll make a banner for you to highlight your event in our diaries and your diaries.
These are the groups that have started since * NEW DAY * began. Please Kosmail navajo if you have started a group before that.
NEW GROUPS LIST:

• California Central Valley Kossacks - Formed: Jul 29, 2012, Organizer: tgypsy

• New England Kossacks - Formed: Aug 6, 2012, Organizers:
Clytemnestra for Lower New England (Conneticut, Massachusetts, Rhode Island)
nhox42 for Upper New England (Maine, New Hampshire, Vermont)

• Houston Area Kossacks - Formed: Aug 7, 2012, Organizer: Chrislove

• Kossacks in India - Formed: Aug 14, 2012, Organizer: chandu

• CenTex Kossacks - Formed: Sep 9, 2012, Organizer: papa monzano

• Central Ohio Kossacks - Formed: Sep 26, 2012, Organizer: VetGrl

• Kansas City Kossacks - Formed Oct 15, 2012, Organizer: [Founder stepped down]

• Phoenix Kossacks - Formed Oct 16, 2012, Organizer: arizonablue

• Chicago Kossacks - Formed: Oct 31, 2012, Organizer: figbash

• Koscadia the Pacific Northwest coast from Northern California to Alaska
- Formed Oct 17, 2012, Oganizer: Horace Boothroyd III based in Portland, OR

• Boston Kossacks - Formed: Nov 7, 2012, Organizer: GreyHawk

• Motor City Kossacks South East Michigan (Detroit) Area - Formed: Nov 10, 2012, Organizer: peregrine kate

• Pittsburgh Area Kossacks - Formed: Nov 12, 2012, Organizer: dweb8231

• Salt Lake City Kossacks - Formed: Nov 17, 2012, Organizer: War on Error

• Twin Cities Kossacks - Formed: Nov 17, 2012, Organizer: imonlylurking

• Dallas Kossacks North Texas - Formed: Nov 21, 2012, Admins: Catte Nappe and dalfireplug. Please contact them to join the group. An Event Organizer needed.

• The Southern California Inland Empire Kossacks - Formed: Dec 3, 2012, Organizer: SoCaliana

• Los Angeles Kossacks - Formed: Dec 17, 2012, Organizer: Dave in Northridge

• Northeast Ohio Kossacks - Formed: Jan 16, 2013, Organizer: GenXangster

• Kansas & Missouri Kossacks - Formed: Jan 17, 2013, Organizer: tmservo433

• I-77 Carolina Kossacks who live from Columbia, SC to north of Winston-Salem, NC. - Formed: Jan 30, 2013, Organizers: gulfgal98 and eeff

• Indianapolis Kossacks - Formed: Feb 6, 2013, Organizer: CityLightsLover

• Southwest Ohio Kossacks - Formed: May 10, 2013, Organizer: Dr Erich Bloodaxe RN

• Northern Arizona Kossacks - Formed: Jul 5, 2013, Organizer: Sam Sara
ESTABLISHED GROUPS LIST: (List will grow as we discover them)

• SFKossacks Founded by navajo, Formed: May 2, 2005

• Maryland Kos Founded by timmyc, Formed: Feb 23, 2011. Contact: JamieG from Md for a group invite.

• New York City Founded by Eddie C - Contact the group organizer for meet-up events: sidnora

• Baja Arizona Kossacks, Event Organizer: Azazello

• Three Star Kossacks Tennessee, Founded by maryKK, Formed: Apr 8, 2011

• Nashville KosKats, Founded by ZenTrainer Formed: Jan 30, 2012

• Virginia Kos Founded by JamieG from Md, Formed: May 3, 2011

• Kos Georgia Founded by pat208, Formed: Feb 13, 2011

• Colorado COmmunity Founded by Leftcandid, Formed: Feb 13, 2011

• New Mexico Kossaks Founded by claude

• Philly Kos Founded by mconvente Formed: Aug 29, 2011

• DKos Florida Founded by ThirstyGator, Formed: Feb 14, 2011, Currently organizing: Kosmail Vetwife to be included in next event.

• Oklahoma Roundup Founded by BigOkie, Formed: Feb 13, 2011, Currently organizing: Kosmail peacearena to be included.

• DKos Asheville Founded by davehouck, Formed: Feb 13, 2011 - Organizing Assist by: randallt
:: Events Currently on the Books for ALL Kossacks ::

Sunday, July 28th

New Mexico Kossacks Meet-up

TIME: 2:00 PM
LOCATION: Kelly's Brew Pub
3222 Central SE • Albuquerque

ORGANIZER: Send claude a kosmail to attend.

RSVPs:
1. claude
2. Dallasdoc
3. Land of Enchantment
4. jnhobbs
5. emobile
6. fbihop
7. divineorder
8. Jakkalbessie
9. native

Maybees:
Wendy's Wink
jan4insight
congenitalefty
native's BIL


Latest diary: New Mexico Kossaks meet-up!


Sunday, August 4th

SFKossacks Meet BeadLady and the Okiciyap Quilt!

TIME: 1:00 PM
LOCATION: Saul's Restaurant & Delicatessen
1475 Shattuck Ave (at Vine) • Berkeley

ORGANIZER: Send navajo a kosmail to attend.

RSVPs:
1. BeadLady
2. navajo
3. Catilinus
4. dharmasyd
5. norm
6. Lorikeet

Maybees:

Sunday, August 4th

NYC Kossacks Meet-up

TIME: Noon
LOCATION: Spitzer's Corner
101 Rivington Street (Ludlow) • NYC

ORGANIZER: Send Sidnora a kosmail to RSVP.

RSVPs:
1. joanbrooker
2. mconvente
3. belinda ridgewood
4. Yasuragi
5. sidnora
6. Its the Supreme Court Stupid
7. blue jersey mom
8. kathny
9. ask
10. rubyr
11. plf515
12. thankgodforairamerica
13. No Exit
14. gchaucer2

15. MBNYC
16. andgarden

Maybees:
Ollie Garkey
Ian Reifowitz
wader
nyceve
aoeu


Latest diary: NYC Meetup 8/4: Beat the Dog Days!

Saturday, November 2nd

SFKossacks BBQ in the Wine Country

TIME: TBD
LOCATION: Andrew McGuire's home in the Wine Country
Address to be given privately to RSVPs • Windsor

ORGANIZER: Send navajo a kosmail to attend.


Andrew McGuire is Executive Director of California One Care

RSVPs:
1. Andrew McGuire
2. navajo
3. Shockwave
4. Hunter
5. elfing
6. Hunter/elfling offspring
7. smileycreek
8. paradise50
9. dharmasyd
10. maggiejean
11. norm
12. Lusty
13. dksbook
14. Mr. dksbook

15. kimoconnor
16. jpmassar
17. side pocket
18. Mrs. side pocket

Maybees:
Glen The Plumber
remembrance
TLO™

Send navajo a kosmail if you post a diary about an event so we can update our round-up.

Okay. Floor's open.
Tell us what you are doing on this NEW DAY?