Every day is a new day and with that, a new opportunity.
EVERYONE is welcome and please join us each morning at 7:30 AM PACIFIC
to tell us what you're working on, share your show & tell, vent, whatever you want...
...this is an open thread. Nothing is off topic.
Boujou!
Last Friday, August 9th, was the UN's International Day of the World's Indigenous Peoples.
The first such day was proclaimed by the UN General Assembly in December, 1994, to be observed the following year and each year thereafter for the International Decade of the World's Indigenous People, from 1995 to 2004. In 2004, the General Assembly proclaimed the coming ten years, 2005 to 2014, the Second International Decade of the World's Indigenous People, with "A Decade for Action and Dignity" as its overarching theme. This year's focus was "Indigenous peoples building alliances: Honouring treaties, agreements and other constructive arrangements."
This year's observance included special events, such as a public programme at UN Headquarters in New York City that was Webcast live. According to promotional materials, participants included "the UN Secretary-General, the Chairperson of the UN Permanent Forum on Indigenous Issues, a delegate of Panama, a representative of the Office of the UN High Commissioner of Human Rights, and an indigenous representative."
That same day, members of the UN Permanent Forum on Indigenous Issues were slated to meet the Dakota Unity Ride, a group of Canadian First Nations riders on horseback, and a collection of rowers from Two-Row Wampum, a gropu whose name refers to the first North American Treaty between American Indians (the Haudenosaunee) and European immigrants. Both groups made the lengthy trip to New York City to raise awareness of Native issues, with a particular emphasis on the need to honor the treaties; preserve sovereignty; and protect sacred lands, sites, and the environment.


BIA PLANS MASSIVE LAND BUYBACK ON BEHALF OF CERTAIN TRIBES
From Azazello comes this entry from the "what could possibly go wrong" files . . . .
The Bureau of Incompetence and Arrogance Indian Affairs [BIA] strikes again: Its leadership has hatched a plot to "make amends" for its abysmal track record in the management of Indian lands and assets by staging a massive land "buyback" on behalf of the tribes.
Or, rather, on behalf of certain tribes. Other tribes remain out of luck.
And the land isn't on the market, actually. It may never be put up for sale.
But to Kevin Washburn (Chickasaw), Assistant Secretary of the Interior for Indian Affairs and BIA titular head, facts are not impediments to the scheme:
"We can improve Indian Country if people will go along with this program and sell their interests back to their tribes."
Well, Mr. Washburn, that's a mighty big "if" ya got there.

The plan is rooted in a congressional authorization arising out of the Cobell Indian trust litigation. And, as usual once Congress gets involved in anything affecting Indians, it is by all appearances precisely the sort of ill-conceived plot for which the word "scheme" was invented.

The basic concept is this: After 126 years of direct government negligence, malfeasance, and abetting of private theft, too much of what should be tribal land is in private hands, and it prevents tribal nations from pursuing development projects or negotiating leases and rights agreements in any significant way. To remedy the problem, the BIA proposes to spend $1.9 billion over the next decade pursuing buybacks of lands that are now privately owned. Pilot projects are set to launch in Montana, South Dakota, and Washington as early as late 2013.
Yet even though the government doesn't expect to make its first purchase offer until the end of the year, critics already predict the worst. They fear too many tribes will be overlooked in the buying spree and that many private landowners will get bullied into sales.

In California, which has more federally recognized tribes than any other state, only one tribe stands to be among the top 40 beneficiaries.

"There's no love for California Indian Country," said Gabriel Galanda, a Seattle lawyer and a member of the Round Valley Indian Tribes of Mendocino County, Calif. He called the program "a disaster" in the making.

When tribal leaders met with government officials in Seattle, Chief James Allan of Idaho's Coeur d'Alene Tribe complained that 45 percent of the money will go to just seven tribes.

"We're all going to be fighting for scraps," he said.
Did I mention that the lands slated for "buyback" are privately owned by Indians?
"This is a modern day retaking of the land and, given the historical implications of that, they don't want to relive it," Les Riding-In, assistant dean and director of graduate studies at the University of Texas-Arlington and a member of the Comanche Tribe, said in an interview. "It's reminiscent of how the government took the land back when colonization was happening."

Riding-In said his family has decided not to sell its land in Oklahoma because the property represents a link to the past and 'something that's of value to us as an identity issue."

He predicted that federal authorities will encounter resistance from many tribal members likely to be suspicious of any offers coming from Washington.

"It's just a huge undertaking," Riding-In said. "The trust factor is not high enough for most people to give up what they have."
Some tribal leaders do seem to be on board. Others (probably most) are skeptical, to say the least.
"Give us the funding and we will administer our own buyback program," said A. Gay Kingman, executive director of the Great Plains Tribal Chairman's Association in Rapid City, S.D., a group of leaders from 16 tribes in the Dakotas and Nebraska.
Kevin Washburn isn't doing his cause any favors, frankly. His efforts at persuasion at the recent meeting in Seattle read like a pathetic combination of wheedling, whining, and hectoring:

Washburn told tribal leaders in Seattle that they should try to overcome emotional attachments to the land by arguing that it's "patriotic" for tribes to restore their homelands.

He told them it would be a daunting task to spend the money wisely but that his dream is to show Congress within five years that the effort has been successful.
"Patriotic?" Really, Mr. Washburn?

Well, as is to be expected with government-to-tribal relations, the bureaucracy is already well provided for, and indeed, official "acquisition centers" have already been set up in Montana, South Dakota, and New Mexico. Wait — New Mexico? But that's not part of the pilot program. What happened to Washington State?

And although the acquisition centers are not yet staffed, hiring is also commencing. After all, the government gets to use 15% of that much-vaunted $1.9 billion — in other words, $285 million — purely for administrative costs. Like staff salaries.

Can't imagine why tribal members might think it's just another colonialist land grab.


CABINET SECRETARIES DUNCAN, JEWELL SPEAK AT
NATIVE AMERICAN EDUCATION CONFERENCE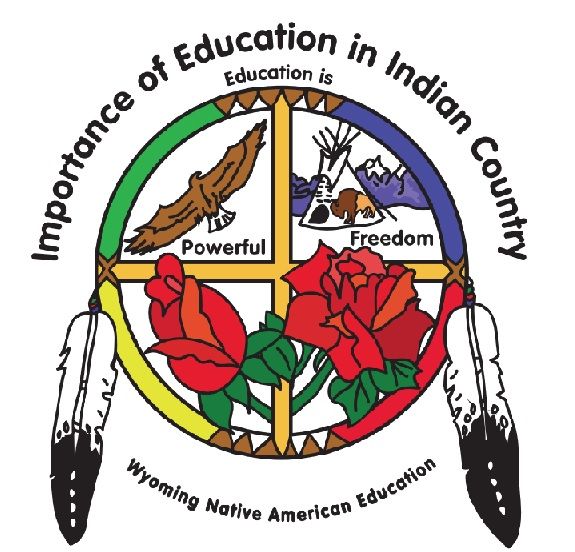 U.S. Education Secretary Arne Duncan and U.S. Interior Secretary Sally Jewell were two of the featured speakers at last week's Native American Education Conference, held at Wyoming College in Riverton, Wyoming.
The conference, launched three years ago by the Wyoming Tribal Children's Triad, has become an annual event. The Triad itself was launched in 2008, as a three-way partnership between the Arapaho Nation, the Eastern Shoshone Nation, and the Wyoming Department of Education. According to the project's Web site:
The purpose of the Triad is to build partnerships between school districts, community programs and governments. The partnerships focus on overcoming challenges and developing community based solutions to dilemmas facing Native American students in Wyoming. The first goals of the Triad initiative were improving daily school attendance, ensuring 100% of Native American school aged children were enrolled in school and enhance citizenship/decrease discipline of students in school.
Secretaries Duncan and Jewell were slated to appear on Thursday, the conference's second day. Rather than scheduling them to speak at attendees from a podium, conference organizers arranged for them to participate in a moderated round-table discussion with other panelists, and to take questions from the audience.

Lead conference organizer Keja Whiteman expressed hope that Interior Secretary Jewell, who oversees the Bureau of Indian Affairs [BIA], would address a number of interrelated issues of import to the tribes:
"There is such a strong link between the BIA and the daily life of students," Whiteman said. "They are important in law enforcement, economic development, land management, water — so many daily things."

The BIA is frequently criticized on many reservations around the country, not least on the Wind River, where problems have arisen with Bureau of Indian Education payments to St. Stephens Indian School and with the management of the Washakie Reservoir for the benefit of irrigating farmers and ranchers. But Whiteman says she hopes Jewell's visit will be about more than grievances.

"I hope we take the time to talk about solutions," Whiteman said. "There is an interaction with all of the tribal programs. This is an opportunity."
Previous conferences have attracted audiences of up to 400, comprising both educators and members of Native communities. This year's program included new sessions for high school juniors and seniors on preparation for college and/or careers, and was expected to include representatives from at least seven area institutions of higher education.

The program also included breakout sessions geared specifically toward the needs of American Indian students and tribal educators. Examples included the role of Indian parents in their children's education; health issues that affect Native students; and "the effects of historical trauma and 'intergenerational post-colonial stress.'"

It would be useful to have had both Secretaries attend all three of those breakout sessions, but especially the last one. Perhaps the conference organizers can forward the materials it generates to Duncan and Jewell, and perhaps their boss could insist that they review them and internalize the lessons.


More "This Week In American Indian News" and Latest Updates on Kossack Regional Meet-Up News Below the Frybead Thingey
IDAHO STATE HISTORICAL SOCIETY RECEIVES GRANT TO STUDY
SHOSHONE MASSACRE SITE
From hulibow comes this news:
The National Park Service's American Battlefield Protection Program has awarded a $55,567 grant to the Idaho State Historical Society to study the site of the Bear River Massacre [or the Massacre at Boa Ogoi, as "Bear River" is known in the Shoshone language].
As I wrote two months ago in a piece about the traditional burial by the Northwestern Band of the Shoshone Nation of the remains of four of their ancestors who were slaughtered in the massacre:
The Bear River Massacre was one of the most brutal attacks on Indians in U.S. history. On January 29, 1863, U.S. Army Colonel Patrick Edward Connor led a force of some 200 members of the 3rd California Volunteers regiment in a vicious sneak attack on the Shoshone winter camp. They slaughtered more than 300 Indians, including some 90 women and children — but not before raping the women. They also stole the Indians' horses and other property, and set fire to the encampment, including the homes. [Note: Some Shoshone dispute the numbers, which come from white sources, putting the death count near 500. All agree on one thing, though: It was the single largest recorded loss of Indian life in one day at the hands of non-Indians.]
Idaho State archaeologist Dr. Ken Reid has outlined very specific goals for the project:
"What I want to find is the footprint of the 68 Shoshone winter lodges," said Dr. Reid. "That's where most of the fighting and most of the killing occurred."
The team also hopes to find battlefield debris such musket balls and other metal artifacts.
. . .
This year Idaho is marking the 150th anniversary of becoming a territory in 1863. Dr. Reid says the historical society chose the Bear River project because the massacre happened that same year and because of its historic importance.
"In terms of long-term intercultural relationships, nothing compares to what happened at Bear River," said Reid.
Reid has said publicly that the team is committed to working with the tribe.

However, in the context of this sort of endeavor, "working with" should also include an approach that does not begin with a whitewash. And on that front, Reid's own words are not especially encouraging:
"It started out as a battle, and it ended up as a massacre, essentially, is what happened," said Dr. Reid.
Which, of course, is flatly untrue. It was an sneak attack, an ambush, and massacred was the intended goal. It's disturbing to learn that the state's chief archaeologist insists on such a distorted view of history, and more disturbing still to learn that he will be heading up the project. Then again, even the site's interpretive sign bears the heading "A Battle Becomes a Massacre" [see Slide #1 at the link].

Meanwhile, all but 26 acres of the land itself, sacred to the Shoshone, remains stolen, in the hands of invaders rather than the descendants of those slaughtered there.
Tribal Chairman Jason Walker says the tribe someday hopes to buy the land from the private owners and make it a memorial for their fallen.
It's unclear whether the current owners would even be interested in selling. If they are, however, it seems to me that the Shoshone's reclaiming of their land would be a good project for future grant funding — as well as for crowdfunding and other financing techniques.

POLITICAL AND MEDIA ALLIES WAGE WAR OF ATTRITION
AGAINST USERS OF RACIST MASCOTS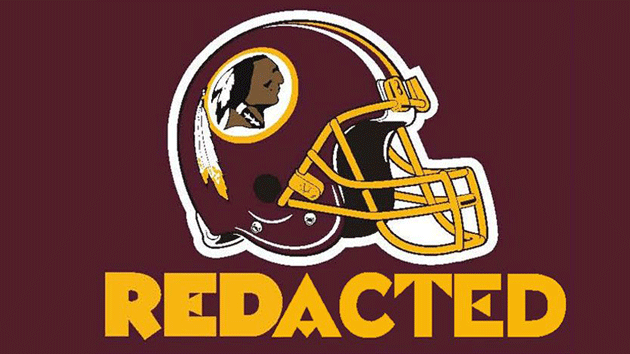 American Indians who object to the use of racist mascots in sports at all levels are gaining some allies in politics and the media.
First up is Oregon Governor John Kitzhaber (D). Oregon is one of the current battlegrounds in the effort to rid schools and sports of racist Native-themed mascots. Earlier this year, the state imposed a blanket ban on all such mascots, names, and associated imagery, requiring that schools convert to non-Native themes by July, 2017. Predictably, politicians objected, and Republican state senator Jeff Kruse introduced Senate Bill 215, which would provide an exception by allowing schools to enter into agreements with tribes to retain such names and imagery. Kitzhaber threatened a veto at the time, which Kruse implied "would injure the working relationship between the state and the Oregon tribes that support the bill." Which, of course, assumes that any tribes actually support the bill over the ban, which is unlikely. Last Wednesday, Kitzhaber announced his intent to make good on his pledge, on grounds that the bill provides exceptions that are too broad.
Next is a group of ten members of Congress: On May 13, these principled pols sent a letter to Daniel Snyder, the owner of Washington's NFL team with the famously racist name, urging him to change it. They followed up with similar letters to NFL Commissioner Roger Goodell; the owners of the other 31 NFL teams; and Frederick Smith, President and CEO of team sponsor FedEx. The letter included the following admonitions:
"Native Americans throughout the country consider the R-word a racial, derogatory slur akin to the N-word among African Americans or the W-word among Latinos. Such offensive epithets would no doubt draw widespread disapproval among the NFL's fan base. Yet the national coverage of Washington's NFL football team profits from a term that is equally disparaging to Native Americans."
. . .
"In this day and age, it is imperative that you uphold your moral responsibility to disavow the usage of racial slurs."
Signatories were Congressional Native American Caucus chairs Tom Cole (R-OK) and Betty McCollum (D-MN); state representatives Donna M. Christensen (D-VA), Raúl M. Grijalva (D-AZ), Michael M. Honda (D-CA), Barbara Lee (D-CA), Zoe Lofgren (D-CA), and Gwen Moore (D-WI); District of Columbia delegate Eleanor Holmes Norton (D-DC); and At-Large District delegate Eni F.H. Faleomavaega (D-American Samoa).

Interestingly, there's one thing all ten have in common: All are members of populations that have traditionally been subject to discrimination. Six of the ten are women; nine of the ten (including all four men) are people of color (Zoe Lofgren is the exception).

Finally — and in the long term, perhaps most importantly — are members of the major corporate media. In the last week, three new media outlets have joined four other trailblazing publications and reporters in henceforth refusing to use the word "Redskins" when referring to Washington's NFL team.

As nearly as I can tell, the first media outlet to reach this decision was The Kansas City Star. On October, 1 2012, the Washington City Paper announced that it was following the Star's lead; eight days later, it offered readers a chance to vote on what the team's new name should be. in February of this year, it was joined by fellow Beltway publication dcist.

A leader among the reporters in this movement appears to be Tim Graham, a sportswriter for The Buffalo News who used to be an ESPN blogger. In a June 10, 2013 piece entitled "I don't need Daniel Snyder's, NFL's permission to stop saying R-word," Graham wrote:
And that's the problem with uttering a racial slur so cavalierly over the years: We don't think about the R-word's meaning anymore.

We must not take for granted anything so harmful to other people.

There are folks who'll see this and instinctively moan about political correctness and bleeding-heart liberalism or the loss of old-school traditions.

And a vast majority of those readers will be white men. Almost none of them will be Native Americans.

We don't get to decide what's offensive. The people about whom we speak do.
As of last week, three more outlets have joined the parade. All are considered "liberal" by Beltway standards, but all are also thoroughly Establishment: Slate, The New Republic, and Mother Jones. For the record, I like the approach Mother Jones has hinted it might take:
From here on out, we will refer to the team online and in print as "Washington" or "Washington's pro football team" or, if we get sassy, "the Washington [Redacted]."
"The Washington [Redacted]" kind of says it all.

SONIC RESTAURANTS ENTER INTO FRANCHISE AGREEMENT
WITH WYANDOTTE NATION
I know I complain a lot about the evils of fast food and what the modern diet of the dominant culture has done to our peoples. But the fact of the matter is that fast food is, at least for the foreseeable future, here to stay. And as long as modern life makes it a primary go-to option, then it's nice to see our peoples have some new options — ones that include not only better tasting, better prepared foods, but jobs, economic development, and even additional political influence.
So how do each of those goals tie into fast food? Enter Sonic Restaurants, the retro drive-in joints with the '50's-style automated call boxes, the wait staff on wheels, and the real vanilla Cokes. Sonic has announced its first-ever partnership with an Indian nation, entering into a franchise agreement with the Wyandotte Nation of Oklahoma.
According to the official press release, the first restaurant will be located in Seneca, Missouri, and is scheduled to open for business sometime this fall. Both parties appear to be enthused by the project.
"We have looked at several concepts. What eventually brought us to Sonic was the opportunity to become part of a very recognizable brand," said Kelly Carpino, CEO of the Wyandotte Tribe of Oklahoma. "The effectiveness of Sonic's media and promotional strategy along with an amazing product line drew our attention to the franchise. The decision was solidified by Sonic's new small building prototype that is a perfect fit for smaller, secondary markets."
For its part, Sonic appears to have been attracted in part by the tribe's expansion into various businesses and economic development projects. It also didn't hurt that both parties are rooted in the Oklahoma soil:
"The Wyandotte Nation brings an appetite and acumen for operating businesses with high consumer appeal that create new jobs and stimulate business growth. They know the community desires the Sonic experience, and with our unit economics, Sonic is the perfect business opportunity," said Cliff Hudson, chairman, CEO and president of Sonic Corp. "We also feel a personal connection because both Sonic and the Wyandotte Nation have their roots in Oklahoma. Native American tribes represent a very important part of our community here in the heartland, a significant business driver in our region and a contributor to economic activity and job creation nationwide."
So what did I mean about political influence? Just this: Remember the "Buy Blue" campaign a few years back, urging Democrats to use their dollars to support businesses that gave to Democratic candidates and liberal causes? Well, one of those businesses — with a near-100% rate of donations to Democrats — is Sonic.

So next time you want a vanilla Coke, consider getting it from a liberal drive-through that supports Native development.


"RAMP IT UP" SHOWCASES NATIVE AMERICAN SKATEBOARDING CULTURE
The Tulalip Tribes are hosting a new exhibit at their Hibulb Cultural Center and Natural History Preserve highlighting a popular but relatively little-known subculture among American Indian youth — skateboarding.
Ramp It Up: Skateboard Culture in Native America the Center's latest temporary exhibition, is a project of the Smithsonian's National Museum of the American Indian [NMAI] and the Smithsonian Institution Traveling Exhibition Service [SITES].
"Ramp It Up" examines the role of indigenous peoples in skateboarding culture, its roots in ancient Hawaiian surfing and the visionary acheivements [sic] of contemporary Native skaters. Skateboarding combines demanding physical exertion, design, graphic art, filmmaking and music to produce a unique and dynamic culture while illustrating how indigenous people and tribal communities have used skateboarding to express themselves and educate their youth.
The exhibit will also feature artwork in Salish designs from local Tulalip tribal members, as well as the work of Native artists from other tribes, drawing from a spectrum that includes graphic arts, music, and multimedia.
Exhibition highlights include a never-before-exhibited 1969 image, taken by skateboarding icon C.R. Stecyk III, of a skate deck depicting traditional Native imagery, and 1973 home-movie footage of Zephyr surf team members Ricky and Jimmy Tavarez of the Gabrielino/Tongva Tribe.
. . .
The exhibition features the work of visual artists Bunky Echo-Hawk of the Yakama and Pawnee, Joe Yazzie of the Navajo, Traci Rabbit of the Cherokee Nation of Oklahoma, and Dustinn Craig of the White Mountain Apache and Navajo, and highlights young Native skaters such as 22-year-old Bryant Chapo of the Navajo, and 13-year-old Augustin and 10-year-old Armondo Lerma of the Agua Caliente Band of Cahuilla Indians.
"Ramp It Up" runs at the Hibulb from August 10th through October 13, 2013.


Chi miigwech.

:: COMMUNITY BUILDING UPDATES ::
Let's build communities!

Every region needs a meatspace community like SFKossacks.
We take care of each other in real life.
I urge YOU to take the lead and organize one in your region.
Please tell us about it if you do and we're here for advice.
•
THINK GLOBALLY, ACT LOCALLY
>>>Instructions on
HOW TO FORM A NEW DAILY KOS GROUP
NEW GROUPS IN THE PROCESS OF ORGANIZING:


Send a Kosmail to the organizers and ask for an invitation to the group.

• Northern Indiana Area: Kosmail Tim Delaney

• Long Island: Kosmail grannycarol

• Northern Michigan: Kosmail JillS

• Nebraska: Kosmail Nebraska68847Dem

• Westburbia Chicago Kossacks: Kosmail Majordomo

• New York Hudson Valley Kossacks: Kosmail boran2

• North Carolina Triangle Kossacks: Kosmail highacidity

• Caprock Kossacks (Panhandle/Caprock/Lubbock/Amarillo area) : Kosmail shesaid

• West Texas Kossacks (including Big Bend Region and El Paso) : Kosmail Yo Bubba

Note to the above new leaders: Feel free to leave a comment any day reminding readers about your new group. Also, tell us about your progress in gathering members. Kosmail me when you've chosen a good name for your group and have created a the group. Then I'll move you to the NEW GROUPS LIST. When you've planned a date for your first event I'll make a banner for you to highlight your event in our diaries and your diaries.
These are the groups that have started since * NEW DAY * began. Please Kosmail navajo if you have started a group before that.
NEW GROUPS LIST:

• California Central Valley Kossacks - Formed: Jul 29, 2012, Organizer: tgypsy

• New England Kossacks - Formed: Aug 6, 2012, Organizers:
Clytemnestra for Lower New England (Conneticut, Massachusetts, Rhode Island)
nhox42 for Upper New England (Maine, New Hampshire, Vermont)

• Houston Area Kossacks - Formed: Aug 7, 2012, Organizer: Chrislove

• Kossacks in India - Formed: Aug 14, 2012, Organizer: chandu

• CenTex Kossacks - Formed: Sep 9, 2012, Organizer: papa monzano

• Central Ohio Kossacks - Formed: Sep 26, 2012, Organizer: VetGrl

• Kansas City Kossacks - Formed Oct 15, 2012, Organizer: [Founder stepped down]

• Phoenix Kossacks - Formed Oct 16, 2012, Organizer: arizonablue

• Chicago Kossacks - Formed: Oct 31, 2012, Organizer: figbash

• Koscadia the Pacific Northwest coast from Northern California to Alaska
- Formed Oct 17, 2012, Oganizer: Horace Boothroyd III based in Portland, OR

• Boston Kossacks - Formed: Nov 7, 2012, Organizer: GreyHawk

• Motor City Kossacks South East Michigan (Detroit) Area - Formed: Nov 10, 2012, Organizer: peregrine kate

• Pittsburgh Area Kossacks - Formed: Nov 12, 2012, Organizer: dweb8231

• Salt Lake City Kossacks - Formed: Nov 17, 2012, Organizer: War on Error

• Twin Cities Kossacks - Formed: Nov 17, 2012, Organizer: imonlylurking

• Dallas Kossacks North Texas - Formed: Nov 21, 2012, Admins: Catte Nappe and dalfireplug. Please contact them to join the group. An Event Organizer needed.

• The Southern California Inland Empire Kossacks - Formed: Dec 3, 2012, Organizer: SoCaliana

• Los Angeles Kossacks - Formed: Dec 17, 2012, Organizer: Dave in Northridge

• Northeast Ohio Kossacks - Formed: Jan 16, 2013, Organizer: GenXangster

• Kansas & Missouri Kossacks - Formed: Jan 17, 2013, Organizer: tmservo433

• I-77 Carolina Kossacks who live from Columbia, SC to north of Winston-Salem, NC. - Formed: Jan 30, 2013, Organizers: gulfgal98 and eeff

• Indianapolis Kossacks - Formed: Feb 6, 2013, Organizer: CityLightsLover

• Southwest Ohio Kossacks - Formed: May 10, 2013, Organizer: Dr Erich Bloodaxe RN

• Northern Arizona Kossacks - Formed: Jul 5, 2013, Organizer: Sam Sara

• Mexican Kossacks - Formed: Apr 14, 2013, Organizer: roberb7
ESTABLISHED GROUPS LIST: (List will grow as we discover them)

• SFKossacks Founded by navajo, Formed: May 2, 2005

• Maryland Kos Founded by timmyc, Formed: Feb 23, 2011. Contact: JamieG from Md for a group invite.

• New York City Founded by Eddie C - Contact the group organizer for meet-up events: sidnora

• Baja Arizona Kossacks, Event Organizer: Azazello

• Three Star Kossacks Tennessee, Founded by maryKK, Formed: Apr 8, 2011

• Nashville KosKats, Founded by ZenTrainer Formed: Jan 30, 2012

• Virginia Kos Founded by JamieG from Md, Formed: May 3, 2011

• Kos Georgia Founded by pat208, Formed: Feb 13, 2011

• Colorado COmmunity Founded by Leftcandid, Formed: Feb 13, 2011

• New Mexico Kossaks Founded by claude

• Philly Kos Founded by mconvente Formed: Aug 29, 2011

• DKos Florida Founded by ThirstyGator, Formed: Feb 14, 2011, Currently organizing: Kosmail Vetwife to be included in next event.

• Oklahoma Roundup Founded by BigOkie, Formed: Feb 13, 2011, Currently organizing: Kosmail peacearena to be included.

• DKos Asheville Founded by davehouck, Formed: Feb 13, 2011 - Organizing Assist by: randallt
:: Events Currently on the Books for ALL Kossacks ::
Saturday, August 17th

Los Angeles Kossacks Dine at Saladang Song Again

TIME: 1:30 PM
LOCATION: Saladang Song
383 S Fair Oaks Ave • Pasadena

ORGANIZER: Send Dave in Northridge a kosmail to attend.

RSVPs:
1. Dave in Northridge
2. philipmerrill
3. susans
4. Shockwave
5. alguien
6. Otoelbc
7. Chiwere
8. 714day

Maybees:
Dave's friend


Latest diary: LA Kossacks: Meetup: August 17, 1:30 PM, Pasadena, Saladang Song


Sunday, Sept 15th

Chicago Kossacks Meet-up at a Powwow!

TIME: 11:30 AM
LOCATION: Chicago's 60th Annual American Indian Center Powwow
Busse Woods Forest Preserve • Elk Grove Village

ORGANIZER: Send figbash a kosmail to attend.

RSVPs:
1. figbash
2. broths
3. Mr. broths
4. Satya1

Maybees:
peregrine kate
palantir
edwardssl


Latest diary: Chicago Kossacks Go To A Powwow: Sunday, Sept 15 2013





DeKalb, Illinois Kossacks




Saturday, September 21st

DeKalb, Illinois Kossacks Dinner & a Show!

DINNER:
TIME: 6:00 PM
LOCATION: Rosita's Mexican Restaurant
642 East Lincoln Highway • DeKalb

SHOW:
TIME: 7:30 PM
LOCATION: The Stage Coach Players Theater
126 South 5th Street (2 blks. from dinner) • DeKalb

ORGANIZER: Send NormAl1792 a kosmail to attend.

RSVPs:
1. NormAl1792 (on stage as Henry II)
2. winifred3
3.

Maybees:
1864 House
luvsathoroughbred
Mr. luvs
Amber6541


Latest diary: Northern IL Kossacks Dinner and a Show - Saturday, Sept. 21

Saturday, October 19th

DKos Asheville Kossacks Meet-up

TIME: 1:00 PM
LOCATION: The Bywater
796 Riverside Dr. • Asheville

ORGANIZER: Send randallt a kosmail to attend.

RSVPs:
1. randallt
2. davehouck
3. Joieau
4. Gordon20024
5. gulfgal98
6. DawnN
7. Sandy on Signal
8. Mr Sandy on Signal
9. Munchkin

Maybees:
Otteray Scribe
Burns Lass
people power granny
One Pissed Off Liberal
Christian Dem in NC
SteelerGrrl
SteelerGuy
polecat
Audri


Latest diary: DKos Asheville - Weekly Open Thread





Sunday, October 20th

MEGA Philly/NJ/NYC Kossacks Meet-up!

TIME: Noon
LOCATION: Stuff Yer Face
49 Easton Avenue • New Brunswick, NJ

ORGANIZER: Send mconvente a kosmail to attend.

RSVPs:
1. mconvente
2. belinda ridgewood
3. thankgodforairamerica
4. gchaucer2
5. sidnora
6. rubyr
7. mattc129
8. hayden
9. mallyroyal
10. Avilyn

Maybees:
aravir and son
ask
Cinnamon
No Exit
andgarden
asterkitty
pfiore8
joanneleon


Latest diary: Philly/NJ/NYC Mega Meetup! Initial Information & Interest Diary





Friday, October 25th

LAKossacks & SoCal Inland Empire See Lewis Black!

TIME: 9:00 PM
LOCATION: Agua Caliente Casino Resort & Spa
32-250 Bob Hope Dr. • Rancho Mirage

ORGANIZER: Send 714day a kosmail to attend.

RSVPs:
1. 714day
2. jakedog42
3. susans
4. Otoelbc

Maybees:

Latest diary: L.A. Kossacks, Lewis Black Fans in So Cal


Friday, October 25th

Meet the Daily Kos Editorial Staff!

TIME: TBD in the PM
LOCATION: Daily Kos HQ
Address given privately to RSVP'ers • Berkeley

ORGANIZER: Send navajo a kosmail to attend.
You will need to bring Potluck. Stay tuned for assignments.

RSVPs:
1. Markos
2. Susan Gardner
3. Meteor Blades
4. Faith Gardner
5. Will Rockafellow
and many more staff... stay tuned
6. navajo
7. Lusty
8. side pocket
9. paradise50
10. smileycreek
11. citisven
12. norm
13. Lorikeet
14. kimoconnor
15. remembrance +TLO?
16. Glen the Plumber
17. madhaus
18. dharmasyd
19. ceebee7
20. lineatus
21. Dave in Northridge

Maybees:
Cedwyn
LinSea


Saturday, November 2nd

SFKossacks BBQ in the Wine Country

TIME: TBD
LOCATION: Andrew McGuire's home in the Wine Country
Address to be given privately to RSVPs • Windsor

ORGANIZER: Send navajo a kosmail to attend.


Andrew McGuire is Executive Director of California One Care

RSVPs:
1. Andrew McGuire
2. navajo
3. Shockwave
4. Hunter
5. elfing
6. Hunter/elfling offspring
7. smileycreek
8. paradise50
9. dharmasyd
10. maggiejean
11. norm
12. Lusty
13. dksbook
14. Mr. dksbook

15. kimoconnor
16. jpmassar
17. side pocket
18. Mrs. side pocket
19. ceebee7
20. ceebee7's sister
21. leema (will carpool from Marin)
22. Meteor Blades

Maybees:
Glen The Plumber
remembrance
TLO™

Send navajo a kosmail if you post a diary about an event so we can update our round-up.

Okay. Floor's open.
Tell us what you are doing on this NEW DAY?